Are you changing products due to the law of DMU?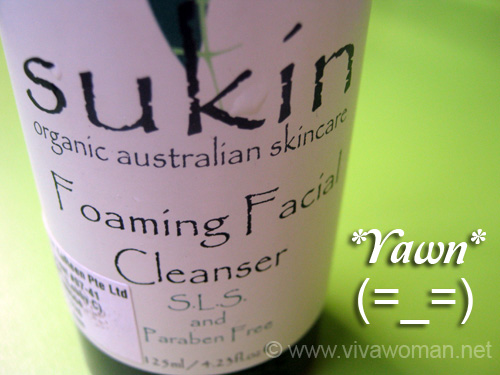 Recently, I wrote an entry on SLS-free foaming facial cleansers under $40 but the Sukin Foaming Facial Cleanser didn't make it to that list at all. It's strange that I left it out, considering I was raving about it so much in 2008 and I used about six to seven bottles of it then. So what happened? Well, the cleanser was doing a decent job for me but I simply got bored with the cleanser and in economic terms, you can call this the law of diminishing marginal utility.
Law of diminishing marginal utility explained:
Principle that suggests the consumer derives less benefit or satisfaction from each additional unit of product or service consumed or used.
In simple terms, I was getting less extra benefit or satisfaction from buying and using each bottle of Sukin Foaming Facial Cleanser – never mind it was actually doing a fine cleansing job for me. And in layman's terms, we say we are bored, or sick, or satiated and can't carry on using the same product anymore.
Promotions to offset DMU?
Actually, I think the diminishing marginal utility for this product set in much earlier because the last batch of that cleanser I bought was due to a promotion, where I got two at a special price. I probably would have abandon ship earlier had it not been for the promotion. I suppose the marketers factor in the law of diminishing marginal utilities and that's why frequent promotions are necessary to entice customers back to buying their products.
New formulation or packaging to offset DMU?
Sometimes we wonder why a new packaging or formulation is required when a product is doing well. Well, perhaps it is due to this law of diminishing marginal utility. Companies cleverly change their packaging or tweak their formulation just so that consumers will think they are buying new products although in essence, probably very little has changed. In this manner, the demand will continue.
Products don't work or is it DMU?
I was also thinking about how so many women have been griping that their products don't work after awhile. We have examined that before and we sort of concluded that products may have reached their optimum performance level. However, I do wonder if it could also be due to the law of diminishing marginal utility.
Is DMU universal?
Anyway, I've been thinking hard if this law of DMU is universal. I do change products frequently but that's also because I'm a beauty blogger and I need to try different products. Right now, the only product that I've kept on repurchasing is the Marie Veronique Organics Moisturizing Facescreen. I have used like maybe 5 bottles, including the old formulation and am still thinking of purchasing it. However, I wonder what would happen in the face of new products I intend to try. Will I eventually lose interest in this one too?
Has this happened to you?
Does the law of diminishing marginal utility apply to your purchasing choices? Do you change products simply because you got bored with it? Or have you stuck with a beauty product for ages and have not considered changing it. Tell me…I'm curious to know!
© www.vivawoman.net copyright notice ☺
______________________________________________________________
Comments