DIY Beauty: Thai style herbal scrub and mask
Here's something I got from the Chatuchak weekend market in Bangkok – a packet of herbal mask and scrub dry mix. Some of the ingredients are new to me and I had to 'google' for them to find out what they are. And while this is stated to be for the body but going by the ingredients, I tried it on my face too and it's pretty pleasant.
Keeps skin clean and clear
According to the description on the pack, this is said to help the skin clean, clear, smooth, soft, and prevent pimples. In addition, it will help balance the skin and improve the firmness. Ingredients include: Cassumunar, Tumeric, Andrographics Paniculatac, Seven Golden Stick, Cassod Tree, Rhinacanthus, and Tiger Herbal.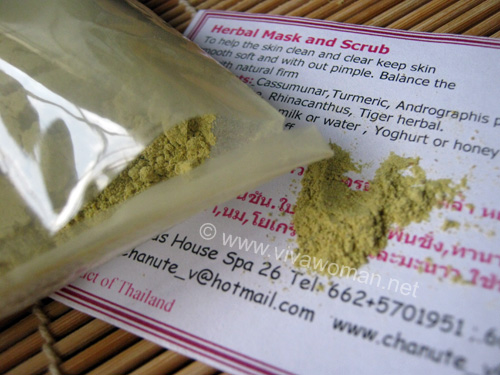 Ingredients in the herbal mix
Aside from Tumeric, I've not used the others before and based on my quick find on the Net, Cassumunar is actually a kind of ginger, while Andrographics Paniculatac appears to be a herb. Seven Golden Stick might more accurately be Seven Golden Candlestick, while Cassod Tree, Rhinacanthus and Tiger Herbal seem to be some sort of leaves or plants. Like I mentioned, I'm not familiar with these ingredients but they all seem to work together to provide benefits for skin, be it in terms of clearing impurities, moisturizing or rejuvenating.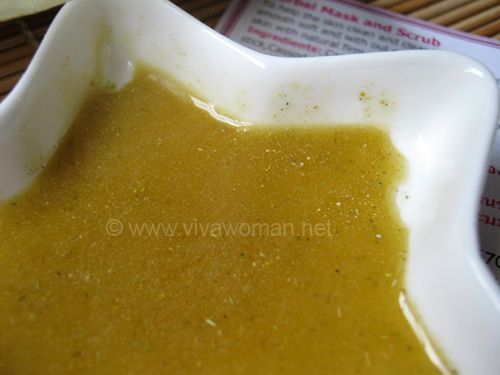 Can be used in multiple ways
It is recommended that the dry mix be used with milk, yogurt, honey or water. Because I wanted to try it on my face, so I used it with honey as a mask for 20 minutes before washing off. I didn't add a lot of the powder but I realized that by adding more, this can become a scrub too. And for the curious, this mixture has quite a strong herbal smell.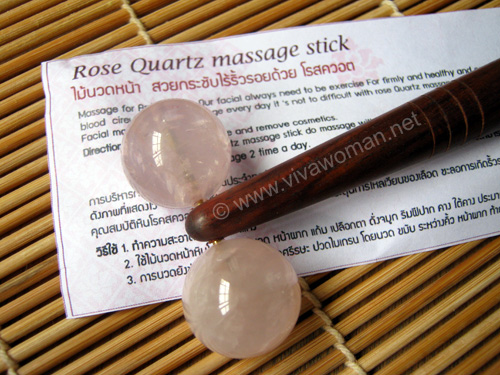 Rose quartz massage stick
I also bought this rose quartz massage stick but I haven't started using it (although my boy has been rolling his face with it!). Rose quartz gem apparently improves circulation and is rejuvenating. It is also said to be able to help heal scars and improve the complexion. Well, I'm not so certain of those benefits but one thing I'm sure is this tool is great when used for a warm manuka honey facial massage!
Comments