Wrinkle care with an auto vibration massager?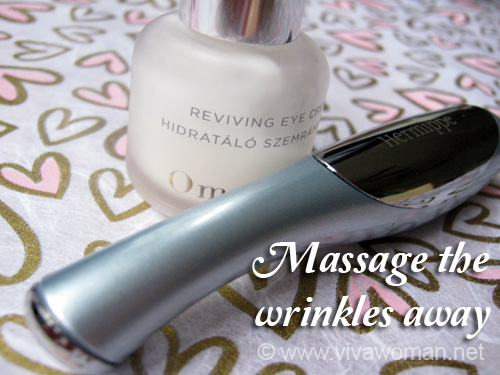 Woah…what's this? It's an automatic vibration handheld massager that will work on its own intelligence to penetrate that anti-aging cream into your skin and stop when the cream is fully absorbed! Sounds like a neat idea? Well, I thought so when I was first introduced to this product by Beauty Finest. In fact, I thought it'll be a great tool for my eye area, which definitely needs extra help. So is it that neat? Read on to find out!
It's intelligent
This auto vibration massager has a name – the Hermippe Wrinkle Care Massager and it is made in Korea. What is unique about this massager is that it is created with the latest 'Emotional Technology', which allows it to operate automatically when the massage head comes in contact with the skin surface. What it does is that it would adjust automatically to our skin conditions and the amount of skincare applied. Hence, a strong vibration is generated initially on contact with the skin cream or serum and as the ingredients are absorbed into the skin, the intensity of vibration gradually becomes weaker and will automatically cease when the applied cream is fully absorbed.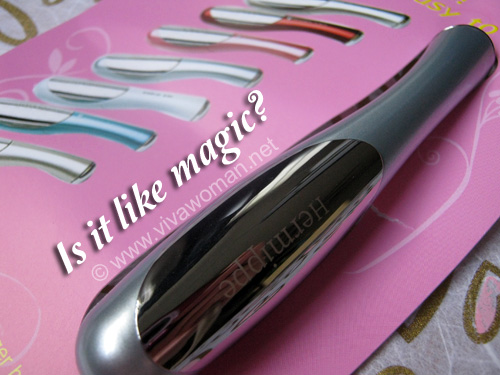 It's handy and convenient to use
Measuring 10cm in length, it is handy and fits into my palm and so I can easily hold it in my hand to massage my serum or cream. The massage head is quite small as it measures about 1.5cm in diameter and so I use this to massage my eye cream into my eye area. It can also be used around the nose and mouth too but I don't use it in those areas. What I do is to dab some eye cream around my eyes and then hold this massager with the head resting on my eye area. It will auto detect the eye cream and begin with strong vibrations. Interestingly, the vibration will gradually weaken as described and then stop once the cream is massaged in. I tested it on dry skin and there was absolutely no vibration! Pretty clever I must say.
It's time consuming
However, I find this gadget quite time consuming too. Obviously, massaging takes some time and what used to be a 1 minute application can now be extended to 5 minutes. So it can become a hassle on busy days. This is why I couldn't use this every day but only at times when I have the luxury of time. It is also the reason why I only keep it to my eye area. In addition, because the eye area is so delicate, so I need to be careful to lift up the massager when moving around the area rather than dragging it along, as I initially did. I would recommend that you do this in front of a mirror the first time so that you know how the entire massage works.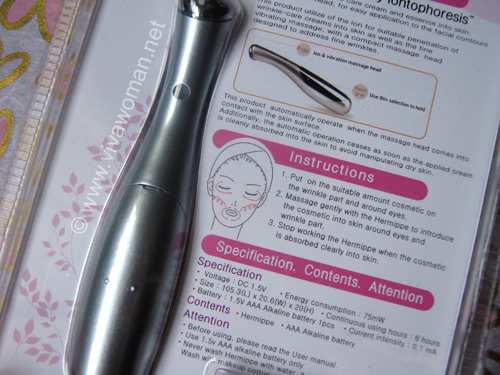 It's good for fine lines
I would concede that my eye area seems to look a tad better with the fine lines softening since I started using this, bearing in mind that I did not change my eye cream. So it might have helped in terms of the product penetration. But it did not get rid of the lines completely nor did it do anything for my deeper lines. I guess the results will vary with individuals plus as I've mentioned, I did not use this daily. Would I recommend buying this tool then?
It's low maintenance
I was given the Hermippe Wrinkle Care Massager complimentary from Beauty Finest for review. The price is S$78 and that might be a tad pricey for some of us. But's it's basically low maintenance as it uses a 1.5v AAA alkaline battery and I've not found the need to change the battery even though I've used this product for over a month now. I might buy it out of fancy but the thing is, I've realized that this is not a tool for busy people with little time to spare. For all we want to do is to slap on our oil, serum or cream, tap a little and be done with the entire beauty regime. So chances are, I will stop using this tool after the initial excitement wears off. But that's just me.
It's available internationally
For those interested to find out more about the product, check out the info at Beauty Finest's website. International shipping is available. Do note that although the website shows a number of colors, only the silver one is available if you order from the company.
Comments