Lustre Skin Pro Tablets for beautiful radiant skin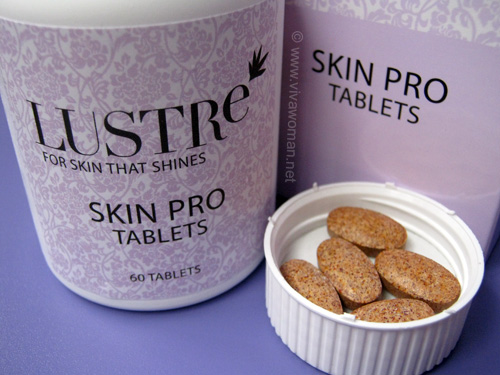 In my entry last week about how a poor blood circulation can affect your skin, some of you wanted to know if there is a cheaper health supplement that can increase your blood circulation. Well, I'm happy to say yes after I was introduced to Lustre Skin Pro Tablets – a supplement that aims to give users beautiful skin from within. In fact, I've started taking it since end of last week after I've learnt that this supplement can promote blood circulation for radiant skin, improve our skin tone, maintain the collagen level, lighten pigmentation marks and provide UV protection.
Made in USA & thoroughly tested
Lustre Skin Pro Tablets is formulated by Organic Health and is manufactured in USA under the current Good Manufacturing Practices in an FDA-approved facility. The product is Hala certified by the Islamic Food and Nutrition Council of America and also tested by the Health Sciences Authority here. In fact, I learnt that the product has been in the market for the past six years and is popular predominantly with the Malay community here. What's also interesting to know is that this product is suitable for both male and female and even teenagers as young as 16 years old because it can help control pimples and reduce acne scar marks.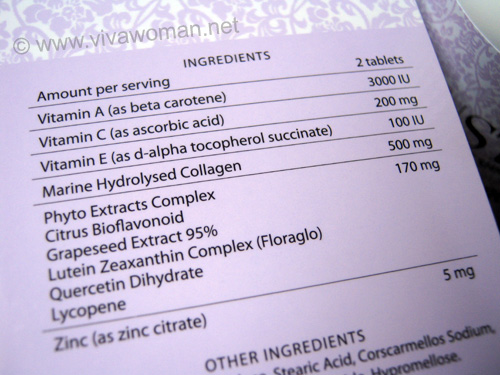 Unique combination of balanced ingredients
Here in this picture, you can see the key ingredients of the product. Other ingredients include Calcium Phosphate, Cellulose, Stearic Acid, Corscarmellos Sodium, Magnesium Stearate, Silicon Dioxide, and Hypromellose. So the product not only has a balance number of ingredients, it has the correct combination of Marine Hydrolysed collagen, Vitamins A, C and E, plus phyto-nutrients, which makes skin healthier and younger looking from within. Here are some specific benefits of the key ingredients:
Keep skin firm and hydrated
The Marine Hydrolysed Collagen help maintain the collagen and hyalluronic acid levels in the skin, thereby helping the skin stay hydrated, firm and with lesser fine lines.
Lighten dark spots & even out skin tone
The vitamin C, Citrus Bioflavonoid, Quercetin and Grapeseed Extract, Phyto Extract Complex help to improve the blood circulation, lighten dark spots and pigmentation.
Provide UV protection
The Vitamin A (Beta Carotene), Vitamin C, Vitamin E, Grapeseed Extract, Zeaxanthin, Lutein, and Lycopene are powderful antioxidants that protect the skin from harmful UV radiation. These vitamins can also accelerate the healing process of skin inflammation, acne and acne scars for beautiful skin that shines in a shorter, quicker time.
Flush out toxins & regulate oil production
The Phyto Extract Complex makes this a great supplement to flush out toxins in the blood stream to improve the circulation of nutrients to the skin, strengthen the skin's immunity against problematic skin conditions and regulate the oil production.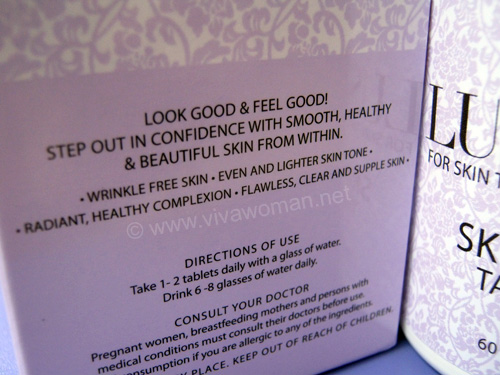 Customer testimonies of this product
Lustre Skin Pro Tablets proved to be popular with many since its introduction six years ago. Many users have reported a better complexion after taking this supplement, with some indicating that this has made their skin fairer too. Some customers have even stated that the product has helped eradicate their sunburn marks. And there are others who have seen a reduction in their pimple outbreaks and a lightening of their acne marks.
Difference between this product and others in the market
Looking at the ingredients and functions, it is quite natural to compare Lustre Skin Pro Tablets with the other skin care supplements in the market. But this product has obvious differences when compared as the benefits of this supplement isn't singular. It is definitely more than just collagen as it not only can help firm up our skin, but also lighten age spots and even out our skin tone. In addition, it can regulate the oil production in our skin to control pimple breakout and best of all, protect against free radicals and UV radiation. I can effectively replace my Heliocare with this supplement!
Regenerate joints, cartilate & connective tissue
Something else to highlight is that the while Marine Hydrolysed Collagen is best known for promoting vibrant and youthful skin, as well as healthy hair and nails, it also regenerates joints, cartilage and connective tissue, thereby improving joint mobility.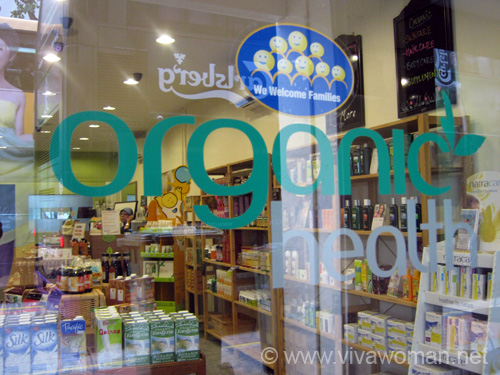 Price, usage and availability
The recommended intake is start with 1 tablet before bedtime for two weeks before increasing to 2 tablets, twice daily, morning and night. Each bottle of Lustre Skin Pro consist of 60 tablets and cost S$58. I found the price really competitive, considering the multiple benefits it can provide. In addition, you will be pleased to know that other than getting their product from their retail outlet at 666 North Bridge Road, you can have the product shipped to you without additional charges if you order online from www.mylustre.com or call their hotline at 6275 4123. They also offer new customers S$10 off with a minimum purchase of S$100 in a single order.
Trying the product myself
Like I've mentioned, I'm now taking the supplement and should be able to report back in a month or two. And given the price of the product, I would most likely continue to purchase since I can replace the more expensive Heliocare! So yes, I definitely think this is worth a trial for those who are in the market for a skin supplement!
The company behind the product
When I was talking to the people at Organic Health about Lustre Skin Pro Tablets, I noted that they are very knowledgeable about health and skin care needs. In fact, the product is formulated by Managing Director / Scientific Officer & Product Developer, Mr Osman Ali, who has been actively involved in the Pharmaceutical industry for 10 years. He also has vast medical knowledge and expertise, having dealt frequently with many established and well-known medical professionals, experts and institutions during the 10 years that he was in the industry. Like when asked why he chose to have the product manufactured in USA, he highlighted the importance of getting the best ingredients for their products and that certainly gave me good peace of mind.
One-stop shop for organic and natural products
Aside from Lustre Skin Pro Tables, Organic Health is the one-stop shop for organic and natural products such as foodstuff, skincare, biodegradable household cleaning products and many more. They even offer organic facials using Kimberly Sayer products! I've posted some pictures of the retail outlet and their products on Viva Woman Facebook Page. And if you're interested in Lustre Skin Pro Tablets, check out more details at their website.

Comments