DeVita Solar Protective Moisturizer SPF30+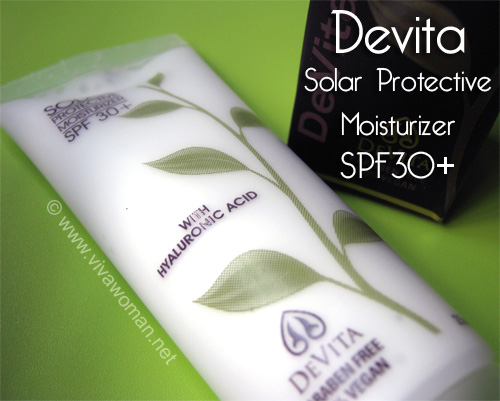 A number of you have been raving about this product – DeVita Solar Protective Moisturizer SPF30+ – so much so that I was tempted to try it. However, when I was in the mood for it, I found it difficult to purchase the item direct from the company's website in US due to the high shipping cost. But good thing was that I managed to get it from one of my readers, Audris, who had ordered a few of this moisturizer last month from Vitacost.
DeVita's naturally formulated skin care products are paraben free, cruelty free and 100% vegan. This moisturizer offers full spectrum UVA/UVB sun protection and is one of the company's best sellers that has been consistently listed as a safe sunscreen in EWG Sunscreen Guide. It has also been given a rating of 3.8 out of 5 by 67 reviewers at Makeupalley.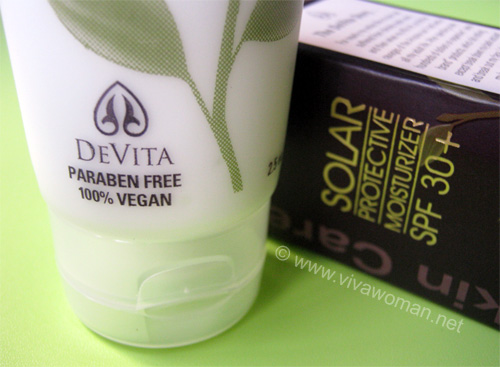 DeVita Solar Protective Moisturizer SPF30+ 75ml
ACTIVE INGREDIENT: Micronized Zinc oxide 19%.
INACTIVE INGREDIENTS: Aloe barbadensis (organic aloe vera gel), Purified Water (aqua), Capric/caprylic triglycerides (derived from coconut oil), Glycerin (vegetable), Hyaluronic acid (vegan source), Glyceryl stearate SE (derived from vegetable oil), Stearic acid, Lecithin phospholipid, Tocopherol (vitamin E), Allantoin, Vitis vinifera (grape) seed extract.
Texture and application
I like that it contains 19% micronized Zinc Oxide and no Titanium Dioxide. Other than that, the ingredient list look innocuous enough with no alcohol but various skin moisturizing ingredients such as vegan sourced hyaloronic acid. The texture of the product is creamy yet when applied, it does not leave any greasy residue nor whitecast but a transparent finish that feels just right. In addition, the moisturizer barely has any scent unless you sniff hard at it. So I can understand why many ladies love this one as it's quite a challenge to find a Zinc Oxide based sunscreen that is lightweight and look cosmetically appealing after application. While it is possible to apply this alone, but I've been using this over a layer of facial oil and yet it does not make my skin feel oily even after a few hours. I also noticed that it does not leave my cheeks dry at the end of the day.
Packaging and shelf life
The moisturizer comes packaged in a plastic tube; not the best for naturally formulated products as I prefer mine in glass containers or pump bottles but since this product is not retailed at a premium price, I'm not exactly complaining. But I was surprised to find the product indicated a shelf life of 24 months; I would have thought it should be 12 months at most for something without a chemical preservative. I have mildly sensitive skin and this product has worked well for me. However, based on some of the reviews on Makeupalley, there were a few who mentioned skin irritations from using this. But it also looks like others with sensitive skin have found it suitable for their skin so it really depends on individual condition.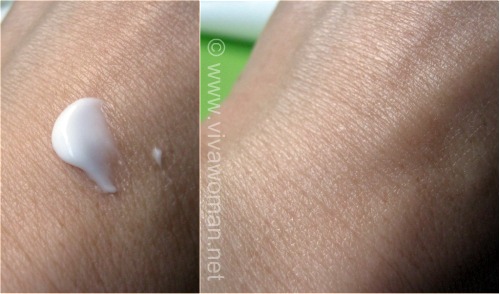 Comparison with MVO Moisturizing Face Screen SPF30+
I know some of you are going to ask me how this compares with Marie Veronique Organics Moisturizing Face Screen SPF30. Well, while I concede that DeVita Solar Protective Moisturizer SPF30+ is lovely and it is more affordable, but my favorite is still the MVO Moisturizing Face Screen. The reason is because I find MVO's ingredients more superior and I do like the whitecast on my face as it works like a base for me before applying makeup. In fact, the whitecast makes me feel like I'm getting better sun protection although I have to admit that this could be more psychological. But for those who tried MVO and did not like the whitecast or found it drying, then you're probably going to like this DeVita one for it applies on perfectly. I would even go further to say it applies better than some of the chemical sunscreens.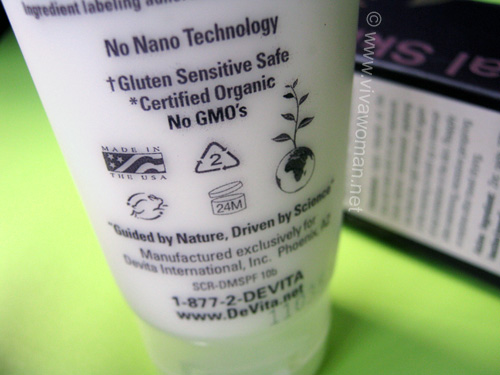 Overall summary
Even though DeVita Solar Protective Moisturizer SPF30+ is not my favorite, but I'm still giving this a full 5 hearts rating for it is a decent product. I read on Makeupalley that some ladies did not find this product providing sufficient protection and their skin still burn but that's not something I can comment on as I didn't take this out to the beach. Anyway, Asian skin do not burn as easily so that's something to be aware of if you're reading reviews about sunscreens. But this product is positioned as a moisturizer and not sunscreen so I think it is good to be worn daily to protect against casual sun exposure, like the MVO Moisturizing Face Screen and not to be used when you head out for outdoor sports.
Availability
This product is not available in Singapore but you can get it at iHerb for US$20.40. The usual retail price is around US$26. So that's a substantial savings plus the shipping also comes across reasonable to me at US$4. I may not get this product again but I'm likely to want to try their Solar Body Block SPF 30+ down the road.

Comments