DeVita Solar Body Block SPF30+ for body or face?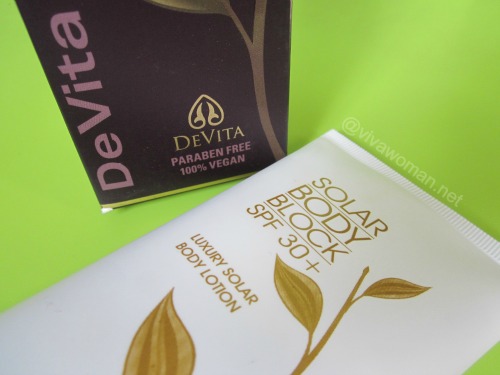 I was really pleased to find this big tube of Devita Solar Body Block SPF30+ at iHerb. This is far more moisturizing than the Devita Solar Protective Moisturizer SPF30+ that I reviewed in May 2011. In terms of color and texture, both sunscreens are pretty close but this Body Block doesn't dry out my skin at all. I'm not surprised to learn that some people are even using this on their face.
Suitable for sensitive skin
Described as an effective body moisturizer and natural sunscreen all in one, the Devita Solar Body Block SPF30+ offers broad spectrum UVA/UVB sun protection with a USFDA Monograph Sun Protection Factor Determination test level of 32. This is supposed to be soothing and suitable for sensitive skin. Devita skin care products by the way, are 100 percent vegan and paraben free. They are considered gluten sensitive safe and never contain GMO's. Neither are they ever tested on animals.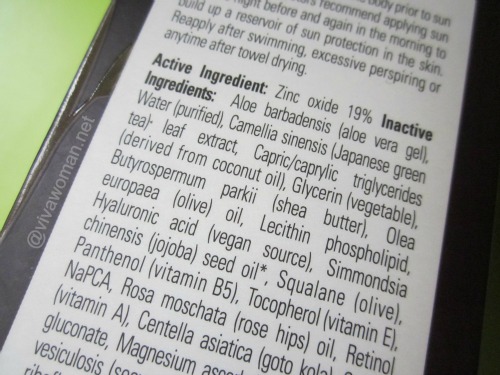 Ingredient list
ACTIVE INGREDIENT: Zinc oxide 19% INACTIVE INGREDIENTS: Aloe barbadensis (certified organic aloe vera gel), Water (purified), Camellia sinensis (Japanese green tea) leaf extract, Capric/caprylic triglycerides (derived from coconut oil), Glycerin (vegetable), Butyrospermum parkii (shea butter), Olea europaea (olive) oil, Lecithin phospholipid, Hyaluronic acid (vegan source), Simmondsia chinensis* (jojoba) seed oil, Squalane (olive), Panthenol (vitamin B5), Tocopherol (vitamin E), NaPCA, Rosa moschata (rose hips) oil, Centella asiatica (goto kola), Copper gluconate, Magnesium ascorbyl phosphate, Fucus vesiculosis (seaweed) extract, Allantoin, Sodium riboflavin phosphate, Chondrus crispus (Irish moss), Lavandula officinalis* (lavender) essential oil, Anthemis nobilis (chamomile) flower essential oil, Vitis vinifera* (grape) seed extract. Ingredient labeling adheres to international INCI standards.
ingredients
Not greasy or sticky, no whitecast
Devita Solar Body Block SPF30+ appears to have tweaked its formula slightly because I remember it used to contain retinol. But it remains as nano free and contains 19% micronized zinc oxide. It applies very well and does not leave any greasy or sticky residue. More important, you won't find any whitecast from using this. Like I mentioned, this is pretty moisturizing and does not leave a flaky residue like what the Devita Solar Protective Moisturizer SPF30+, which is really for the face, did for my neck and arms.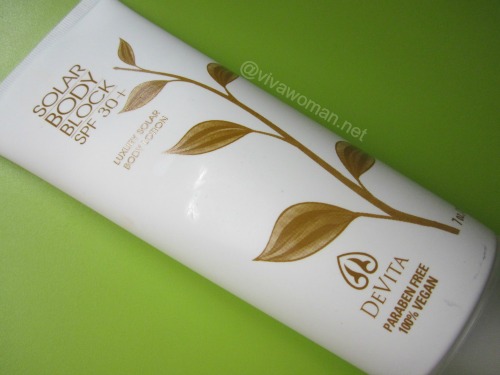 Overall summary
I like the Devia Solar Body Block SPF30+ a lot! It's a perfect moisturizer for my arms and yet, it has sun protection. In addition, the 210ml retails for US$22 at iHerb and I found that price to be reasonable. Although some people have used it on their face without issues, I prefer to keep this for my body. However, this might work quite well on the face if one has dry skin.
As for sun protection, it seems to offer sufficient coverage based on the amount of zinc oxide. However, I've only used this like a month and so I can't really conclude anything about its effectiveness. But personally, I'll opt this just for casual sun protection.



Comments