Share: what skincare ingredients do you avoid?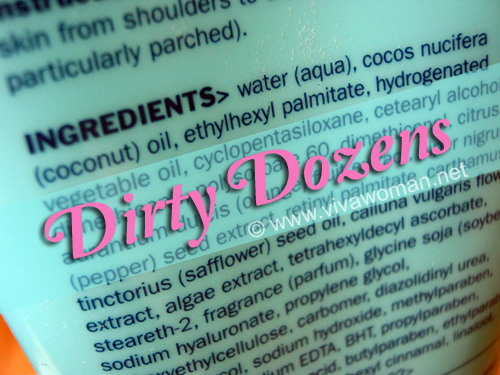 Last week, I asked about your favorite skin care ingredient and this week, I thought I'll continue by asking what skin care ingredient do you avoid and why? Even though I'm more inclined towards using natural and organic skin care, regular readers know that I'm not a purist. While I have a Top 10 skin care ingredients that I avoid but as a whole, I do not avoid them from a toxic standpoint but rather, a beauty standpoint such as fear of photosensitivity or skin suffocation. I can even accept some ingredients that are listed as the "dirty dozens" in my skin care and one of them is the much flogged-to-death parabens.
So which ingredients turns me off TOTALLY such that I would not consider using the product? Let me mention my top 3 'NO-NOS':
1. Silicones
If I spot names such as Dimethicone, Dimethicone Copolyol or Cyclomethicone in a skin care product, I will not use the product. This is because silicone emollients are occlusive and are used to create a watertight film on top of the skin to lock in moisture. While they make application smoother, these compounds coat the skin, making it impossible for the skin to breathe. This is why they are often described to be like a plastic wrap suffocating the skin and trapping anything beneath it. Prolonged usage can cause skin irritations and breakouts for some people. In addition, it also means it would be difficult for any of your skin care goodies to penetrate into your dermis layer effectively, which I believe causes products to become ineffective after a period of time. Seriously, I don't care what the other camp says in terms of the benefits of this ingredient but I definitely avoid it in all my skin care products.
2. Sulfates
All my facial cleansers, body wash and even shampoo do not contain Sodium Lauryl Sulfate (SLS) and or Sodium Laureth Sulfate (SLES) as these harsh detergents that can leave our skin too dry. I used to prefer my facial wash to provide a 'squeaky clean' feeling after every wash but after I learnt this is actually stripping my skin of its natural lipid, I've since been more selective and use only sulfate-free products. Even then, I will have no qualms junking a facial wash if I feel it is over cleaning my skin.
3. Alcohol
As a whole, I avoid any products containing alcohol. Those like ethanol, ethyl alcohol, denatured alcohol, methanol, benzyl alcohol, methyl alcohol, isopropyl alcohol, and SD alcohol are solvents derived from petroleum and are extremely drying and irritating to the skin. With prolonged usage, these may strip the skin's natural immune barrier, promote the formation of brown spots and cause premature aging of the skin. I also used to avoid plant derived alcohol such as cetyl alcohol, stearyl alcohol, cetearyl alcohol but I realized it was becoming difficult to avoid as many natural and organic skin care products use these ingredients. So I use products containing these plant derived alcohol as long as I do not see them bunching right on top of the ingredient list.
Just noticed that in reversed order, they are collectively known as ASS! (^▽^)
Striving to avoid using makeup products containing silicones & alcohol
I used to avoid these ingredients only in my skin care but would continue to use makeup products containing them, in particular silicones and alcohol. Increasingly however, I'm moving towards using natural or organic cosmetics that do not contain any silicones or alcohol. I'm not fully there yet but I'll get there someday soon because it's about time I set a stricter standard for my skin!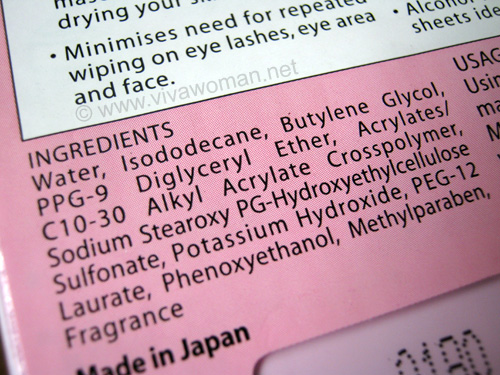 The Dirty Dozens
By the way, here are 12 ingredients, which are widely known as "the dirty dozens" that are generally avoided in organic formulations. However, there are more than these 12 toxic ingredients in reality.
1. Butylated hydroxyanisole (BHA) & butylated hydroxytoluene (BHT): Used as a preservative in moisturizers and makeup. Suspected endocrine disruptors, may cause cancer (BHA), harmful to fish and wildlife.

2. Coal tar dyes: Used in hair dyes and other products containing artificial colorants. May cause cancer, possible contamination of heavy metals toxic to the brain. Look for "CI", "FD&C Blue No. 1", or "Blue 1" on labels.

3. DEA: Used in creamy and foaming products (i.e. moisturizers, shampoos). May for nitrosamines which could cause cancer, harmful to fish and wildlife. Look for "DEA", "MEA", and "TEA" on labels.

4. Dibutyl Phthalate (DBP): Used as a plasticizer in some nail products. Suspected endocrine disruptor and reproductive toxicant, harmful to fish and wildlife.

5. Formaldehyde-releasing preservatives: Slowly release small amounts of fomaldehyde, a known carcinogen. Look for DMDM hydantoin, diazolidinyl urea, imidazolidinyl urea, methenamine and quarternium-15 on labels.

6. Parfum/Perfume/Fragrance: Used in a wide variety of products. May trigger allergic reaction, asthma, has been linked to cancer and neurotoxicity, harmful to fish and wildlife.

7. PEGs: Used in many cream-based products. May be contaminated with 1,4-dioxane, which may cause cancer. Look for "propylene glycol", and ingredients with "eth" (e.g., polyethylene glycol) on labels.

8. Petrolatum: Used as a moisturizing ingredient and moisture barrier. May be contaminated with polycyclic aromatic hydrocarbons, which may cause cancer.

9. Siloxanes: Used in a variety of cosmetics to soften, smooth and moisten. Suspected endocrine disruptor and reproductive toxicant (cyclotetrasiloxane), harmful to fish and other wildlife. Look for ingredients ending in "-siloxane" or "-methicone" on labels.

10. Sodium laureth sulfate: Used in foaming cosmetics, such as shampoos, cleansers and bubble bath. May be contaminated with 1,4-dioxane, which may cause cancer. Look for sodium lauryl sulfate and other ingredients with the letters "eth" (e.g., sodium laureth sulfate) on labels.

11. Triclosan: Used in antibacterial cosmetics, such as toothpastes, cleansers and deodorants. Suspected endocrine disruptor and may contribute to antibiotic resistance in bacteria, harmful to fish and other wildlife.

12. Paraben, Methylparaben and propylparaben: Used in a variety of cosmetics as preservatives. Suspected endocrine disruptors and may interfere with male reproductive functions.
So how about you? Do you avoid any ingredients in your skin care products? If so, share your views!
Comments