Help…the hungry fish are eating away my feet!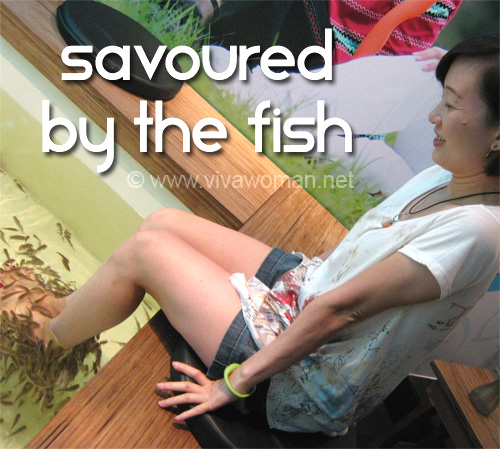 Woah…lookie lookie. That's me, my first moments of having my feet savored by Doctor Fish. Nicknamed nibble fish, they are imported from Turkey and they love to feed on dead skin. I think many of you have tried this treatment before but this is my maiden trial. I didn't really have too much desire to try this until I was invited along this tour to learn more about the beauty offerings at Changi Airport. So as part of the tour, we were invited to Fish Spa & Reflexology and I opted for the fish spa over the other treatments out of curiosity.
Nibble away dead skin
According to the spa, Doctor Fish therapy originated in the hot spring resorts of Turkey and such a therapy provides you with micro-massages, stimulating your reflex and acu-points, for enhanced blood circulation. The fish gently nibble away dead skin from your feet, and that is supposed to leave you with the healthy skin to grow and glow. Well, I'm not sure about the growing and glowing but my feet did feel kind of light after the session.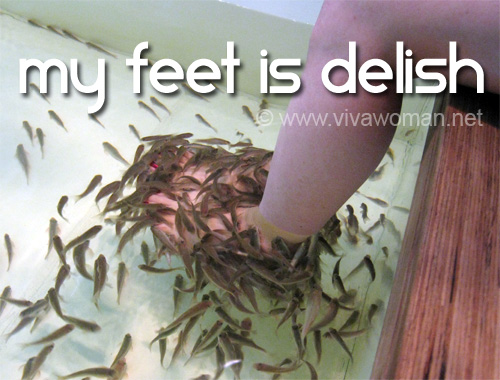 Thrive in warm water
Interestingly, these fish, named Garra Rufa, are most active in warm water temperature and that's why the spa offered a choice of both warm water and cold water pools. The latter, is meant for first timers who might find a swarm of fish nibbling away at their feet the first time unnerving. Well, it was my first experience as I've mentioned but I bravely ventured into the warm water pool, where they thrive best. I mean, come on, these are small fish and are not Piranhas what.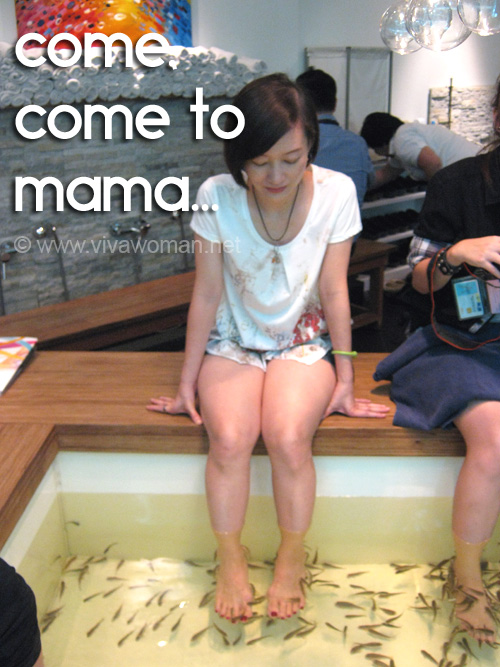 Slight tickling sensation
Okay, not to sound too smug but yes, I did feel somewhat squeamish initially when the fish all swarmed to my feet. But other than the slight tickling sensation, I was fine and did not squeal, much to the disappointment of the other girls watching on. Heheh. There were a couple of bigger ones who bit our toes but I didn't really feel any pain. I think I wouldn't mind a fish spa session for my body if presented with the opportunity. (#k8SjZc9Dxko#k8SjZc9Dxk)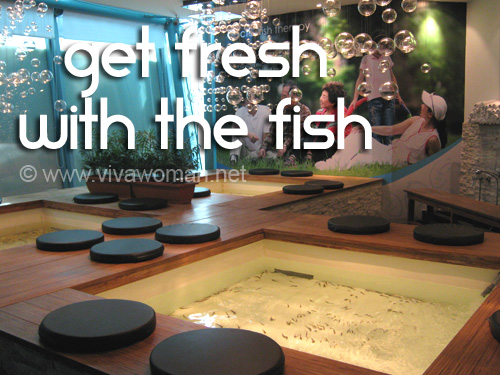 Location and charges
Fish Spa & Reflexology is located at Terminal 1 in Changi Airport. A 20-minute fish spa session is S$22 but apparently, they're pretty flexible about the time as they understand that travelers may have a longer time to kill while waiting for their flights or while in transit. And if having fish nibbling at your feet is not your kind of thing, you can also opt for other treatments like foot reflexology or back massage.
A fun R&R
Anyway, I probably spent like 20 minutes or so at the pool with the fish. I think it's kind of fun to do this with your family or friends sometimes. But my family isn't really gamed. When I showed some of the pictures I took with my hubby and boy, they both went "EEEEWW". (-__-)
You tried?
Have any of you tried fish spa? Where did you try yours? I also know that such treatments are widely available in the other countries as well so international readers, do share your experience!
Comments