Bourjois organic powder and naturel lipstick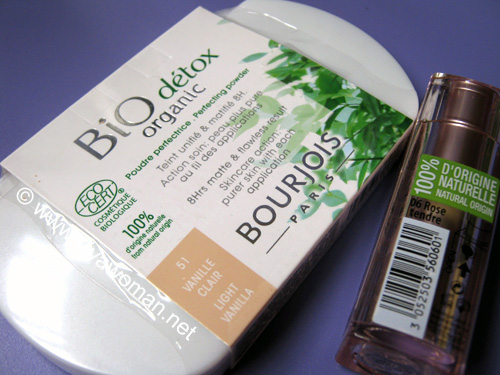 I've been experimenting a little with more natural and organic makeup. I've started with Juice Beauty ColorCare and subsequently moved on to try something from Bourjois. The French brand introduced their Bio Detox organic range that includes a perfecting powder and a foundation. However, I decided to only try the perfecting powder after reading tons of bad reviews on the foundation at Makeupalley. Well, actually the powder also did not get very good reviews; I bought it anyway because of the 20% discount during a sale. Yeah, usually my right brain is more dominant and I don't think too rationally during sales! Heh.
Bourjois Bio Detox Organic Foundation
As a whole, I sort of like the Bourjois brand. But that doesn't mean they always work for me. I've liked their lipsticks and the other product I've tried recently is the Bourjois Healthy Mix Serum. Well, it's okay but nothing that I want to rave about. I think the coverage is too sheer for me plus I really dislike the strong fruity smell. However, I'm not going to review that product because I want to keep my focus on natural and organic cosmetics here. But I got that serum instead of the Bourjois Bio Detox Organic Foundation because the latter came across as too drying when I tested the sample. Even the SA didn't really encouraged me to purchase the foundation but I was however, assured that the Bourjois Bio Detox Organic Perfecting Powder would not be drying and provides fairly good coverage. Well, did it?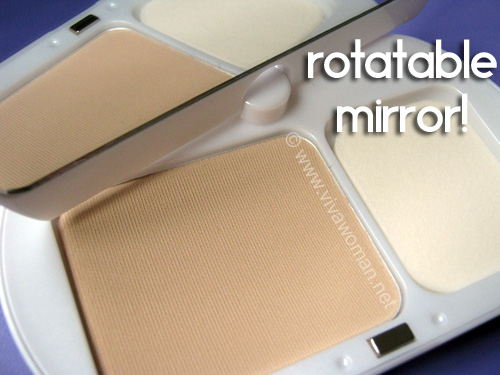 Bourjois Bio Detox Organic Perfecting Powder 51 Vanille clair S$32
This product contains the extract of moringa tree seeds, vegetable chlorophyll, flax powder and zinc oxide. It's certified by Ecocert and 100% of the total ingredients come from natural origin while 15% from organic farming. This organic perfecting powder is said to not to clog pores and yet detoxify the skin with every application. The plant chlorophylls is said to filter out pollution and protect the skin's epidermis. In addition, because of the mattifying properties, is supposed to leave our skin shine free and refreshed. Well, that bit about shine free is quite true but I don't really see my skin feeling more refreshed with this powder.
The coverage is sheer to medium, depending on how much you apply. The first time I applied, my skin looked horrendous because the pores appeared larger than they are! I was actually afraid to wear this out again after that. But I figured out that the problem might be the Bourjois Healthy Mix Serum I was wearing underneath and the mixture of the serum and power might have been too drying. Anyway, the next time when I applied this without any foundation and it worked fine. It also worked fairly well with my Juice Beauty Foundation. But I'm unlikely to re-purchase this item because it doesn't enhance my complexion, unlike some of the powder that I've used. The only thing I like about this powder is the panoramic mirror, which allows you to rotate it at all angles. That's a novelty!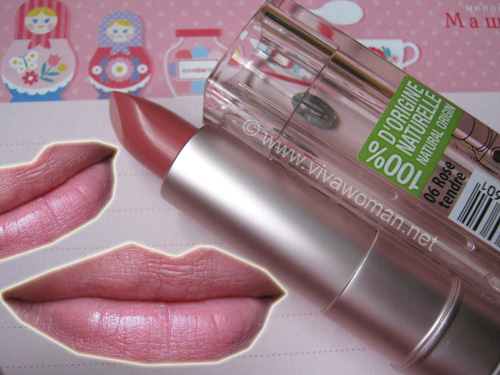 Bourjois Naturel Sweet Kiss Naturel Lipstick 06 Rose Tendre ~ S$26
I bought this lipstick some months ago and I've actually forgotten the price. It is described as an intensely nourishing and radiant lipstick with 100% natural ingredients derived from nature to care for the lips. I can't remember if there was an ingredient list but I couldn't locate the ingredient list anywhere online; I only found out that this lipstick contains magnolia oil, shea butter, jojoba oil, green tea, beeswax and mineral plus plant pigments. But product wise, it's a nice lipstick. It's got a creamy texture that doesn't feel heavy and pretty pigmented. I have no idea if this lipstick really provides eight hour moisturizing action it claims but that doesn't bother me and I'm happy that I don't need to use a lipbalm under this one. Available in the slate are:
• 01 Rouge Soyeux: a luminous poppy
• 05 Prune Caresse: a passionate, dense, deep purple
• 06 Rose Tendre: a pink flower with a touch of beige
• 07 Framboise Exquise: a bold pink with a hint of blue
• 08 Rose Délicat: an intense brown-pink
• 10 Acajou Doux: an earthy brown
This lipstick comes with a push button opening, which seems ingenious but irritates me quite a bit because I can never know for sure which direction to push. Maybe it's just me.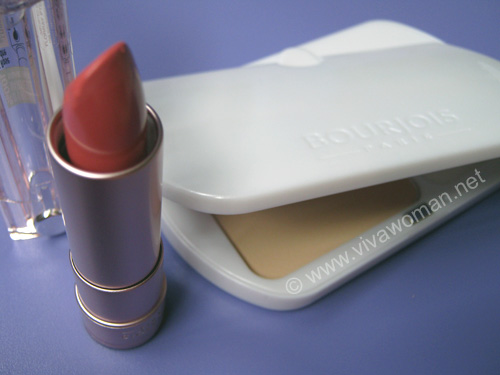 Overall summary
Like I mentioned, there is nothing for me to rave about the Bourjois Bio Detox Organic Perfecting Powder. It doesn't yield a fine, smooth finishing nor make me look anymore radiant. So to me, this is kind of a meh product. The only good thing is it is not priced too high for an organic formulation. However, the Bourjois Naturel Sweet Kiss Naturel Lipstick is worth a try if you can find a color you like. Well, I might purchase another color from the slate with the current ongoing sale at Metro.
Anyway, if you want a natural makeup range, you are probably better off looking at Une Natural Beauty introduced by Bourgois. The products are not available in Singapore but I bought a few from Lovelula to play with. So yeah, a review is in the works!
Comments