My hair conditioner gave me hairline pimples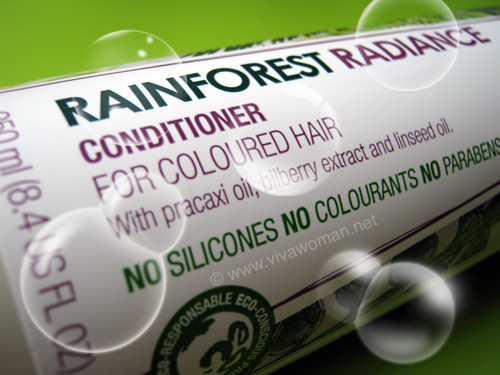 Over the past two months, I noticed that I've had some bumps on my forehead, very near my hairline. I was told that any pimple or acne on the forehead is usually caused by insufficient sleep or stress and so I left them, thinking that they will subside. They didn't and I started suspecting my hair products to be the cause because the bumps were not really acne but more like pimples caused by clogged pores. Thank goodness there were just a few.
Even a pea size amount can clog pores
I was using BOD Premium Blend Shampoo and I thought it might be that because the shampoo felt very moisturizing. So I stopped using the product and switched to A'kin Mandarin Shampoo and the problem appeared to have stopped.  So naturally I thought it was the BOD shampoo and I was rather sore about it since it cost me S$20 and I didn't feel like throwing it away nor did I feel it right to give to someone since it didn't work for me.  The thing was, it was never the shampoo but rather the conditioner I was using.  I didn't suspect a thing about the conditioner because well, I was using just a pea size amount!
Ingredients of conditioner
Although the BOD Premium Blend Shampoo was moisturizing, I also used The Body Shop Rainforest Radiance Conditioner for colored hair because I wanted some protection for my colored hair. This is what it contains:
Water (Solvent/Diluent), Cetearyl Alcohol (Emulsifier), Glyceryl Stearate (Emulsifier), Distearoylethyl Hydroxyethylmonium Methosulfate (Antistatic Agent), Glycine Soja Oil (Emollient/Skin Conditioner), Polyglyceryl-4 Caprate (Skin-Conditioning Agent), Glycerin (Humectant), Parfum (Fragrance), Sodium Benzoate (Preservative), Sucrose Laurate (Skin-Conditioning Agent), Hydroxypropyl Guar (Emulsion stabilizer, Viscocity increasing agent), Linum Usitatissimum Seed Oil (Fragrance Ingredient), Salicylic Acid (Preservative/Hair Conditioner), Aloe Barbadensis Leaf Juice (Skin Conditioning Agent), Ethylhexyl Methoxycinnamate (Sunscreen), Pentaclethra Macroloba Seed Oil (Skin-Conditioning Agent), Citric Acid (pH Adjuster), Vaccinium Myrtillus Fruit Extract (Skin-Conditioning Agent), Tocopherol (Antioxidant).
I didn't really pay much attention to the ingredients because if you know The Body Shop's products, you need to make an effort to peel off the label to read the ingredient list and I was too lazy to do that! I was happy that it didn't contain silicones, sulphates, parabens or colorants. Plus, like I said, I wasn't using too much of it each time. And because I stopped using it along with the BOD shampoo, it was never a key suspect for me. I only realized it to be a culprit this week after I decided to use it again, but this time with the A'kin Mandarin Shampoo. I had another clogged pore, which emerged to become a full blown pimple on the same hairline spot.
Too many emulsifying and skin conditioning ingredients
It was then that I took a good look at the ingredients and realized that this conditioner has too many emulsifying and skin conditioning agents. The second ingredient and third ingredient – Cetearyl Alcohol and Glyceryl Stearate – are prime suspects because one is highly comedogenic and the other is considered mildly so. Much like silicones, such emulsifiers creates a film that protects moisture from escaping and this same film can also lead to clogged pores.
Resource to analyze ingredients
So lesson learnt for me. A product with too much emulsifiers can be as bad as one with too much silicones. I'll remember to check the ingredient list of new shampoos or conditioners that I test in future. Anyway, here's an interesting website that allows you to analyze the ingredients and tells you which ones are comedogenic and might cause irritations.  All you need is to type or paste your ingredient list into the table and hit button!
Comments