Using honeysuckle flowers to rescue my itchy skin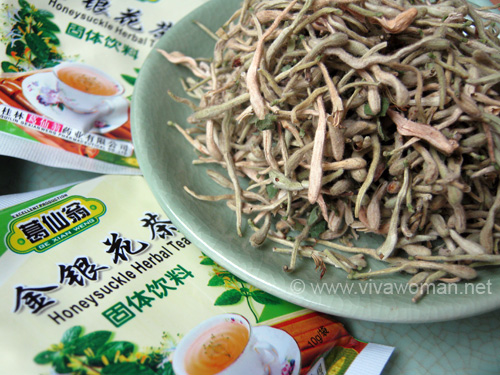 Here I am sipping my honeysuckle tea as I am typing this entry. No, I didn't boil those honeysuckle flowers but instead took the easy way out with a pre-packed honeysuckle tea. I've been drinking this to help relieve a recent bout of itchiness on my body. It's a pleasant drink because of the honey and sugar added but it does yield a very slight bitter aftertaste.
Anti-bacterial properties
You may remember I wrote about Japanese honeysuckle being used as a preservative in some natural skin care products but these are from China and are used primarily for their medicinal properties. Honeysuckle flowers are known as lonicera or Jin Yin Hua (金银花) in Chinese. I know they don't look like flowers – they're harvested just before the bud opens and then dried. According to the folks at the medical hall, honeysuckle is an anti-bacterial and anti-inflammatory herb to clear internal heat and relieve toxicity. I was recommended the tea to try and I got the dried flowers too because I remember Joyce of Atelier Beauty wrote a post about her mom using the flowers to bathe her dog. I ah…ahem…was planning to use them to bathe myself though.
Used for many conditions
Anyway, upon further research, I found out that honeysuckle flowers have broad spectrum antibiotic properties and appear to be used for treating fever, sore throats, coughs and even asthma but it seems they are most useful for treating ulcers, rashes and skin infections caused by toxins in the body. Because of its ability to inhibit bacterial growth, this herb is often used in China to treat acne. Interestingly, I also learnt that honeysuckle flowers are used for weight loss.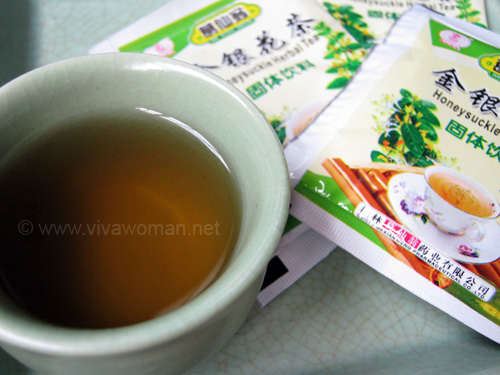 Drinking the tea once a day
I have a "hot body constitution" according to TCM and so this drink works for me. I suffer from body itch caused by some internal issues and they come and go randomly. It used to be very bad but have since improved when I started taking a health supplement. However, it came back to attack me again recently and that's how I ended up at the medical hall and then this. I was told that on top of drinking the honeysuckle flower tea, I can bathe myself with a topical compress of honeysuckle flowers. However, I didn't even have to come to that as the tea has helped to relieve my itchy skin condition.
Use with care
Honeysuckle flowers are readily available in the medical halls. I believe some online stores that sell DIY ingredients supply them too but I'm not too certain in what form. The pre-packed tea do not cost much – S$1.40 for 10 packs. The dried flowers cost a bit more. The bunch in the picture you see cost me around S$2. I might try to use it as a body wash another time but if anyone is considering this herb after reading this, please exercise caution when trying out such herbs especially if you have a history of medical problems.
Comments