Liquid foundation brush: yay or nay for skin?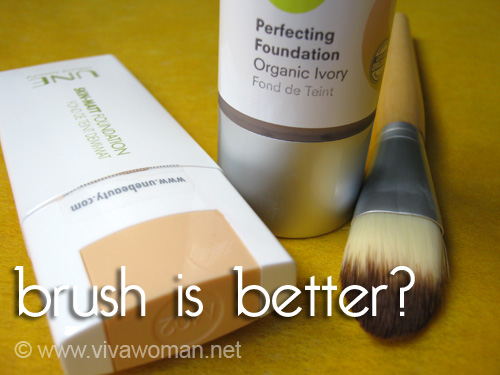 I'm using quite a bit of liquid foundation these days and have been trying out a few natural brands out of curiosity. At first, I relied mostly on my fingers to apply and blend the foundation. And the reason I use my fingers is because I find it easier to blend with them. However, I also noticed that they're not the best for my skin because with some of the foundations that are slightly creamier and drier, there is a higher tendency of asserting more pressure and hence, pulling my skin while blending the foundation.
YAY
So a foundation brush comes in handy for this purpose. I've been using the Ecotools Bamboo Foundation Brush as a number of you mentioned that it is suitable for liquid foundation, Somehow I found the natural brands of foundation drying up more quickly and this brush allows me to spread the foundation more quickly on my face. In a sense, I feel that using a foundation brush is better for my skin, especially for the delicate eye area. Plus, the lighter strokes and pressures help me not blend away my mineral sunscreen. So a brush is better than fingers then? Well, not necessarily. It maybe better for the skin but the end result may not be as ideal as using fingers.
NAY
I'm not saying the result is poor but without the warmth of my fingers, I found a brush makes my foundation appear slightly streaky. While I can still touch up with my fingers afterwards but I don't get an entirely smooth application compared to just relying fully on my fingers. Also, I find a brush less hygienic as a wet brush will trap more bacteria and it is not feasible to wash it daily. I mean, I can always wash my fingers and dry them prior to applying my foundation but yet, I can't possibly do that with my brush right?
Sponges
And don't get me started on using sponges. I do like using them for power foundation but they're not ideal for me when it comes to liquid foundation. That, or I simply have poor makeup skills.
So do you wear a liquid foundation? If so, what do you use to apply it?
Comments