Make a detour, expect the unexpected at Spa DETOUR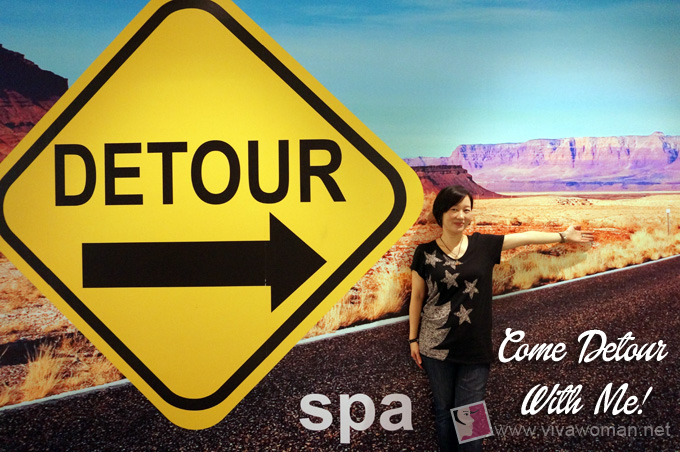 Recently, I was invited to check out Spa DETOUR, a new spa in town. I'm usually very careful about featuring spas and salons given that many of them in Singapore practise questionable sales tactics. But after checking out DETOUR's website, I decided that their quirky concept of a leisure spa appealed to me.
Located in the heart of the newly renovated east wing of Suntec City Mall, Spa DETOUR occupies a 3,000 sqft space with 12 treatment rooms of various sizes, 1 screening room, 1 fish spa and a café. Treatments include sleep spa, full body massage, foot reflexology, facial, neck & shoulder massage, manicure & pedicure and fish spa.
A spa run by non-spa people
Anyway, Spa DETOUR is run by DUCK & HiPPO—the same tour company which runs the city sightseeing topless buses and cruises along Singapore River. So the name DETOUR tells you that tourists are invited to take a detour from their touring activities to check out the leisure spa. I suppose that's why they say that DETOUR is a new concept spa run by non-spa people. Could we then say this is a new concept spa run by travel specialists?
But does it mean that DETOUR is only for tourists? Why no of course. In fact, this spa is said to be a hideout for urbanites to take refuge in the city. Get in and you'll be captivated by the unique designs and generous space. No two treatment rooms are the same and by my standard, I'll say they're pretty hip and arty. Well, let me show you what they look like and you form your opinion k?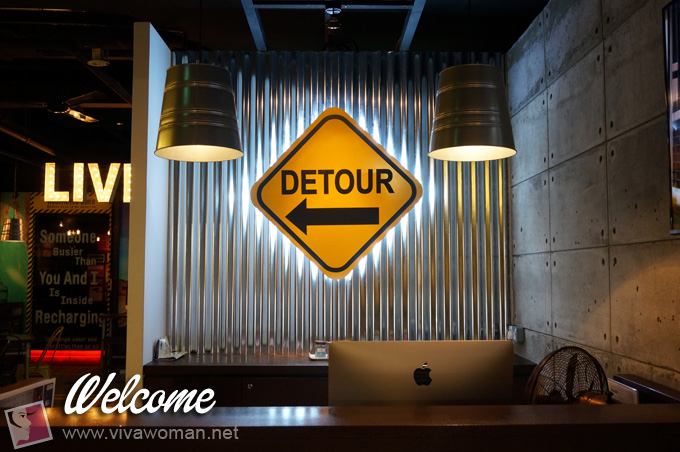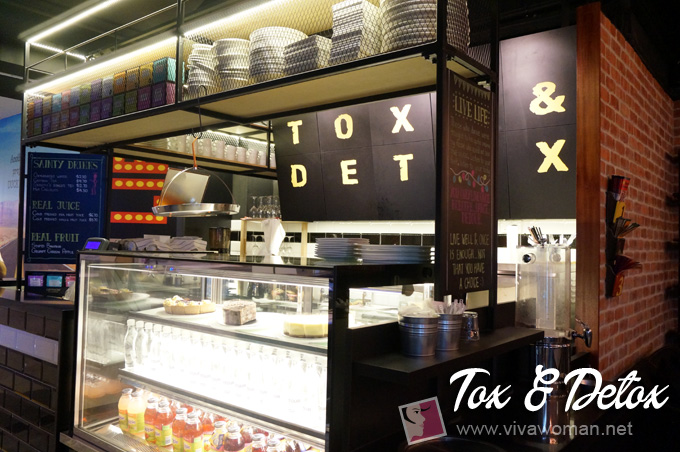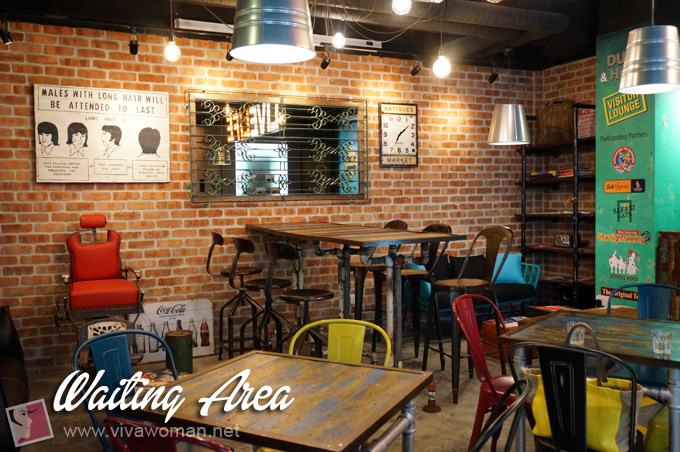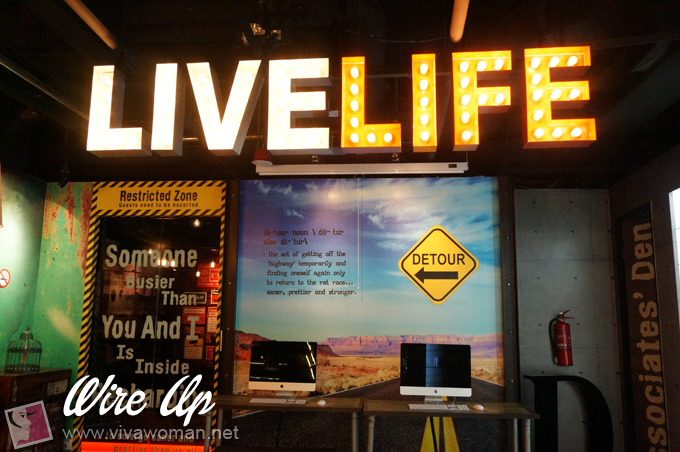 Expect the unexpected
These are what you'll see when you enter the spa. You cannot tell that this is a spa right? In fact, it can easily pass off as a bar with its "TOX & DETOX BAR" right at the entrance. Well actually it is a cafe that doubles up as a waiting area that you can chill out, surf the Net, or drink a cuppa. And yes, you can also have your cake and eat it too.
Very cool. Very hip. Very inviting. You absolutely have no idea what's awaiting you beyond this section. And because it's me with wild imagination, I actually pictured some thrill rides waiting for me beyond those walls. HA.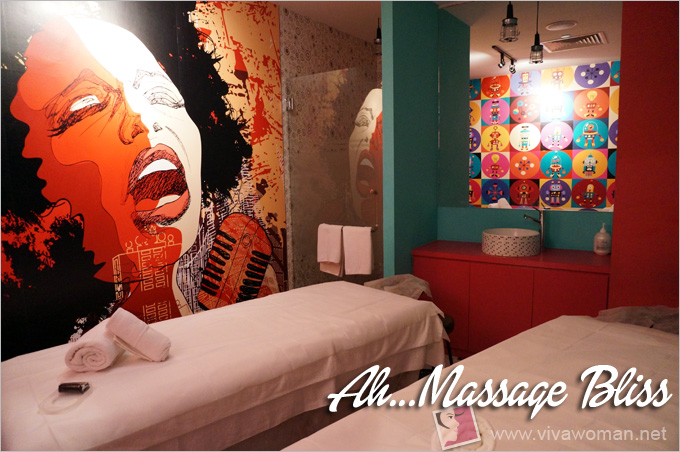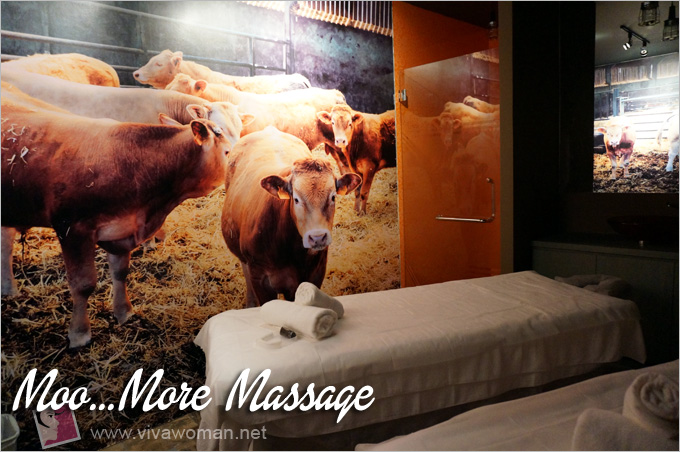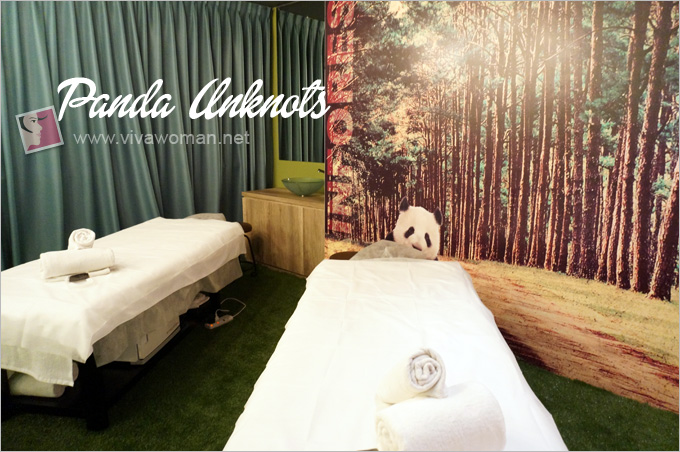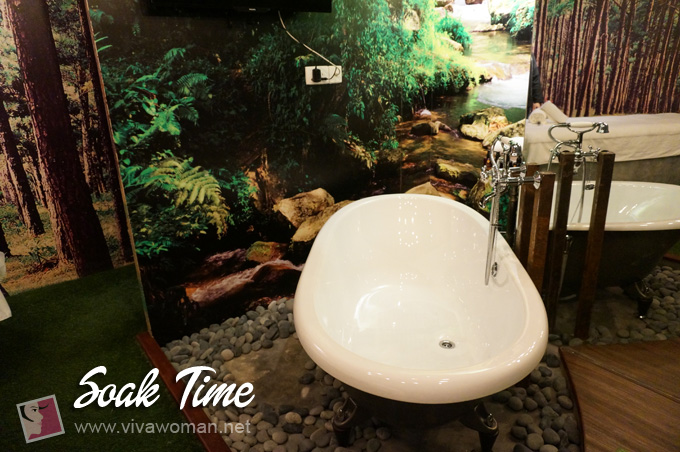 Treatment rooms with a different views
I wasn't that far off really because right inside, you'll find different treatment rooms featuring animals of sorts! Okay, I exaggerated! They were just very interesting wallpapers of animals—some really cute ones too. Fancy a massage in a barn or a scrub within a forest with a peeping panda? How about some cuddling time with a huge white fluffy rabbit?
The rooms are of a good size and in some of them, couple treatments can be arranged too. In fact, one of the rooms actually came with a full-sized bath tub! I think you'll agree with me that the whole concept is very funky and certainly doesn't look dreary or dull.
I had a complimentary detox massage and it was great. My therapist told me that the massage I chose was less intense but I could request for harder rubs if I wish. I was quite happy with her strength and especially appreciated that she gave me a bit of extra by kneading away the tense knots on my shoulder without me asking for it. A colleague who came with me chose the sports massage and she was very pleased with the amount of strength applied on her body. Overall experience? Thumbs up!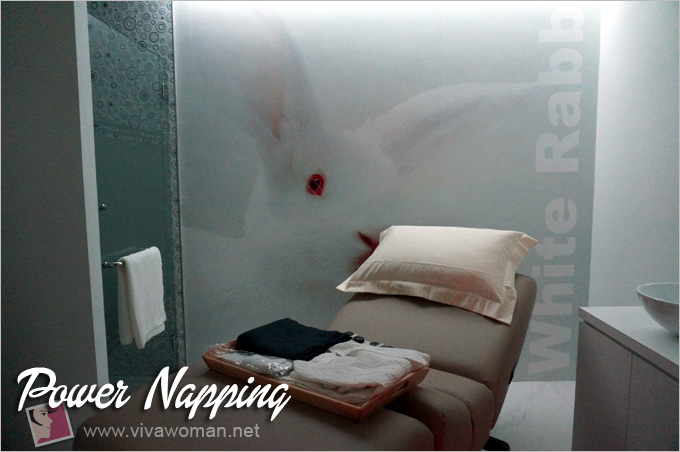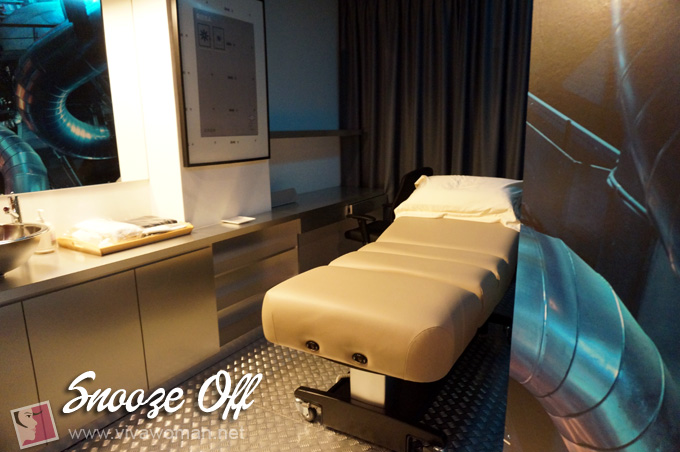 Snooze time with the white rabbit or invisible shrink
What was most unusual to me was their sleep apa. Pay to sleep in a rabbit hole? Seriously? But this appears to appeal to some urbanites (workaholics are highly suspected) as I heard these rooms get booked for half an hour to an hour to catch some snooze.
Apparently, the attraction is in their "zero gravity" beds which are said to relieve back pain and improve blood circulation. These beds are also adjustable at the touch of a button and the rooms come with music and scent. Can you picture a shrink sitting in the corner counting the minutes while you snooze off? HEH.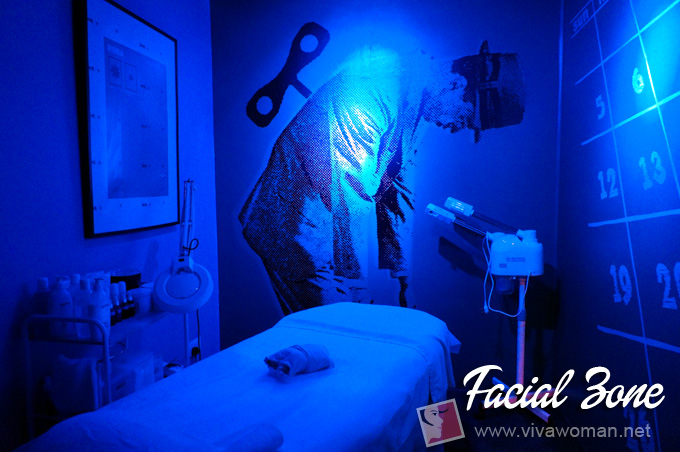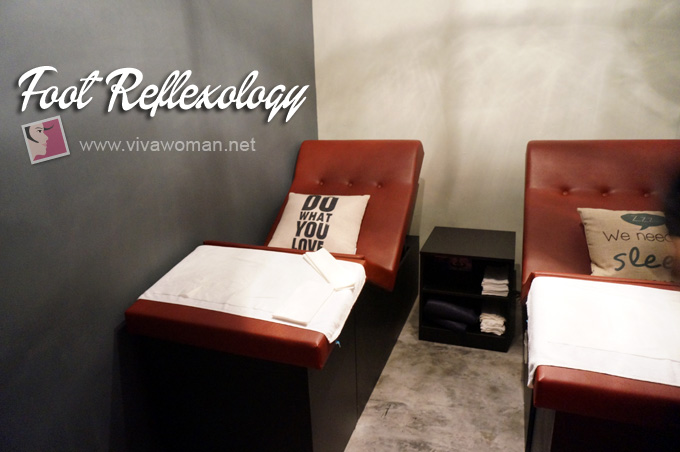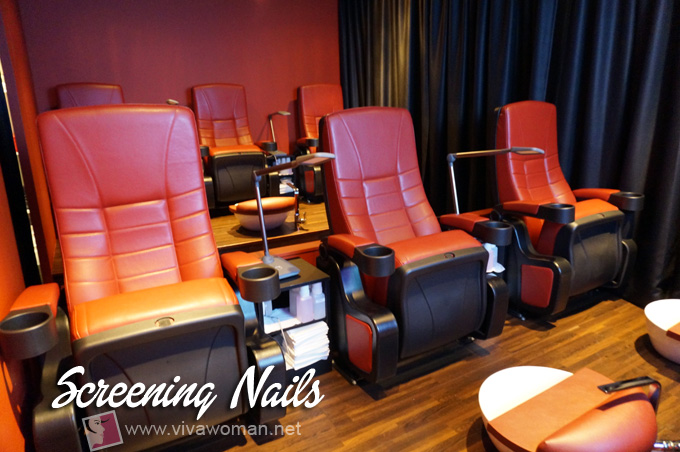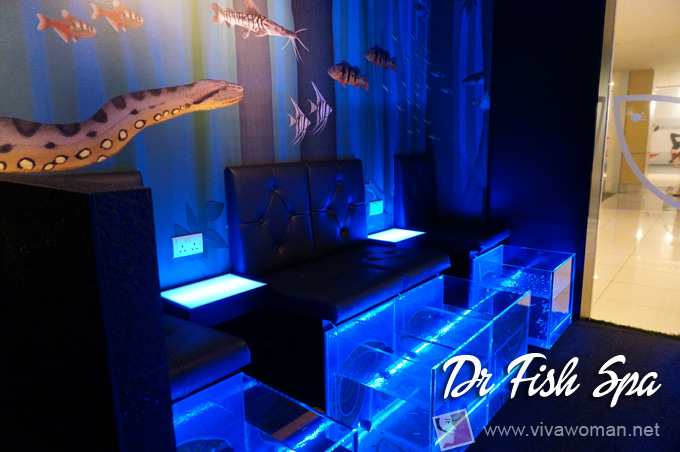 No hardsell & a special promo for Viva Woman readers
Spa DETOUR is well worth my time and I'm actually very keen to check it out again. Besides the massages, they also have facials, foot reflexology and a fish spa where you get your own "private" tank of fish to nibble away at your feet. The manicure and pedicure room looks more like a theatre room to me—can you imagine biting your fingers while having a manicure and watching a suspense thriller at the same time? HEE.
If you're keen to check out Spa DETOUR, I have one more good news to share with you. This place doesn't practise hardsell. According to the team behind DUCK & HiPPO, these non-spa folks hope to change the game by redefining what a spa can be. "No more 'scary' packages, no pressure selling. The focus is on providing busy urbanites with a conducive fashion-forward space for a 'hide-out' or 'breakaway', thus, the name DETOUR."
So for those keen to visit the spa, go to their website and find out more (or watch a video here). And specially for Viva Woman readers, you'll get a "By 1 Get 1 Free promo. Just redeem by quoting B141. Good deal if you ask me! Do note you need to call them at 6733-8687 to make your reservations.
Service highlighted was given complimentary & this review is in line with my disclosure policy.
Spa DETOUR at Suntec City Singapore
Pros
Comprehensive spa services
Reasonable prices
Varied options
Interesting design
No pressure selling
Comments