Petite Marie Organics Mineral Sun Cream SPF30+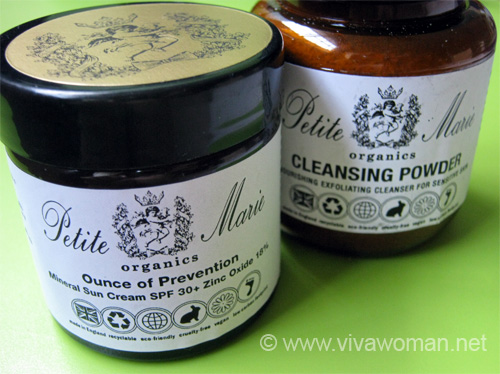 Lookie! A new mineral sunscreen with 18% Zinc Oxide and it goes by the name of an Ounce Of Prevention from Petite Marie Organics. Cute name isn't it? I ordered this, along with a cleansing powder and the two products arrived from Switzerland, which the formerly UK-based company is now located. Today, I'll just review the Ounce Of Prevention Mineral Anti-Aging Sun Cream SPF 30+, a product that some of you have been raving.
Natural formulations
I know of Petite Marie Organics when they were first launched in the market but it is only now that I've got a chance to try their products. The brand actually reminds me a lot of Marie Veronique Organics, not only because they share the name "Marie" but also because of how their products are made. Products from Petite Marie Organics are free from synthetic chemicals, silicones, aluminum, perfumes, fragrances, and alcohol. And interestingly, all Petite Marie Organics' products are also stocked in small batches to ensure freshness. In terms of preservatives, the company uses essential oils, salts (sodium benzoate, potassium sorbate), milk sugars (gluconolactone), vitamins C and E, and calendula extract.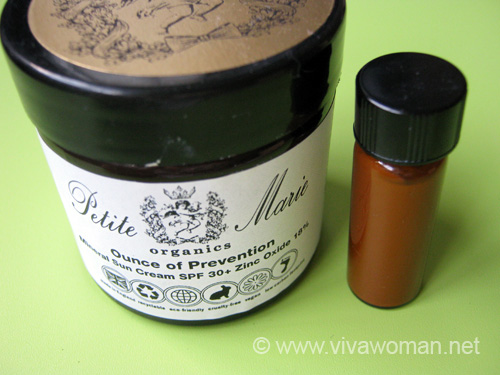 Ounce Of Prevention Mineral Anti-Aging Sun Cream SPF 30+ 60ml US$30
Purified water, zinc oxide (18%), organic olive oil, cetearyl olivate (emulsifier), sorbitan olivate (emulsifier), organic shea butter, organic sea buckthorn oil, cetyl palmitate (emulsifier), sorbitan palmitate (emulsifier), organic Argan oil, organic Echinacea extract, organic calendula extract, Siberian ginseng extract, starflower oil, Arctic black currant oil, olive leaf extract, xanthan gum, green tea, lycopene, gluconolactone, sodium benzoate.
Ounce of Prevention Cream is a described as a complete anti-aging solution: a moisturizer, an anti-wrinkle antioxidant cream, and a natural mineral-based sun protection product containing pure, non-nanoparticle zinc oxide which your skin will quickly absorb without leaving a white residue. The zinc oxide is used at 18% concentration and hence, this product provides broad spectrum protection against both UVA and UVB rays. Additionally, both lycopene and green tea extract also help ward off free radicals and lycopene also encourages formation of pro-collagen in our skin. Other skin-protecting ingredients in their sun cream include argan, starflower, and black currant oils which support the skin with high levels of anti-inflammatory gamma-linoleic acids. Natural vitamin E and gluconolactone (natural sugar molecule) help moisturize the skin.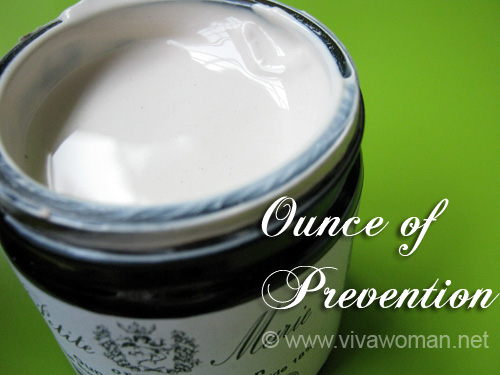 Pros
This product looks quite a bit like Marie Veronique Organics Moisturizing Facescreen in terms of color. However, in terms of texture, it is a lot creamier and therefore smoother when it comes to application. Smell wise, it is also quite mild. I also don't see any whitecast when I apply this product on my fair skin. In fact, it doesn't show up when I test it on my hands, which are darker in tone. After using it for some weeks, the product did not break me out too. And finally, the ingredients look good and the product is also cheaper.
Cons
Okay, I really dislike the packaging and I don't understand why this product cannot be contained in a pump bottle. In the end, I have to decant the cream into a smaller bottle. This product is also rather drying on my combination skin. I can feel my cheeks tightening up immediately upon application. Hence, this product definitely cannot be used alone. That's not a big issue for me since I always use a layer of protective oil before applying my moisturizer. With this product though, I found myself using more of the oil just so that my skin is better moisturized to buffer the dryness. Plus, I can only use a very thin layer of this sun cream as anything more, my skin will feel very dry.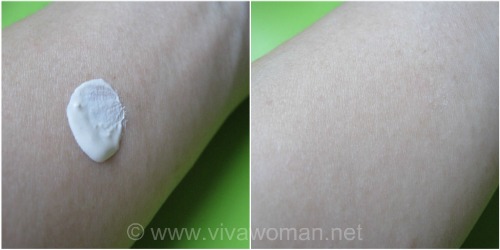 Overall summary
I really would like to love this product but I can only say that I like it to some extent. It seems that the formulation might have changed somewhat because I read a review that the old formulation was more moisturizing. So if this sun cream is made more moisturizing, it is very promising especially for those of you who have commented that Marie Veronique Organics was difficult to apply. Would I re-purchase this item? Unlikely. Unless I'm convinced that this formulation is made more moisturizing.
Comments