Review: Petite Marie Organics Cleansing Powder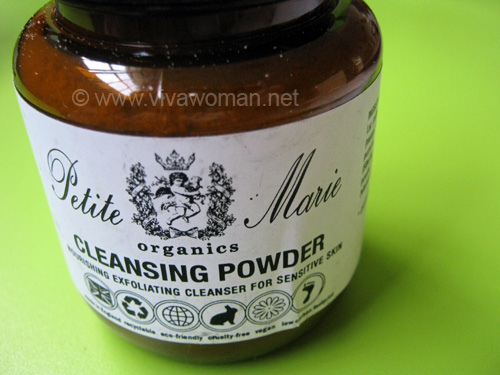 So besides the Petite Marie Organics Ounce Of Prevention Mineral Sun Cream SPF 30+, I also bought the Cleansing Powder. Basically, I only bought two of their products because I wanted to get a feel of how their products line up for me first and this product caught my attention because I've often read about washing powder for the face but have not tried them. I know some Japanese brands have this beauty item but the first thing that always comes to my mind is those white washing powder that we use as laundry detergent. Heh.
The Petite Marie Organics Cleansing Powder is described as a 100 percent natural skin care product made without essential oils, parabens, petrochemicals, phthalates or soap to bring you the purest facial cleanser that nature can offer. So did it line up well for me?
Cleansing Powder Soap-Free Formula for Sensitive Skin US$25
Lac (milk) powder*, Oryza sativa (rice) flour*, Mangifera indica (mango) powder, Zingiber officinale (ginger) powder*, Echinacea purpurea (echinacea) powder*, Eleuterococcus senticosis (Siberian ginseng) powder, Camellia cinensis (green tea) powder*, Ilex paraguariensis (yerba mate) powder, ascorbic acid (vitamin C). * certified organic ingredients
In terms of ingredients, this product look very interesting. It contains rice enzymes, which essentially provide exfoliation and skin brightening properties. It also has mango pulp, which is rich in vitamin C, antioxidant polyphenols and provitamin A carotenoids that help protect the skin from free radical damage. The ginger helps to boost circulation, revives healthy glow, and has toning effect on the skin. Another unusual ingredient is the Siberian ginseng, said to be a powerful adaptogen that helps protect your skin from pollution, stress, and aggressive environment. Finally, willow is a natural source of salicylic acid which has exfoliating and anti-inflammatory effect.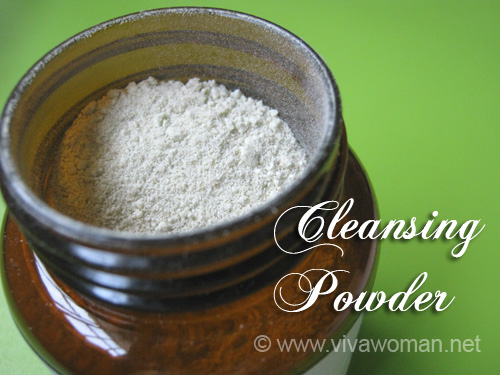 Usage
It's easy to use this product. I used it more for exfoliating than cleansing because this does not foam. So sometimes I add some of the powder into my gel cleanser and work up a foaming, lathering exfoliating cleanser. Sometimes, I just add a wee bit of water and make the powder into a paste to exfoliate after cleansing my skin. I started using like a quarter of teaspoon but realized I don't really need that much especially when I mix with my cleanser.
Pros
It works very well as an exfoliator. The texture is rather fine and I find my skin clearing up with the acne marks looking less obvious. I love to use this around the nose in particular as it helps to clear some of the blackheads. Price wise, I find it rather reasonable.
Cons
Oh the smell was quite unbearable when I first used this. It must be the milk powder. But having used it a few times now, I'm sort of getting used to the smell. I found the texture too grainy for my skin when I used it initially and so what I do now is to cut the amount of powder by half.
Overall summary
I rather like this product, especially how my skin looks after using it. It's pretty gentle as long as I don't use too much of it and does not cause redness or dryness for my mildly sensitive skin. I might repurchase it or I might try a dupe of it because the main ingredients, milk powder and rice flour, are available in my kitchen!
To find out more about this product, check out Petite Marie Organics.
Comments