Share: have you ever mistaken a boy for a girl?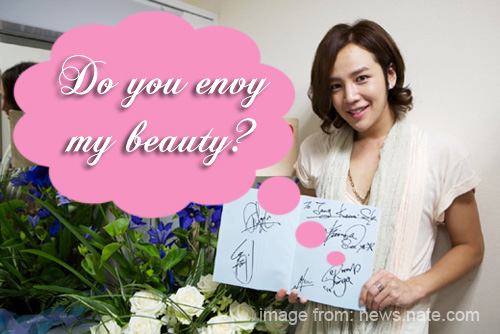 Does this look like a lady to you? Or boy, do I have serious problems with my eyesight? That hairstyle, that complexion and that attire all scream of femininity to me! I swear I thought this is a girl when I first saw the picture and was quite shock to discover this is a 'he' and he is Korean celebrity, Jang Geun Suk. Okay, I'm not familiar with Korean celebrities and neither is this a post to discuss about them. But geez, this reminds me of a very embarrassing incident when I mistook a boy for a girl just about a year ago.
The problem with names
You see, I'm horrible with names and I can't for the life of me, figure the gender based on names. An example is Andrea, that I have problems with because it is pronounced differently according to the gender and I can't figure which is which. So once, I came across a name (not Andrea) in a list and was wondering if that name belonged to a boy or a girl. The person bearing that name shed no light either. Well, that was a 'he' whom I mistook for a girl because of his looks and that he was always in the company of girls. Now this is a teenager of about 18 years old and I still couldn't tell. So I cautiously avoided any mention of the gender but one day, shit hit the fan and I made the terrible mistake of calling him a 'she' and the whole group burst out in roaring laughter, much to the embarrassment of the poor guy. And the next time I saw him, he came with a little goatee and that made me felt worst – oh no…I must have scarred him for life!
Androgyny is confusing
This wasn't the only incident. I had problems identifying the gender of another teen, who looked like a boy with a girl's name. The good thing was, I was very careful and never made another horrible mistake like the first. Seriously, I wish girls and boys just look like girls and boys. This whole pretty boy taking on the androgynous look is really confusing me for some of them look too feminine to me. Boys Before Flowers or Flowers Before Boys…oh, please save me from further embarrassment already!
So today's question is: have you ever mistaken someone's gender based on how they look? Or have you ever had your gender mistaken based on how you look? (¬_¬")
Comments