DIY Beauty: how to brighten your skin with rice powder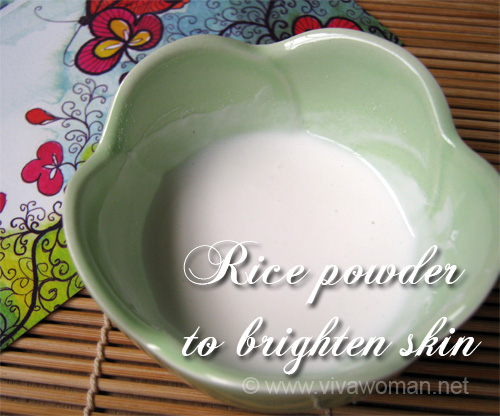 Back in April 2009, I blogged about using rice water to wash your face and that entry remained popular even today. The reason is because a lot of girls want fairer skin and the rice water can help them achieve the desired effects without burning a hole in their pockets. Actually, instead of rice water, a better ingredient would be the rice powder or rice flour.
Popular in Asia
Rice powder or flour is a widely known ingredient to treat blemishes, wrinkles and pigmentation. In fact, this ingredient has been used as an anti-aging skin treatment in many Asian countries for centuries. The Geishas in Japan, for example, use rice powder in their beauty routine and despite their heavy makeup, their skin remain porcelain smooth.
UV protection
A reader pointed out that rice water can make our skin photosensitive but based on what I've read, rice powder can actually protect our skin against the harmful UV rays. In fact, I understand that field workers in various Asian countries often apply something of a paste made from rice powder and water to protect their skin from the sun.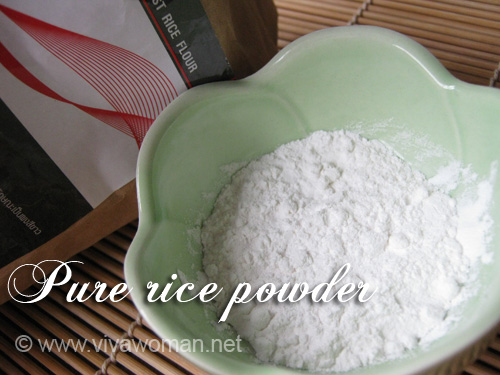 Exfoliating properties
Besides offering UV protection, rice powder has exfoliating properties and so that can help to keep the skin looking brighter. Other than that, rice powder has a chemical structure similar to ceramide, and ceramide increases collagen production to make skin more supple.
Use it alone or with other ingredients
In this picture, I've only used pure rice flour mixed with mineral water into a paste. However, you can also mix the rice flour with yogurt or even milk or honey. It's really your choice of ingredients. Apply on your face and neck and rinse off after 10 minutes or when the paste dries. Easy peasy!
Instant brightening effects
There were pictures I took of my hand in the experiment and I took them down because I'm so pissed with some random readers just thinking it's their right to give me their cow sense as if I'm selling them something here. This is DIY, duh. I've explained earlier that there were lighting issues and no photo enhancements were made. Plus my hand did look brighter to my naked eyes. But do note that the effects are temporary; you've got to use this treatment frequently like once or twice a week over a course of a month to see a change in your skin tone.
Availability of rice powder
Rice powder is not really readily available in Singapore. I've seen one that is organic selling at Cold Storage. That's probably a good choice since you have no worries that the rice might have been bleached. Alternatively, you can grind your own powder out of rice grains. A bit troublesome no doubt but it'll cost you practically nothing!

Comments