Nivea Pure & Natural Rich Body Moisturiser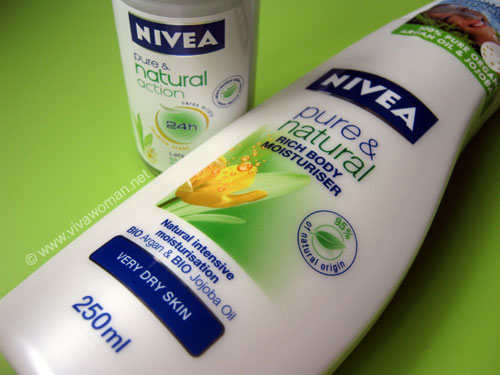 Have you noticed the slew of new products under the Nivea Pure and Nature range at Watsons? I don't think you can miss them given that the store is capitalizing on the news of Kate Middleton being spotted buying a tub of the Nivea Pure and Natural Day Cream in London. Even though the duchess doesn't seem to mind one bit that the third ingredient in the product is alcohol denat, I do. And so I only bought the Nivea Pure & Natural Rich Body Moisturiser. This is the second product I've bought under the new line; the first being the Jasmine scented Nivea Pure & Natural Action Roll-On Deodorant.
Free of parabens, silicones, colorants & mineral oils
The Nivea Pure & Natural range comprise both face and body care products, which are said to be made with 95% ingredients of natural origin and has no parabens, no silicones, no colourants and no mineral oils. This body moisturizer that I'm reviewing is also said to contain natural ingredients like Jojoba Oil and Argan Oil which are organically grown.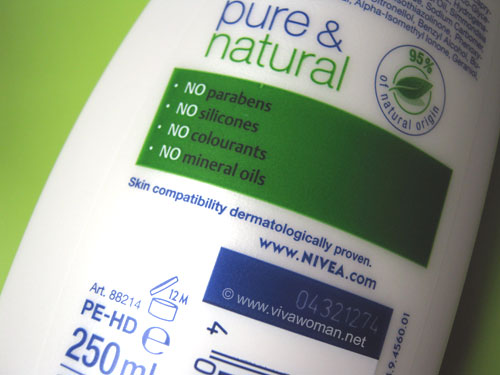 Ingredient list
Ingredients: Aqua, Glycerin, Octyldodecanol, Dicaprylyl Ether, Isopropyl Palmitate, Hydrogenated Coco-Glycerides, Cetearyl Alcohol, Glyceryl Stearate SE, Hydrogenated Vegetable Oil, Argania Spinosa Kernel Oil, Simmondsia Chinensis Seed Oil, Glyceryl Glucoside, Sodium Carbomer, Sodium Cetearyl Sulfate, Methylisothiazolinone, Phenoxyethanol, Linalool, Limonene, Citronellol, Benzyl Alcohol, Butylphenyl Methylpropional, Alpha-Isomethyl Ionone, Geraniol, Parfum.
I am not so fussy about ingredients for the body and this one looks quite agreeable to me as a whole. However, some people might raise their eyebrows with the preservatives used – Methylisothiazolinone and Benzyl Alcohol – given that this product is positioned to be natural. But I have to say that after using this body moisturizer for a week now, my skin doesn't seem to like it totally because I have had mild rashes and itchiness using this. I noticed that the rashes and itchiness did not happen when I switched to my usual body lotion. The issue isn't that bad as the rashes come and go away fairly quickly but the product is definitely not fully compatible with my slightly sensitive skin even though it is said to be dermatologically approved.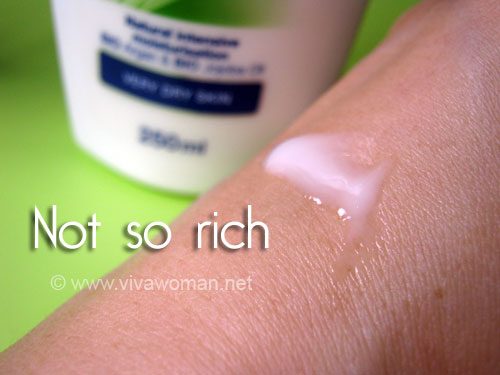 Texture, application and scent
In terms of texture, application and smell, I'll concede that I like this product. Although it is described as a rich body moisturizer formulated for very dry skin, it does not feel very thick nor greasy. In fact, the texture is just slightly thicker than lotion and when applied, smooths on perfectly and gets absorbed fairly quickly. I also don't feel that it's greasy nor sticky and hence, it works for me when used in the day or at night. The product is lightly parfumed; unless you're really allergic to that but otherwise I'm not concern because it's less than 1%.
Overall summary
I would like to give the Nivea Pure & Natural Rich Body Moisturiser a higher rating really but I can't because it did give me mild skin issues and I'm unlikely to repurchase the product. But that aside, I sort of like it as a simple body moisturizer as it's inexpensive, costing only S$7.90 at 250ml. If you have been using Nivea's products without problems, then you might want to give this new range a trial. I think Nivea's effort of formulating a range that is more natural is quite commendable; I just wish they'll take away alcohol denat in the ingredient list of their facial products.

Comments