Nivea Pure & Natural Action Roll-On Deodorant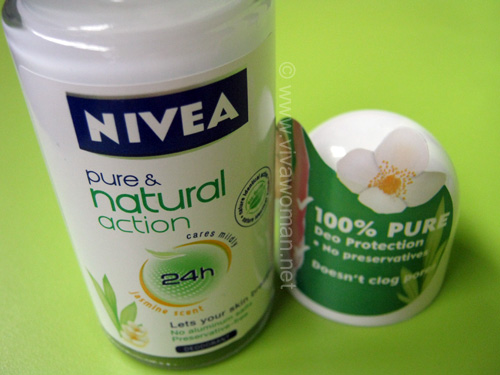 I don't think I've said this before but I actually like Nivea before I became a natural and organic convert. In fact, I still use the Nivea Dry Comfort Deodorant on some days when I'm in a hurry because it has worked extremely well for me. So imagine my delight when I saw this Jasmine scented Nivea Pure & Natural Action Roll-On Deodorant at Watsons. I can't call it a natural formulation going by the ingredient list but I was happy enough to use it because it is free from aluminium salts and preservative.
Part of a new range of face & body care products
This deodorant is part of the "Pure & Natural" range of products from Nivea that is supposedly made with ingredients from natural origin, comprising face and body care products. I don't know if they are launching the full slate in Singapore as so far, I have only spotted the deodorants and lip balms in stores here. I would be curious to see if their face care and body care range are really naturally formulated or are just formulated with lesser chemical synthetics.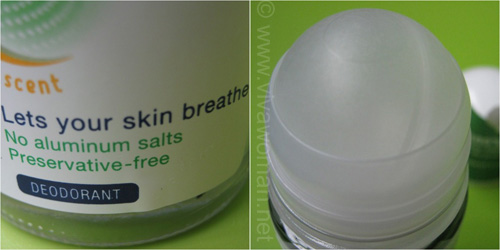 Nivea Pure & Natural Action Jasmine Scented Deodorant
Ingredients: Aqua, Propylene Glycol, PPG-15 Stearyl Ether, Steareth-2, Steareth-21, Parfum, Butyloctanoic Acid, Ethylhexylglycerin, Octenidine HCI, Persea Gratissima Oil, Trisodium EDTA.
This deodorant is described as being able to offer one 24-hour intensive protection with its anti-bacterial active ingredient bio-florine, whilst respecting our skin's nature because it does not clog pores and allows our skin free to breathe naturally. In addition, it is labeled as 'black shirt friendly', meaning that it does not stain our clothes.
Offers effective protection
Okay, the l don't use this Nivea Pure & Natural Action Deodorant for 24 hours but like the Nivea Dry Comfort Deodorant I've tried, this works effectively for me for as long as I was wearing it, and I did not smell like a dead fish even after perspiring under the hot sun. As it is a roll-on formula, it is wet when applied but it dries up fairly quickly. I don't see stains left on my clothes and so I believe it lives up to its promises of being stain friendly. However, I don't like the Jasmine scent much as it's far too sweet for my olfactory sense.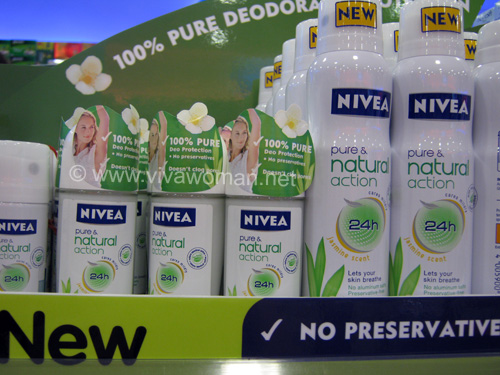 Overall summary
I think we're quite hard press to find a deodorant that is naturally formulated and yet fully effective at the same time and so this is quite a good product for those in the market for a deodorant without too much chemical overload. The only thing that annoys me is the smell and I wish they have introduced one that is non-scented (but granted, this is no anti-perspirant).  But otherwise, I rather like this deodorant and it's so affordable at S$4.90. Also available at a slightly higher price is the spray formula but I don't really like spray formulas because they tend to be too drying for my skin due to the higher alcohol content.
So any of you tried this and liking it too?
https://www.vivawoman.net/2011/05/06/nivea-pure-natural-action-roll-on-deodorant/
Comments