Share: do you avoid brands that test on animals?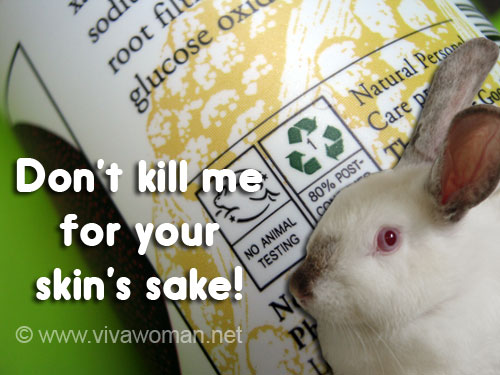 Increasingly, more beauty brands pledge against animal testing. I see plenty of such pledges on their labels and while I do take note but I do not base my purchase decisions on them. This is because I often wonder if the pledges are for real since we can't tell for sure what goes behind closed doors and I understand that since no specific laws exist regarding cruelty-free labeling of products, so companies can take liberties.
Do brands honor their pledge?
According to Peta, which and is the largest animal rights organization in the world, with more than 2 million members and supporters, the pledge is more a matter of trust. Companies are putting their integrity on the line when they respond to consumers and hence, a company that has publicly announced an end to its animal tests and states in writing that it doesn't test on animals would face a public relations disaster and potential lawsuits if it were caught testing on animals. So chances are, they would honor what they pledge for the sake of their reputation.
How to know which companies test/do not test on animals?
While I don't base my purchase decision on such pledges, but neither would I support a brand that is well known for conducting animal testing – provided I know about it. Now, the question then is, which are these companies? I don't always know but the good thing is, we can find out about these companies by downloading the list from Peta (click through). Surprisingly, a number of big brands are still on the list.
Why do cosmetic companies test on animals?
Actually I also wonder why cosmetic companies test on animals since animals' skin are different from ours. I mean how accurate is product testing performed on animals to measure the levels of skin irritancy, eye tissue damage, and toxicity caused by various substances used in the manufacture of cosmetics? From my understanding, brands that do not test on animals are using more advanced methods of testing for such issues; namely using only computers and human tissues.
Are no animal ingredients the same as no animal testing?
Do note that a brand that pledges against animal testing does not necessarily mean that their products are free of animal ingredients. Ingredients like honey, beewax, lanolin are in fact animal products and I do see it in a lot of the products I use, even from natural/organic brands. As far as I know, only those that indicate that their products are vegan are free from animal products. Even then, you need to read the labels carefully.
What is your stand about animal testing?
So what is your stand about animal testing?  Do you deliberately purchase products that indicate that they are not tested on animals?  Or do you consciously avoid brands that you know conduct animal testing?
Comments