Can you smear cooking oil on your face and body?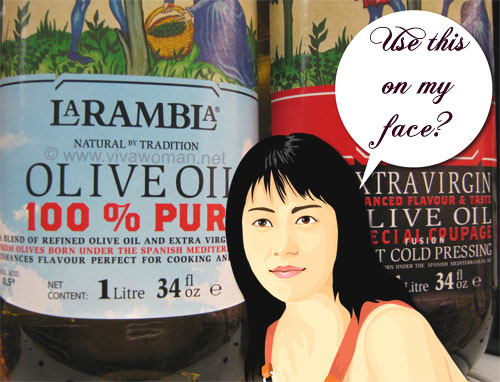 I was not kidding when I said I shop at the supermarket for my beauty needs. Like recently, I was itching to buy some interesting cooking oils I spotted at Finest; on the shelves were avocado oil, macademia oil, grapeseed oil, sunflower oil, sweet almond oil and rice bran oil. I've only used extra virgin olive oil at home but these other oils would make good skin oils. But the question is, can I use these food grade oils on my skin? I know some of you have the same question and I'll attempt to answer this today.
Difference maybe subtle
Based on information I've read, the difference between food grade and cosmetic grade oil is very subtle and sometimes, the only difference is the production process. A vegetable oil that is intended for food processing will become a cosmetic grade material if used in a non-food processing facility because food processors must comply with food handling permits, as well as inspections by the local health department. I understand that some oils used in skin care products are refined a little further to remove the characteristic odor. Take argan oil for example:
There are two main types of argan oil – cosmetic and culinary. Cosmetic oil is made from the unroasted argan kernels; culinary argan oil is made from the roasted argan kernels. Roasting the kernels changes the scent of the oil and gives culinary argan oil a nutty scent and flavor. Apart from the scent, there isn't much difference between the two types of argan oil, although it's better to use the cosmetic argan oil for your skin (it can also be used on hair and nails too).
(source)
It appears that at the production of the cosmetic argan oil, the seeds are unroasted and the oil is hence, more concentrated. So you can say that cosmetic grade is better for our skin in this case. However, it may not be the case for other types of oils as I've learnt that in certain cases, the worst fruit is used to make oil for cosmetics.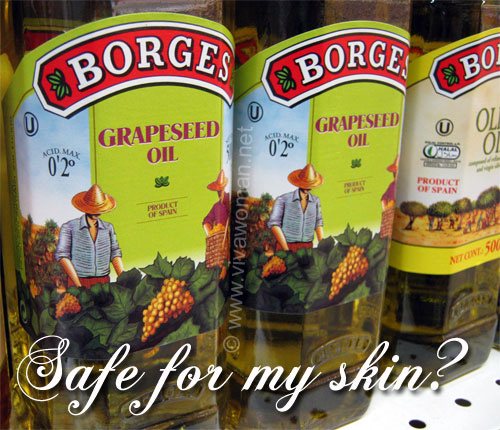 Cooking and cosmetic application
But I believe that those culinary oil that are are marked as organic, cold or expeller pressed can be used on our skin as well. For example, it is said that "in addition to being a noteworthy cooking oil, cold pressed camellia oil is a nutritive cosmeceutical oil that is said to be the ancient beauty secret of the geishas. (source)
Cosmetic grade cannot be used for cooking
And obviously, while the difference between the two grades of oils maybe subtle, you can never use cosmetic grade oils for cooking. The reason is some cosmetic oils are stabilized with chemicals which could be harmful to consume. Even if they are 100% pure, I would not recommend as they are not produced according to requirements for food safety.
My experience
Personally, I've used pure extra virgin olive oil meant for cooking on my skin. Other than that, I've not tried using other types of cooking oil. I am still contemplating if I should get some of the interesting culinary oils for my body because they are obviously, cheaper than cosmetic grade oils. I think the question is more like – do I want to? Well, I am willing to use such culinary oils on my body but am less willing to try them on my face.
What is your experience?
What about you? Do you think it's safe to use cooking oil on our skin? What's your take and experience on that?
Comments