DIY fabric flower bracelet from an old sweatshirt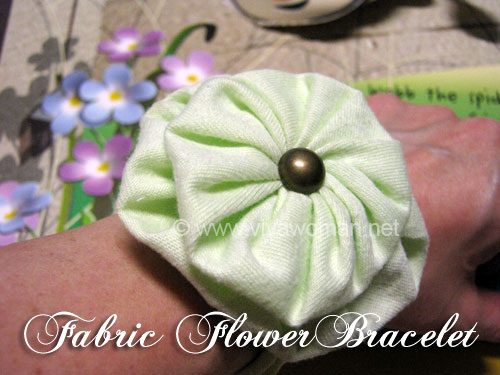 Did any of you join the overnight queue that formed at the first H&M opening in Singapore today? It's amazing what fashion can do to people huh? I was nowhere near and anyway, prefer to avoid the crowd for I can't shop when I see too many people. So today's post is definitely not about H&M but it's about a DIY fabric flower bracelet tutorial. Yes, my DIY interest has still not waned.
Easy to make
Fabric flowers are very pretty and I've learnt to make a few types. Here, I'm showing you one that takes just 15 minutes to make and all you need are two small pieces of fabric, a pair of scissors, thread and needle. For the purpose of recycling, I used the fabric from one of my son's old sweatshirt.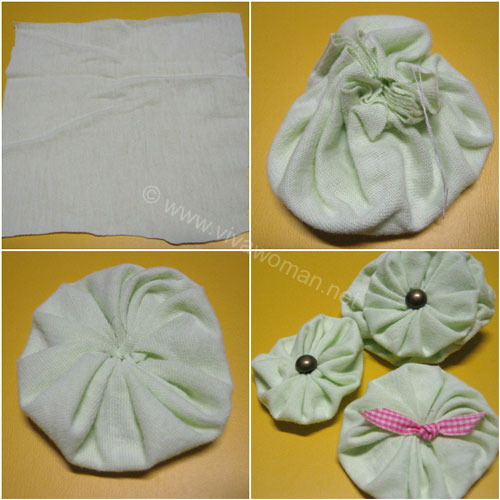 Tutorial details
To make one fabric flower, what I did was to cut a square of around 12cm x 12cm from the old sweatshirt. Then I folded it into four small squares and then cut the corners round so that the square piece becomes something of a rounded shape. Okay, I admit I wasn't precise in my measurements and so my square was really more like a rectangle. If you want to draw out a circle and cut that out, that's also feasible. After that, what I did was to sew the edge of the fabric and then gather them together in the center before tying a knot. The last step is to push the edges into the center so that the gathers are not visible. And voila, you've got a pretty fabric flower – all done in under 15 minutes.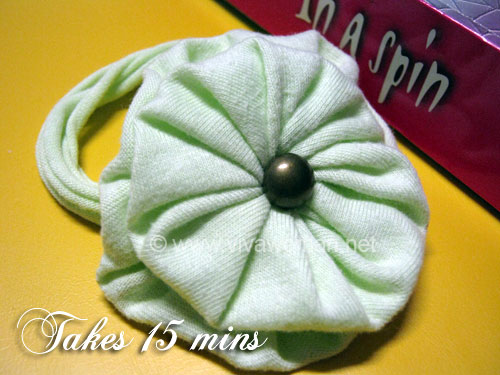 Dual flower effect
To get this dual flower effect, I basically made another smaller fabric flower and sewed the small one on top of the big one. To make it look more interesting, I sewed a button in the center. The fabric flower can be sewn onto clothes or made into a necklace. However, here, I've made it into a bracelet also using the fabric from the sweatshirt. The method was how I made the DIY t-shirt bracelet. The fabric flower is then sewn onto the bracelet.
Make an assortment of different sizes
You can visit Viva Woman Facebook Page to take a look at how to create the fabric flowers with the picture tutorial. The fun thing about this project is that you can make different sizes of the fabric flowers given that they're easy to put together. What you want to put in the center of the flower is also your choice.
Comments