Mukti: certified organic skincare from Australia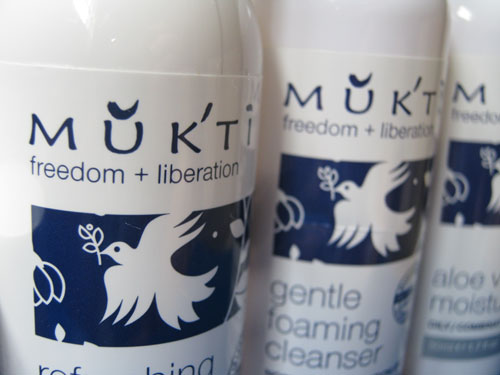 I came across the Mukti range of certified organic skincare range briefly back in 2009 at the now defunct Phyto Organics but didn't have the chance to learn more about them nor try them back then. Interestingly, the Australian brand has made a comeback into Singapore and this time, the range is being distributed by Bud Cosmetics. I had the opportunity to learn more about the brand when the founder was in Singapore last week to introduce her products to the media.
The organic difference
One of the findings that impressed me when I was researching about this brand is that the company lists the organic percentages of individual retail products on their website, something I haven't seen being widely practiced in the industry. Many of us have griped about how little organic contents are really contained in many so-called organic products but under the Mukti range, the majority of their products are certified organic with 95% of the content being of certified organic origin. The other products are over 70% certified organic content and are classified as containing certified organic ingredients. In terms of certification, Mukti Botanicals is certified by the Australian certifier – the Organic Food Chain (OFC) .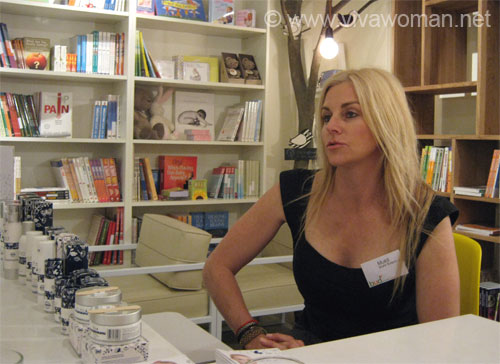 Founder's passion in safe and natural skincare
That's the founder, Mukti, which by the way, is pronounced as 'mooktee', a name derived from Sanskrit, and it means freedom and liberation. Mukti, whose background was in natural therapies, had a personal desire to use skincare products that were completely natural and would not harm herself or the environment. So the Mukti range was birthed in 2000 from her personal research and formulation. She is actively involved in the development of her range and after completing a cosmetic science degree in 2010, she went on to formulate a new anti-aging range that incorporates technology with organics and botanicals, which she is planning to launch in November this year.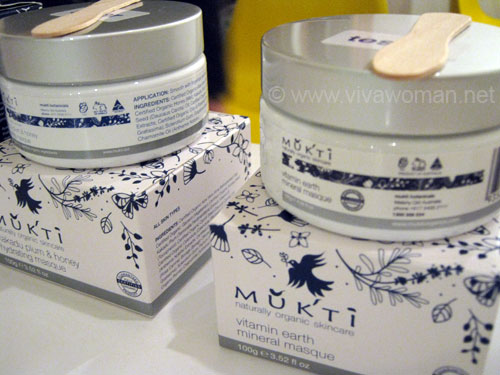 Active ingredients
Besides using certified organic ingredients, the Mukti range do not contain synthetic chemicals and are free of the dirty dozens. The products are made fresh in small batches and are infused with antioxidants, carotenoids, flavonoids, polyphenols, herbal extracts, vitamins, minerals and essential fatty acids. According to Mukti, the founder of the skincare range, "Careful thought goes into every ingredient used in all our products so each one has an active purpose…"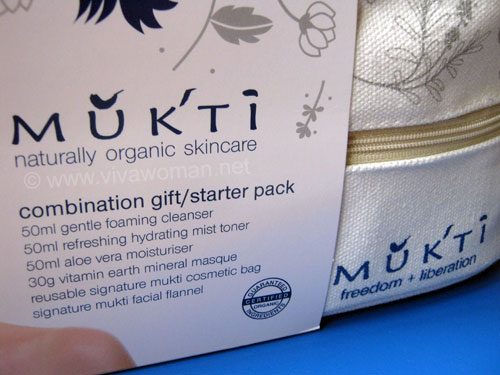 Preservation and packaging
The majority of Mukti's raw materials are sourced in Australia and their two key ingredients include Australian macadamia nut oil and aloe vera, which are said to have a very close affinity to the skin. Other ingredients include medicinal grade botanical extracts, natural vitamins and antioxidants, as well as therapeutic grade pure essential oils. All their bases do not use water but mostly organic certified aloe vera leaf juice. In terms of preservative systems, Mukti employs small concentrations of natural plant alcohol made from grain, CO2 extracts, native Australian essential oil blends, vitamin E, natural antioxidants & grapefruit seed extract. A number of their products are also packaged in airless pump dispensers to prolong the products' shelf life. While the products are not free from animal ingredients but they are not tested on animals.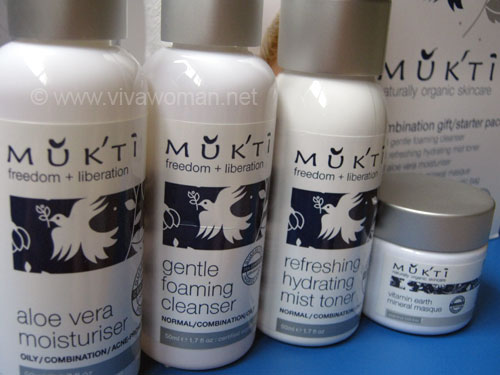 First impressions
I've tried some of their products from the starter pack but can't say for sure how they will perform long term for my skin. The cleanser is decent but I don't like the strong scent of what smells like aloe vera to me (although it doesn't have that ingredient). I'm sort of liking their Vitamin Earth Mineral Masque, having used it twice so far. Thirteen of their facial products have been brought in for retail here and the following are their prices.
Retail price list in Singapore
Mukti Gentle Foaming Cleanser 150ml S$69
Mukti Cleansing Lotion 150ml S$69
Mukti Refreshing Hydrating Mist Toner 100ml S$64.50
Mukti Floral Hydrating Mist Toner 100ml S$64.50
Mukti Aloe Vera Moisturizer 50ml S$62.50
Mukti Balancing Facial Creme 50ml S$76.60
Mukti Tinted Moisturizer with Sunscreen 50ml S$79.60
Mukti Antioxidant Facial Serum 30ml S$83
Mukti Jojoba Facial Exfoliant 125ml S$64.50
Mukti Sebogel 15ml (for pimples) 15ml S$38.30
Mukti Honey & Kakadu Plum Masque 100gm S$78.60
Mukti Vitamin Earth Mineral Masque 100gm S$68.50
Mukti Rosehip Eye Gel 15ml S$55.40
Yeah, not cheap but given the certified organic ingredients they use, I think some of the prices come across as reasonable to me.
Availability
The Mukti range of organic skincare are available from Bud Cosmetics at #03-32, Mandarin Gallery or #01-66 Square 2. You can also find them at Basement 1, toiletries section at Takashimaya Department Store. The brand is also available in a number of countries outside Australia including New Zealand, Africa, USA, parts of Asia and Europe. Have you tried this brand before?
Comments