Mukti Gentle Foaming Cleanser and Vitamin Masque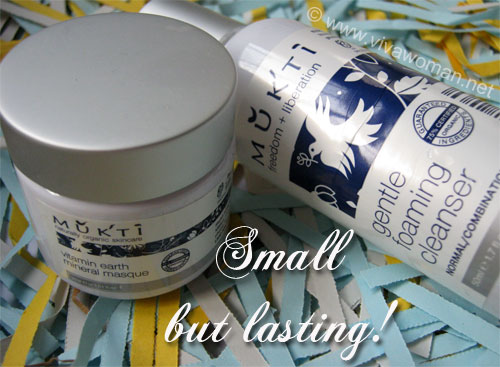 A number of you asked me about the Mukti organic products that I'm using and so this is a review of two of the products I've been trying. They were from the Starter Pack, which I received at the media launch last month and I'm quite impressed by the fact that I've been able to stretch them even after a month of usage. Normally, such sizes will last me about two or three weeks at most.
Truly organic certified
I've given a quick overview of Mukti when I covered their launch here but a quick recap is that this is one brand that is certified by the Australian Organic Food Chain to contain true organic ingredients. In fact, this is one of the first brand I've come across that lists the organic percentages of individual retail products on their website; the majority of their products are certified organic with 95% of the content being of certified organic origin while the other products are over 70% certified organic content and are classified as containing certified organic ingredients. So there is no organic bullshit, so to speak.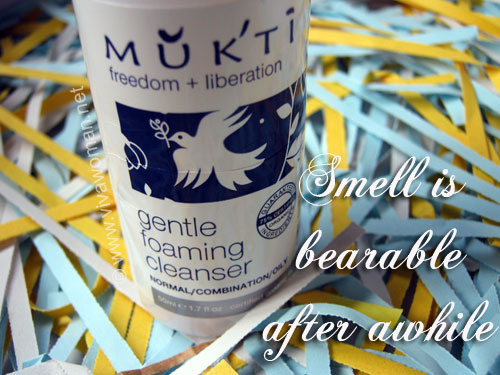 Mukti Gentle Foaming Cleanser 50ml, 85.64% organic
Ingredients: Certified Organic Aqueous Extracts of Bladderwrack (Fucus Vesiculosus), Calendula (Calendula Officinalis), Chamomile (Chamomilla Recutita), Ginkgo Biloba Leaf, Horsetail (Equisetum Arvense), Nettle (Urtica Dioica), Red Clover (Trifolium Pratense), Rosemary (Rosmarinus Officinalis), Sage (Salvia Officinalis) & Yarrow (Achillea Millefolium); Guar Gum (Cyamopsis Gonoloba); Cocobetaine (Coconut derived); Salt (Sodium Chloride); Vitamin B5 (Panthenol); Vitamin E (Tocopherol); Certified Organic Essential Oils of Bergamot (Citrus Bergamia), Petitgrain (Citrus Amara), Geranium (Geranium Maculatum) & Peppermint (Mentha Piperita); Grapefruit Seed (Citrus Grandis) Extract; Citric Acid.
I only use this cleanser in the morning and I found that a small squirt is sufficient to cleanse my entire face. It emulsifies and lathers up pretty well and is, as the name describes, a gentle cleansing. But boy, the smell is overwhelmingly nauseating the first few times I used it. Strangely however, I got use to the smell after awhile and it's not too bad now and I've also begun to like this cleanser quite a bit. This 50ml bottle has lasted me over a month so far now and there are still some quantity left in the bottle so I'm really impressed by how far this product can stretch. So S$69 for 150ml isn't expensive if you consider that this cleanser can stretch you at least three months – but of course, it also depends on how frequent you use it.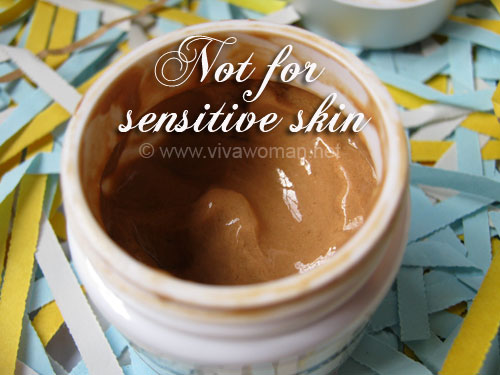 Mukti Vitamin Earth Mineral Masque 30ml, 85% organic
Ingredients: Certified Organic Aloe Vera (Aloe Barbadensis) Leaf Juice*; Argiletz White & Pink Clay; Glycerin (Vegetarian); Honey (Mel); Vitamin B (Panthenol); Vitamin C; Vitamin E (Tocopherol); Extracts of Green Tea (Camellia Sinensis), Spirulina (Spirilina Maxima), Fucus (Fucus Vesiulosus) & Kelp (Laminaria Digitata); Essential Oils of Lemon (Citrus Limonum), Lavender (Lavendula Angustifolia), May Chang (Litsea Cubeba), Palmarosa (Cymbopogon Martinii), Frankincense (Boswelia Carteri) & Ylang Ylang (Canaga Odorata).
The Mukti vitamin earth mineral masque is recommended for normal, oily, and non-sensitve skin types. It is recommended to be applied once a week as it contains an abundance of vitamins and minerals to nourish and hydrate the skin together with organic honey and extracts to smooth and re-texture the skin. I really love this masque. Okay, I can't pinpoint the results specifically except that my skin feels clean, soft and smooth but I feel good each time I use this maybe because of the active ingredients as it contains earth minerals, green tea, marine extracts and vitamins B, C & E. Placebo effect? Probably! But I'm loving it nonetheless and sometimes I can't help but use it twice in a week! I feel some warmth when I apply this masque on my skin but no tingling sensations as said to be experienced by other users. The 100g container cost S$68.50 but I forsee this 50ml is going to last me at least another two months' of usage. And oh, this one smells great because of the combo of essential oils.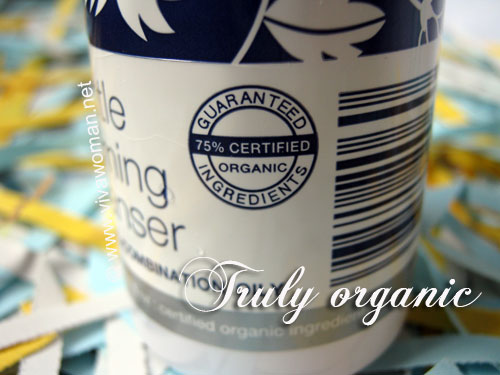 Overall summary
Despite the smell of the cleanser, I'm happy with what I've tried from Mukti so far and these two products have given me confidence to want to try others in their range. I'm quite impressed by their choices of ingredients and I'll probably want to get their Rosehip Eye Gel because I've read pretty good reviews on them. I understand that the Starter Packs will be made available soon but meanwhile, ask for samples if you wish to try prior to purchasing the full-sized products.
Availability
The Mukti range of organic skincare are available from Bud Cosmetics at #03-32, Mandarin Gallery or #01-66 Square 2. You can also find them at Basement 1, toiletries section at Takashimaya Department Store. The brand is also available in a number of countries outside Australia including New Zealand, Africa, USA, parts of Asia and Europe.
Comments