Share: do you think before you eat for skin's sake?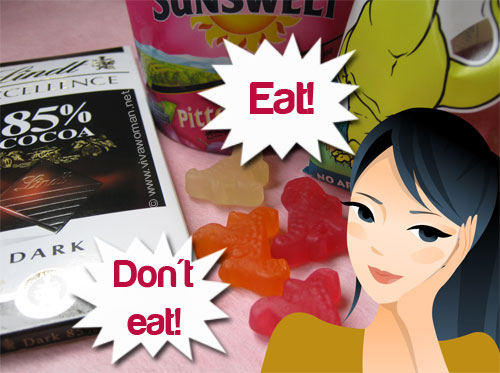 I have been rather cautious with my diet for awhile, especially the period when I took on a detox to clear my acne. Even after the detox, I was careful and would deliberately avoid consuming diary, sugar, pastries, sweets, and any types of junk food. However, as my acne cleared, I gradually reverted back to my old self and started snacking on my favorite chocolates and sweets. Initially, I would only take a bite just to satisfy my craving because I did not want my acne to make a comeback. But as I ate more and found no skin troubles, I became "bolder" and started snacking often on stuff I shouldn't have.
Internal struggle
The past two months have probably been the worst, with me binging on my son's snacks while he is away in school. Hee. But it came to a point I developed a number of pimples and I had to curb my diet but not in the old, strict sense. Personally, it has become a struggle when I open the fridge or the kitchen cupboard looking for snacks as I would always have these thoughts: "Should I eat this?" "Can I eat that?" "Will that give me breakout?" From someone who couldn't give two hoots about I eat, I have become someone with food anxieties – if there is even such a condition. And it gets worst when I'm outside as obviously, the temptations are higher. So I'll walk past a pastry shop and promptly forget all my resolutions to avoid refine sugar, but not first without going through the internal struggle though.
Do you think twice?
Do you have such a problem? Do you have to struggle with what you want to put in your mouth because it might "harm" your skin? Or are you basically very carefree about eating, popping whatever you will into your mouth?
Comments