Showcasing my skin care regime & my bare face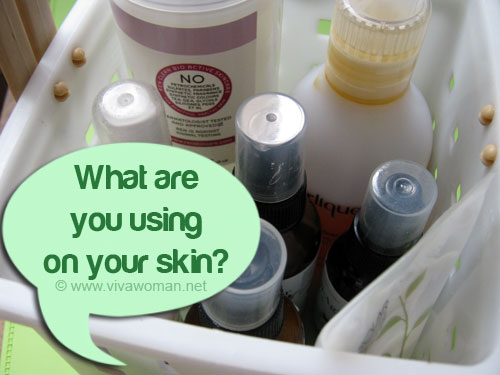 Okay, today's post is in response to Lucia's request to share my current skin care routine as well as the skin care products I use. I think I've done a post like this last year and so it's time to update because my routine has obviously changed. Personally, while I don't switch products that frequently but I find it important to review our skin changes and adjust accordingly over time. So my skincare routine might change on a yearly basis and being a beauty blogger, I do experiment with new products although I try not to be too adventurous.
I actually believe there are synergistic benefits to be reaped when using products from one brand and hence, I prefer to stick to one brand if possible. So you will notice that most of my products are from Marie Veronique Organics.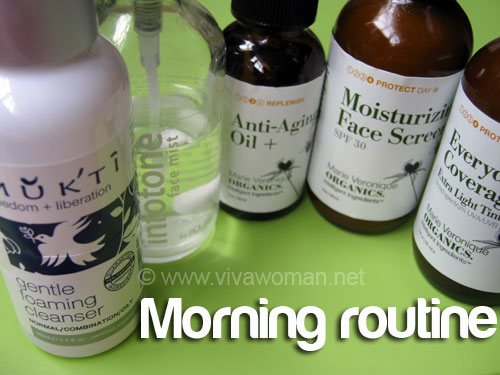 Morning skin care routine
– wash my face with Mukti Gentle Foaming Cleanser
– spritz my face with Infotone Face Mist
– apply one or two drops of Marie Veronique Anti-Aging Oil+
– apply the Marie Veronique Organics Everyday Sheer Coverage or
– apply the Marie Veronique Organics Moisturizing Face Screen
Before using the Anti-Aging Oil+, I was actually using the MVO Sun Protection Oil until it ran out. And by the way, I'm liking the Mukti Gentle Foaming Cleanser very much and am so surprised that I can stretch the small bottle for so long.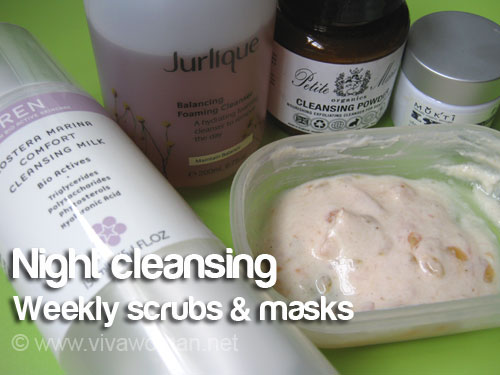 Night time special weekly care
I usually apply some scrubs and masks in the week and so these are the stuff I'm currently using. I always double cleanse my skin in the evenings with a cream cleanser, followed by a foaming cleanser and the products I use are:
– REN Cleansing Milk
– Jurlique Balancing Foaming Cleanser
After this cleansing, I'll either apply my homemade oat mask every alternate day, or I'll be using the Mukti Vitamin Earth Mineral Masque once or twice a week. I only scrub my face once a week or when I remember to with the Petite Marie Organics Cleansing Powder.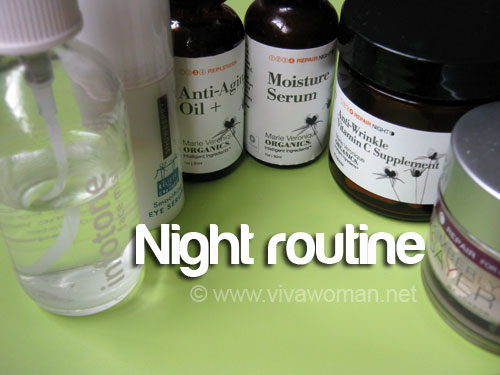 Night time skin care routine
– Spritz my face with Infotone Face Mist
– Apply Snowberry Smoothing Eye Serum on eye area
– Apply one or two drops of MVO Anti-Aging Oil+
– Apply MVO Moisture Serum alone or
– Mix with MVO Anti-Wrinkle Vitamin C Supplement
– Top with Kimbery Sayer Calendula Healing Light Night Cream
My night time skin care routine varies a bit. On some nights, I'll use all of these and on some nights, I'll go light and just apply the Moisture Serum, followed by the Anti-Aging Oil+.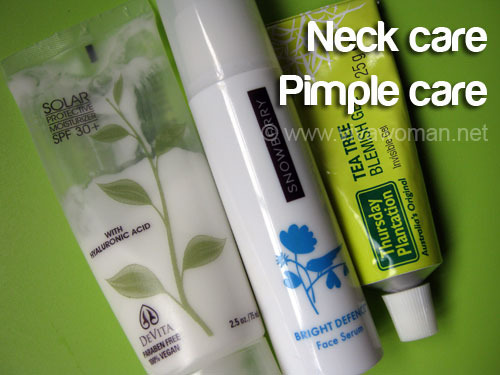 Neck & acne care
– DeVita Protective Moisturizer SPF30 on my neck in the daytime
– Snowberry Bright Defense Face Serum in the night
– Thursday Plantation Tea Tree Blemish Oil for pimples
I used the first two products on my face first but I've since stopped because I can't be using so many stuff and instead of wasting them, I'm using them on my neck.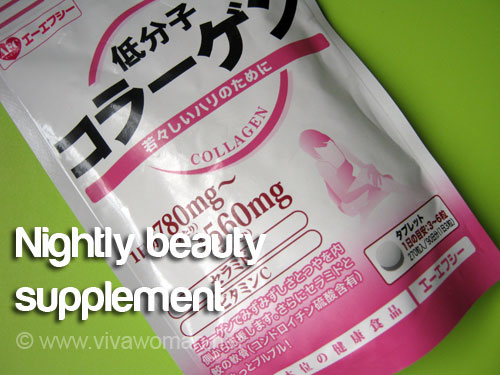 Beauty Supplements
I take supplements for my skin daily and at the moment, I'm taking Kordel Mega Acidophilus in the day to keep my acne at bay and AFC Japan Collagen Beauty in the night for firmer skin. Other than taking the supplements, I always massage my face at least once a day using the Tanaka face contouring massage method.
And here are some reviews of the products I'm using:
– Review of Marie Veronique Products
– Review of Petite Marie Organics Products
– Review of Kimberly Sayer products
– Review of Snowberry Beauty products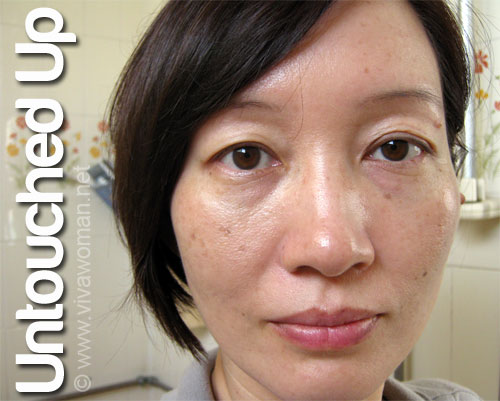 Bare face
Okay, since I'm showing you what I'm using, I should show you how I look without makeup but just with the MVO Moisturizing Face Screen as my base. This picture was taken maybe two weeks ago in natural lightings without flash. I don't profess to have good skin but I think I'm quite happy with how I look considering I'm 45 and that I don't go for any aesthetic treatments and for this year, I've probably only gone for two or three facials. Oh and by the way, I only diligently started wearing sunscreen in my mid 30s. Before that, I was either not using sunscreen or not using them properly. So yeah, if you start using sunscreen earlier, chances of getting sun spots like mine are lower for sure.
Comments