Yogurt: your natural source of Alpha Hydroxy Acids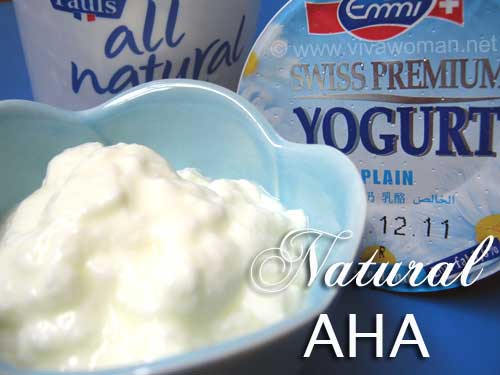 A number of you have mentioned that you use products such as cleansers or moisturizers containing AHAs or Alpha Hydroxy Acids to exfoliate your skin. AHAs are often described as chemical exfoliants that is able to remove dead skin cells on our skin's surface but they are really derived from natural products. These include glycolic acid from sugar cane, lactic acid from milk, malic acid from apples and pears, citric acid from oranges and lemons and tartaric acid from grapes. However, the two most commonly used AHAs are glycolic acid and lactic acid because they have a special ability to penetrate the skin.
Improve skin tone & even stimulate production of collagen
According to The Complete Book of Beauty by Helena Sunndydale, Alpha Hydroxy Acids work by breaking down the protein bonds that hold together the dead cells on the surface of our skin.  They cause the cells of the epidermis to become "unglued" allowing the dead skin cells to slough off, revealing brighter, plumper cells underneath. This gentle process cleans and clears blocked pores, improves your skin tone and softens the look of fine lines. AHAs may even stimulate the production of collagen and elastin and are reported to improve wrinkling, roughness, and mottled pigmentation of photodamaged skin after months of daily application. Well, you may like to know that it's one of the popular choices of skincare ingredients recommended by many dermatologists too.
Said to inhibit melanin production
Skincare expert Paula Begoun has said that AHAs can help cell turnover rates and removing unhealthy or abnormal layers of superficial skin cells where hyperpigmented cells can accumulate. In fact, she even claims that AHAs can help to inhibit melanin production, separate from their actions as an exfoliant on skin. (source) This is why she uses AHA in her products – in a concentration of less than 10% allowed in commercial products. Higher concentration of AHAs, such as at 20% to 30% are used by trained cosmetologists or doctors in what is commonly termed as chemical peels. The higher the Alpha Hydroxy Acid concentration used in a chemical peel, the more skin irritation occurs and some even experience flaking skin.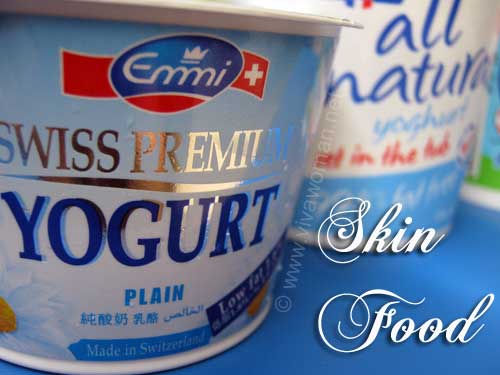 Natural source of AHA that is affordable & easily available
Actually, I've avoided commercial products containing AHAs as they did not do too much for me. Perhaps I've used the wrong products and my skin developed some sensitivity as a result. So now, I use a natural AHA in the form of yogurt, which contains lactic acid. While it may not work as quickly as those commercial AHA based products, those of you who use this ingredient will agree with me that this is really great for the skin and it's so affordable. In fact, this will make a great exfoliant without causing sensitivity to most skin types.  I'm not sure what's the concentration of AHA in the yogurt but the pH level is definitely under 5 and so most people can use it quite regularly.  And by using this ingredient at least twice or thrice a week, you may find your skin tone evening out and some of your pigmentation or acne scarring marks actually lightening up over time. I'm not kidding you; I've used yogurt for awhile now and I've seen some good results on my skin!
Versatile in homemade recipes
Some companies are going to flame me for saying this but there is no need to purchase cleansers or creams containing AHA because yogurt is a natural and viable option.  You can also choose to use milk like Cleopatra, who is said to have bathed in sour assess' milk to keep her skin beautiful. I don't use milk that regularly only because I find yogurt a more versatile ingredients in homemade recipes. Yogurt is easily available in the supermarkets; just choose yogurt formulas that are sugar and flavor free and if you are acne prone, best to use the low fat formula too.
Slather your sunscreen when using AHA
Do check out my Homemade/DIY beauty category for various recipes using yogurt. I am currently loving it with oat flour, rice flour and sometimes mung bean powder. You can also use it with fruits or vegetables. Or, you can just use it alone as a mask. Leave it on for 10 to 20 minutes, rinse off and moisturize as usual. Some readers have informed me that their grandmothers have great skin because they use this simple ingredient. Realistically though, expect to see results after three to four weeks of regular usage with this natural ingredient but whether you choose to use yogurt or an AHA based product, please remember to slather your sunscreen daily as the ingredient can cause sun sensitivity.
Comments