Green beauty: Jo Wood Organics from natureLOVA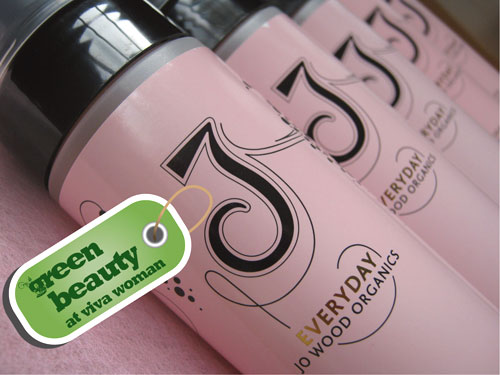 Remember I mentioned about putting together a few boxes of goodies from some of the natural/organic brands and stores on Monday? Well, I have a name to these boxes and they're called VivaBella Green Beauty Boxes! There will be five of them filled with green love to be given out in December and here's a glimpse at the first batch of the goodies – three bottles of 200ml Jo Wood Organics Tula Cleansing Body Mousse and two bottles of 200ml Jo Wood Organics Tula Nourishing Body Cream worth over S$300 from natureLOVA.com. Lovely? Likey? More are coming!
Giveaway details
Yes, this is a giveaway but it's run slightly different from the usual and you'll need to follow this blog and my Facebook page closely, starting this week. As the objective of this giveaway is to get you be more aware of green beauty and at the same time, to introduce you to some of the cool natural/organic brands and stores, so I'll be publishing a couple of "Green Beauty" posts. In fact, I've started out with the post a new initiative to build a community. You'll need to comment on all these posts if you want to lay your hands on those goodies. On top of that, if you promote these posts via social media such as Facebook, Twitter or your blogs and let me know here, you'll earn bonus chances. You might like to know that out of the five boxes, four of them will go to my Singapore readers while one box will go to an international reader. Winners will NOT be picked randomly this time around. Rather, they will be handpicked based on the quality of their comments and participation level throughout the period.
Tell me more about natureLOVA
So today's task is simple. Go check out natureLOVA and be a fan of their Facebook page too. Then come back here to let me know anything cool you've found out about the company and the brands they carry. You may comment more than once but remember, it is quality and not quantity that counts – so don't cut and paste links but write something instead. Anyway, I've reviewed the Bio a+o.e haircare range that natureLOVA has brought in from Italy. Besides this brand, the online ecoluxe apothecary has brought in a couple of other premium organic beauty products such as Jo Wood Organics, Spiezia Organics, Amal Oils, Agronatura, Laboratoire Natur Aroma, Balm Balm, Madara, Suki and Trevarno.
Be a fan of their Facebook page to win Madara goodies
natureLOVA is based in Singapore but they ship internationally. Come 29 November to 24 December, they will be participating in the Takashimaya Christmas Fair, where they will be showcasing 66-30 (men skin care) and Agronatura (body care), as well as soft launching a new Swedish brand Estelle & Thild. Anyway, it's a good idea to be fan of their natureLOVA Facebook page as besides being kept in the loop about their activities, you may just be one of the ten fortunate ones to win a Madara Cleansing Milk or Toner.
Comments