GUESS challenge to win a year's supply of jeans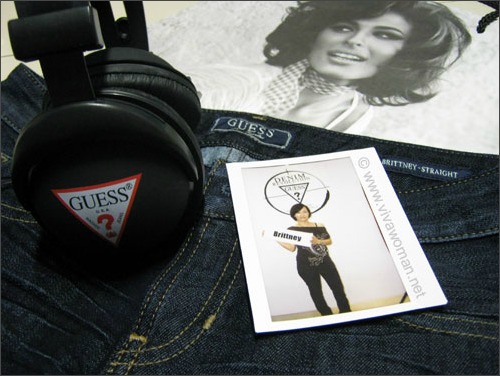 Sometimes I want to smack myself real hard for not reading emails carefully. Yesterday was such an instance. Well, what happened was that I had walked into the GUESS boutique at Paragon, thinking I was attending a fashion launch event. Little did I realize what I was in for! In fact, when I found out, I almost walked out of the store because I was required to do something I was adversed to – to try three pair of their jeans and then pose for a picture! I had thought it was something impromptu but later realized it was my fault for not clicking on the attached e-invite, which had contained the details of the "Try To Win" activity.
Jeans is not my thing
But you're probably wondering why I was so adversed to the idea of trying on their jeans. It's not their jeans per se, but jeans in general. I DON'T WEAR JEANS. I don't think I look good in them, given my big hips and short legs, and I have completely given up on the idea that I'll ever own a pair of jeans or be seen in one. And trying on the jeans wasn't the problem; it was having to be seen in them, and then have my picture taken while wearing them! I absolutely cringed at the thought!
GUESS offers many designs and fits of jeans
Anyway, after a bit of deliberation, I decided to participate, especially since I've already taken time to attend the event. So I was told I needed to pick out three pair of jeans. Now, that was tricky because I'm not familiar with the different designs, and it didn't help that Guess had coined fancy names to them, such as Daredevil, Power Skinny, Venice, Starlet, or Britney. They were supposed to denote the different cuts like skinny, straight, boot, etc., and also if the design is of legging fit, slim fit, low rise or medium rise. It was uber confusing for me and I stared at the pile of jeans for a good moment, not knowing what to pick. Good thing help was at hand for GUESS had deployed some really nice and lovely staff to assist us, and the one who came to my rescue was a sweet lady by the name of Christine. She was very patient with my rambles and took time to pick out designs she thought would suit me.
Skinny jeans ain't for me
The first set I was given to try were the legging fit, skinny jeans. Although I had little idea about jeans but I know something about skinny jeans and decided I wouldn't look good in them. But I tried them anyway. Turned out, I couldn't even squeeze my hips in them even after trying to jump into them. LOL. So after that failed attempt, we moved on to try another set of three straight cuts, and this time, I managed to jump into them quite easily.
I picked Britney
To cut the story short, I settled on Britney, which is of a straight cut and medium rise for the picture taking. Except for the length, that pair fitted me well. I was told all Guess jeans tend to be long (or maybe Christine was trying to be kind to me) but I can have the length altered at any GUESS stores without charge. When I looked at the pictures, I still don't think I look great in jeans but I'll concede it's bearable, and the idea of wearing jeans doesn't seem so bad afterall.
You can win a one-year supply of GUESS jeans
Anyway, this "Try to Win" campaign is also targeted at the public. You can walk into the GUESS Paragon store anytime till 27 November, try on three pairs of GUESS jeans, agree to have your photo taken and you'll receive a limited edition GUESS headphone, while stocks last. In addition, the photo you take will enable you to participate in the "Best Photo Challenge". Just add an interesting caption to your photo and the best photo with the best caption will receive a one-year supply of GUESS jeans (one pair of jeans per month).
A new pair each month? Sounds like a perfect and fitting idea to begin 2012 isn't it? (~_#k8SjZc9Dxk)
Comments