Plant derived alcohol may be clogging your pores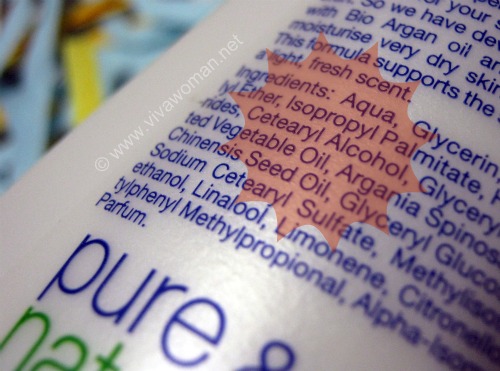 You may have already noticed that many natural and organic skin care products include common plant derived fatty alcohols such as cetyl alcohol, stearyl alcohol, cetearyl alcohol. They are widely considered to be gentle and are considered as excellent conditioning agents as they enhance the texture and feel of skincare lotions and help to keep the skin soft, smooth, pliable and healthy-looking. I actually have some reservations about them, but today, I want to discuss something else and that is, about their comedogenic level. I've been taking a closer look at them because some creams I've been using on my neck have been causing clogged pores there and I suspect that it could be because of one or two of these ingredients.
First off, let's take a closer look at the three ingredients I've mentioned.
What are these fatty alcohols?
Cetyl alcohol is an emollient that comes from coconut oil. It's often added as a stabilizer to cosmetic emulsions. Stearyl alcohol, also derived from coconut oil, can be used in place of cetyl alcohol in order to obtain a firmer formula. Cetearyl alcohol is a mixture of mostly of cetyl and stearyl alcohols and works as an emulsifying wax, regularly used to soften ointments or other thick formulas. Many skin and hair care products include one or two and sometimes, all of these three ingredients!
What are their comedogenic levels?
According to various online sources I've read, both cetyl and cetearyl alcohols are rated to be highly comedogenic, with some rating them as high as 4 out of 5. However, I've decided to cite the rating from a journal report from Acne Research Institute and here's what the ratings show:
Cetyl alcohol – 2
Cetearyl alcohol – 2
Stearyl alcohol – 2
Cetearyl alcohol + ceteareth 20 – 4
I've also understood from the report is that in order for an ingredient to be comedogenic, it must penetrate into the follicle. An ingredient with a zero comedogenic level means that it does not cause comedos, or acne. A rating of 2 according to the report, suggest a borderline pore clogging potential, or in the words of the report, shows "moderate increase in follicular keratosis".
What if they are combined with another comedogenic ingredient?
So with a rating of 2, it seems that these plant derived fatty alcohols are not so bad afterall. However, the report further indicated that if some ingredients with zero comedogenic level are combined with penetrating fatty acids, they may become follicular irritants and hence clog the pores. Also, if they are combined with another irritant, as in glyceryl stearate (SE), the combination becomes more comedogenic. Going by the same line of thoughts, the plant derived alcohols are then a problem when combined with another pore clogging ingredient. An example is TBS hair conditioner that gave me hairline pimples – it contains cetearyl alcohol and glyceryl stearate as the number two and three ingredients.
What does this mean for the acne prone?
This means that at the end of the day, these plant derived fatty alcohols are a potential problem for those who are acne prone because a product does not contain just one ingredient. And in addition, you should also take note if they're used in combination or used in higher concentration, which will show up high up in the ingredient list.
Comments