Share: do you have a monthly beauty budget?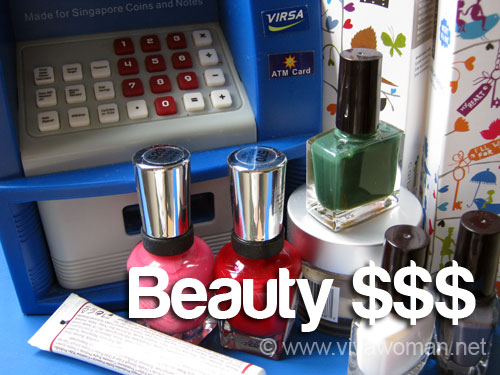 Many years ago, my bestie and I had a discussion regarding the bare minimum amount of money we need each month. She told me she can survive on a couple of hundreds while I said I need at least 1k. So we broke down the figures and she literally rolled her eyes at me when she realized that most of the money I needed was for beauty. Ha! That's the good old me, when beauty was a priority. In our local speak, "die die also must beautify!" I was also working full-time then and so had no qualms about splurging money on my hair, face and body. However, now that my priorities have changed, so has my budget for beauty.
Setting a budget
At one point in my past, I was spending four digit figures on beauty for hair treatments, facials, spas and luxury beauty products. Over time, I scaled down and limited myself to a budget of $500 a month. It was funny I was always motivated to buy something new every month then! The products were always calling out to me! LOL.
Scaling down
Today, it's really hard for me to put a figure but it's much smaller. I've wised up and am more prudent in my spending habits. So I'll stock up my products during sales and also learnt how to optimize my products to stretch them for longer usage. In addition, being a beauty blogger means I do receive products for reviews and hence, do not have to purchase so many products. But I still purchase products regularly, either to replenish my stocks or to test out new products and I'm probably spending around S$100 to $150 per month on average now. The one area I've really scaled down is on my hair. I used to go for expensive hair treatments in the hope of growing more hair but all those spending really came to naught. I've also stopped going for facials and thank goodness I don't have any urge to seek cosmetic treatments. And oh, I hardly purchase makeup items too.
Tips for saving
I think I was rather foolish with my money in the past and I hardly did much research before making purchases. Well, I had no access to Internet then. Many of my purchases were right brain motivated actually but I've since learnt that spending more does not equate to better results. I've learnt to control my impulsive buys. The first question I'll ask myself is, do I need this? Next, I'll look at the product and check up the ingredient list. Because there are a couple of ingredients I avoid, so by elimination, I am left with little choices! I also read up reviews at the forums and blogs prior to making a purchase. And, I'll wait for a sale or an offer.
Share your budget & tips
So how about you ladies? Do you have a monthly or yearly beauty budget and how much is it? What do you spend on mostly? And do you have any tips for us in terms of saving our pockets in this area?
Comments