Beauty Kitchen: salmon for a nutritional facelift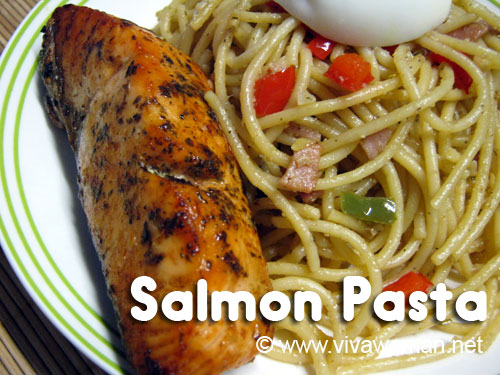 Does this picture make you hungry? Well, it did for me and that's because this is really yummy! I mentioned before that I'm not a fan of cooked salmon but I'm loving this one though because the combination of baked salmon on cooked pasta is just nice. While I did write that eating salmon twice a day can keep wrinkles at bay according Dr Perricone's anti-inflammatory diet, but I only eat this at most twice a week.
Great skin food
Salmon is good for the omega-3 fatty acids, which play a major role in skin care. The essential fats, namely DHA (Docosahexaenoic acid) and EPA (Eicosapentaenoic acid) play a key role in skin care. This includes:
– protecting the skin from sun exposure.
– providing anti-inflammatory properties.
– acting as an antioxidant to combat free radicals.
– inhibiting the production of androgens–hormones that results in oily skin.
Wild salmon is preferred
Do note that Dr Perricone's diet recommends wild salmon. If you are eating farm salmon, then it's best not to eat them that often. Personally, I would still recommend going for a supplement in place of eating salmon regularly because it's a bit hard to track the source even if the fish comes with a label. And anyway, Dr Perricone's diet requires white foods like rice, bread, and pasta to be cut out so if you're really going for his 3-day diet, this recipe won't work for you. But you can still bake the salmon in the same style that I do here and serve with some vegetables and fruits. Personally, I just need the variety.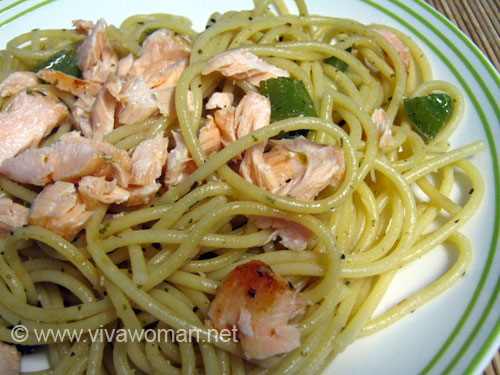 Recipe
But if you like what you see here, here's what you need:
– fresh salmon
– pasta (serving for two)
– chopped garlic
– cut capsicums
– worcestershire sauce
– garlic salt
– Italian herbs
How to prepare
The fresh salmon is marinated with herbs and garlic salt before it goes into the freezer. So each time, I just thaw the salmon to bake. While the salmon is being baked, I boil the pasta with some salt in a pot. Next, I'll fry the chopped garlic, cut capsicums, and sometimes, ham. When the pasta is ready, I'll stir fry them with the fried ingredients, add 2 tbs of worcestershire sauce, a sprinkle of garlic salt & Italian herbs for a short time on low heat. It's a simple meal, but it'll take about an hour all in all, including preparation time.
The salmon is a good skin food but I cook this because my son loves it. Me, I love to chew on the crispy skin of the baked salmon!
Comments