Green Beauty: botanical products from Botáni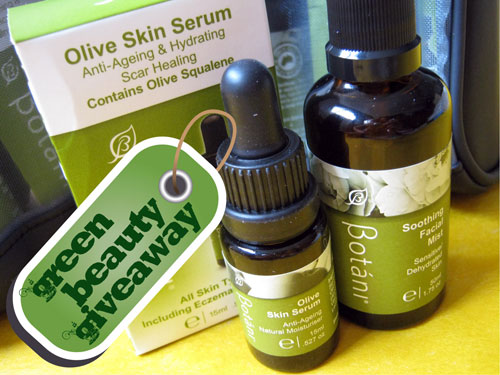 Botáni, a brand of botanical skin care from Australia, has contributed five sets of their Olive Skin Serum and Soothing Facial Mist worth S$330 to the VivaBella Green Beauty Box Giveaway. I wrote about this range recently and mentioned that their products looks rather promising, especially for those with particularly sensitive or problematic skin as Botáni range of products are toxic-free, formulated with skin friendly and organic active ingredients to address skin issues and imbalances.
Toxic-free natural ingredients
Created with natural emollients, moisturizing actives, botanical extracts, plant-based emulsifiers, as well as natural detergents and humectants, products from Botáni are free of mineral oil, paraffin oil, petroleum jelly, lanolin, sulfates, propylene glycol (PEGs). And instead of parabens, the company uses plant based preservatives such as potassium sorbate and grapefruit seed extract. The products are also cruelty free and vegan friendly as the company do not use animal derived ingredients such as beeswax but use rich olive waxes in place. Additionally, some of their formulations are completely wheat and gluten free.
Wide range of products at affordable prices
The Botáni skin care range now includes over 20 products and the products are even used by health care practitioners. What impressed me is that many of Botáni's products use Aloe Vera as the base and other notable ingredients in their formulations include Olive Squalene, Olive butters, Jojoba oil, Olive Leaf Extract, Calendula, Arnica, Liquorice Root and Beta-Glucan, amongst others. The prices also look reasonable and some products are even affordable, considering that the formulations are said to be concentrated and only a little need to be used each time.
Premium quality botanical science products
What is also noteworthy about Botáni is the combination of the founder's naturopathic holistic approach to skin health and expertise with leading industry professionals in Microbiology and Cosmetic Chemistry to ensure performance, safety and efficacy of their skin care products. In fact, all Botáni formulations are rigourously tested for safety and results, and their products are stated to be gentle enough to care for the most sensitive skin types, even for babies' skin. I wish someone will bring this range into Singapore!
Tell me more about Botáni
Do 'Like' their Facebook page to stay tune to their updates and promotions. And if you want to win one of these packs consisting of their Olive Skin Serum and Soothing Facial Mist plus the other Green Beauty Box goodies, go explore the Botáni website and tell me what you think about their Olive Skin Serum. You can also tell me what other products caught your eye if you like.
Giveaway reminder
This is the last week where I'll post all the sponsored items for the VivaBella Green Beauty Box Giveaway. Just two more brands and we're done. Then I'll call one finale just to know who is participating and where are you from to facilitate the selection of winners as four will be picked from Singapore and one from another country.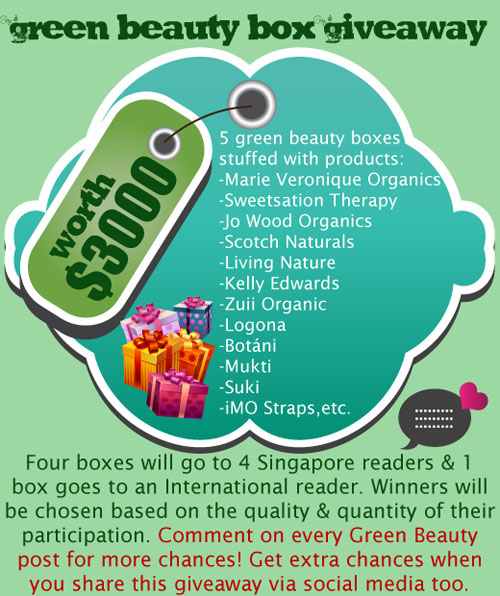 Visit Viva Woman Green Beauty to participate.
Comments