Green Beauty: Sweetsation for mommies & babies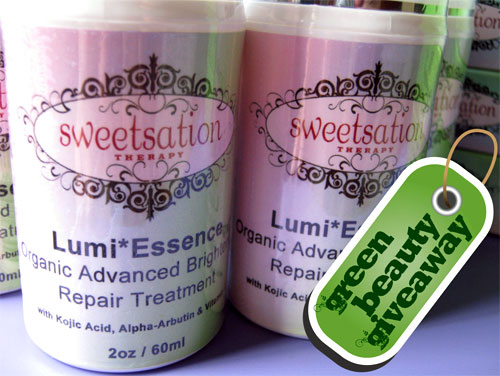 Here's another addition to the VivaBella Green Beauty Box Giveaway, and this time from Sweetsation Therapy. The USA based company has sponsored S$400 worth of skin care products – five sets of their Lumi*Essence Brightening treatment & I*Light eye cream – that are made with natural and organic ingredients free of artificial additives. Some of you may also recall my review of their Sun*Si'Belle Organic Triple Action Moisturizing Sunscreen SPF 30+ that is highly rated by EWG as amongst the best sunscreens for the past three years.
Effective & affordable range for mothers and babies
Besides their sunscreens, Sweetsation Therapy has developed a range of skin care products that are affordable, safe and effective for both mothers and babies. In fact, the brand was created by Natalia, a new mother with 20 years of skin care and cosmetic background who wanted the best natural and organic products at affordable prices. So Sweetsation Therapy's products contain the best of natural active ingredients, such as superberries, CoQ10, Caviar, Pearl, Silk and many others. The company also uses minimal packaging and even has a recycling system in place where customers can return their used Sweetsation packaging to receive a coupon or samples.
Tell me more about Sweetsation Therapy
If you want to win the set of Lumi*Essence Brightening treatment & I*Light eye cream plus the other Green Beauty Box goodies, go check out Sweetsation Therapy website and tell me what you like about their products. Do 'Like' their Facebook page to stay tune to their updates and promotions.
Special promo for Viva Woman readers
In the meantime, you may like to know that Sweetsation Therapy has a special promo code set up for Viva Woman readers. Just use the code "viva" during checkout to enjoy 20% off their products. A great time to shop for X'mas!
Giveaway value increasing
We're coming to the end of the VivaBella Green Beauty Box Giveaway real soon. If you haven't been participating, I don't know what you're waiting for really. But those who are subscribed to my Facebook page would know that the value of the items has increased to nearly S$3000 now, which means each winner can get S$600 worth of green goodies! I'll update again once the last batch of items comes in.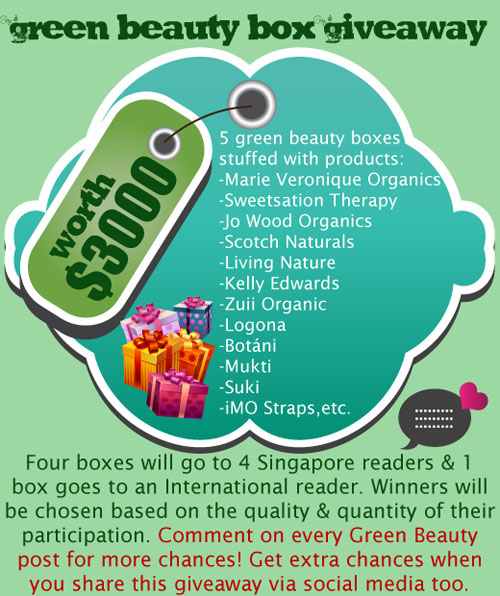 Visit Viva Woman Green Beauty to participate.
Comments