Share: would you cut your own bangs or fringe?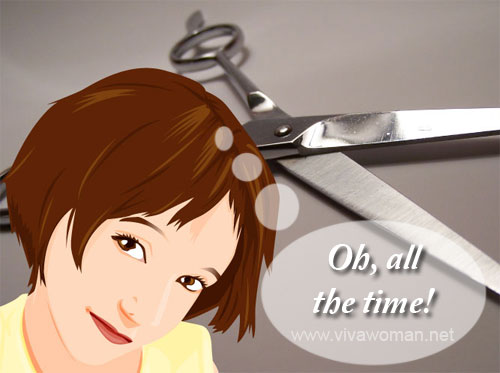 I have short hair and so I tend to visit my hairstylist pretty frequently. However, I usually go to him every two to three months. Depending on the haircut he has given me, my bangs or fringe sometimes grow too fast and I find myself having to visit him after just a month even though the rest of the hair looks fine. But since his charges aren't that cheap, I usually drag it out much longer. And sometimes, when it gets all unbearable, I'll trim my own fringe.
Cutting my own hair
Actually, I used to cut my own hair when I was younger. It was hilarious. I had long hair and once I got hit by insanity and chop it all off on my own with the aid of a mirror in hand and another mirror on the wall. It didn't turn out too badly. I was also cutting my fringe pretty frequently. But as I grew older, I became more conscious of my hairstyle and became less bold in that department. I would still cut them occasionally but I did so with much trepidation.
Observe and learn
I've learned to cut my fringe by observing how my hairstylist does it over time and I've never had a disaster. It's not too difficult as long as you proceed cautiously. Anyway, there are tons of videos to teach you how and I've got one embedded here if you're interested to learn. The best way to cut is to use a pair of scissors and a comb. I know some people use razors but that's not too good for your hair as it can cause split ends later.
Your say
Cutting your own bangs or fringe helps you save some money especially if you don't really need a full haircut. However, the question is, would you do it? Or have you tried it?
Comments