My sunscreen is giving me more spots…or not?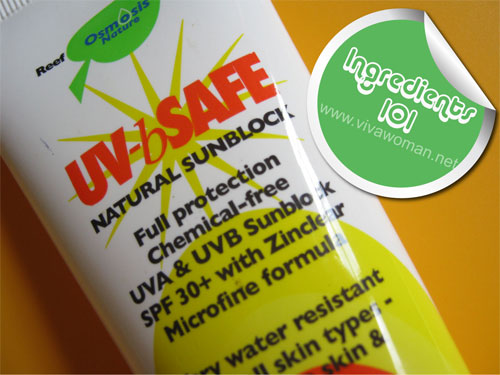 Hello everyone! Hope you had a wonderful time ushering in the new year! 2012 started out extremely well for me but I've also been very preoccupied during the past few days due to the celebrations. So very quickly today, I want to answer a question posed by a reader via email, who is wondering why she is still getting freckles and sun spots on her face when she has been using sunscreen diligently. Well, this is a rather common concern and the problem may not necessarily lie with your sunscreen assuming it offers broad spectrum protection with ample protective active ingredients, and you're applying it in sufficient amount. So what could be the culprit?
Photosensitive ingredients in your other skin care products
Well, there are a few possibilities including your lifestyle, your diet or even any medication you may be taking. However, I'll just look at one today and that is, perhaps something in your skin care products is causing your skin to be photosensitive. Actually, I've addressed photosensitive ingredients before in 2008 but I realized it's important and so I've just pulled it out again for this post – a bit of something old for something new?
Common ingredients that increase photosensitivity
It's no secret that a lot of products that promise to make your skin brighter or whiter can actually cause sun sensitivity and many of us use such products. In my 2008 post, I put up this table of common ingredients in skin care products that can increase sun sensitivity.
| | |
| --- | --- |
| Sun sensitive ingredients | Product application  |
| Alpha Hydroxy Acids | Widely used as skin exfoliant |
| Accutane | Skin exfoliant used to treat acne |
| Beta Hydroxy Acid | Popular topical exfoliant ingredient |
| Benzoyl Peroxide | Topical ingredient for acne treatment |
| Hydroquinone | Skin pigment lightening agent |
| Kojic Acid | Skin lightening and bleaching |
| L-Absorbic Acid | Often known as the true Vitamin C |
| Lactid Acid | A form of alpha hydroxy acid |
| Licorice Extract | A form of alpha hydroxy acid |
| Para-Aminobenzoic Acid | PABA, used in some sunscreens |
| Retinol | A derivative of vitamin A |
| Salicylic Acid | Most common type of BHA |
| Tretinoin | Acid form of Vitamin A |
And as I've mentioned, this table is by no means comprehensive.  There are probably a few more ingredients that I have missed out but I think as a general rule, if you're using something strong for skin lightening or acne treatment, chances are, it could contain ingredients that might increase sun sensitivity.
Natural ingredients causing sun sensitivity too
In addition, many natural ingredients can cause sun sensitivity as well, especially those that contain astringent properties. In fact Cosmetic Corp indicates that ingredients like Almond Extract, Allspice, Angelica, Arnica, Balm Mint Oil,Balsam, Basil, Bergamot, Cinnamon, Citrus, Clove, Clover Blossom, Cornstarch, Coriander Oil, Cottonseed Oil, Fennel, Fir Needle, Geranium Oil, Grapefruit, Horsetail, Lavender Oil, Lemon, Lemon Balm, Lemongrass, Lime, Marjoram, Oak bark, Papaya, Peppermint, Rose, Sage, Thyme, Witch Hazel and Wintergreen can cause our skin to become sun sensitive! I would also think that alcohol and artificial colors from makeup products can get our skin more sensitized under direct sunlight.
How to tackle the problem
It is almost impossible to avoid some of these ingredients unless you're extremely selective or you make your own products. So my best approach is to minimize what I use during the day and keep to just a moisturizing sunscreen. And do also bear in mind that some sun sensitive ingredients can remain active on our skin for some hours even after they've been washed off.
Comments