Share: must be served by female with clear skin?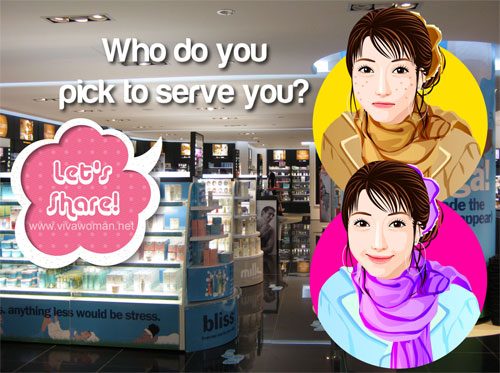 Don't judge a book by the cover! Yeah, who are we kidding? Come on now. For someone who blogs about beauty, I'll be lying if I say I don't go by what I see. In fact, I form impressions all the time based on things and people I see – some good, and some not so good. So today, I'm going to ask your opinion regarding the staff that serve you in the beauty industry, whether they are those working at the beauty counters selling cosmetics or those providing beauty therapy in beauty salons. Must they be female and must they have clear skin?
Expect to be served by women mostly
Actually, I blogged about this back in 2007 but I thought I'll bring it up now that I have new readers, and considering it's quite an interesting topic too. At that time, I was surprised to find myself being served by a man who resembles a transvestite at Stila counter. I mentioned that while I was fine with being served by him, I found the practice rather strange because I expect to be served by a lady when buying my cosmetics or skincare products. However, over the years, my perception has changed somewhat, and I no longer mind being served by men as long as they have good knowledge of the products.
Need not be good looking but should have fairly clear skin
However, I do expect these counter or sales assistants to have fairly good complexion. They don't have to be good looking but I don't expect to see too many blemishes on their faces or I will have second thoughts about their products. And if I'm going for a facial, the beauty therapist MUST have good skin herself. That is the pre-requisite for me to take up their service in the first place. I mean surely they need to know how to care for their skin first no?
Your say
Maybe some of you will think of me as being shallow and feel that I should focus on the products and the treatments rather than the person's skin condition. Well, I beg to differ and I offer no justifications for them. So what about you? Do you prefer to be served by women? Do the skin conditions of those who sell you your skincare range or cosmetics influence your buying decision? And are you particular about the complexion of the therapist who does your facial?
© www.vivawoman.net copyright notice ☺
______________________________________________________________
Comments