Help clear and blemish-free skin naturally in 6 weeks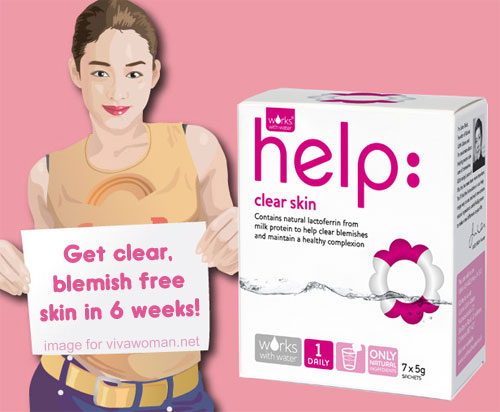 We all have experienced 'bad skin days' – those days when pimples and blemishes caused you to feel incredibly self-conscious about your complexion and when all you want to do is hide indoors. Some of you probably still remember mine and I am sure glad that those days are over now. However, it took me quite a long while to get rid of the spots, and I have to admit that I struggled through the process quite painfully by experimenting with all sorts of remedies. How I wish I had come across an effective blemish solution like this help: clear skin, which is an innovative nutraceutical food supplement that uses the power of nature and science to help you achieve a radiant and flawless complexion in six weeks.
100% natural ingredients
Help: clear skin contains 100% natural ingredients, including Praventin – a natural ingredient derived from milk, rich in Lactoferrin, which has been proven to reduce acne by boosting the body's natural defences. It works from inside out by limiting the growth of acne bacteria, reducing the appearance of blemishes and speeding up the skin's innate healing process, leaving your complexion looking clearer and more radiant. In addition, help: clear skin also includes aloe vera and oligofructose to nourish, heal and detoxify the skin.
Improvement seen in six weeks
The great thing is that help: clear skin dissolves in water and other non-carbonated drinks and soft food such as yoghurt without affecting the taste. All you need to do is take one sachet daily and in as little as six weeks, you could see the improvements in your skin.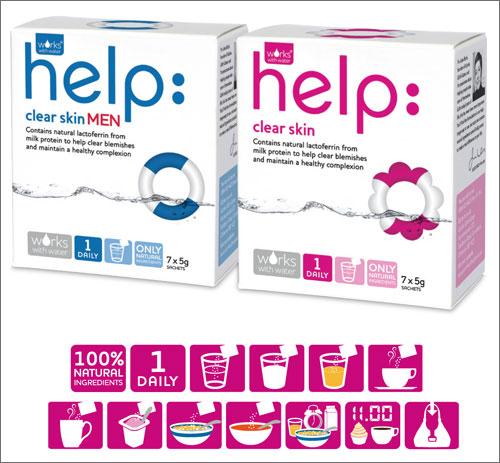 Clinical research
So often, we apply numerous cleansers and creams on spotty skin in the hope it'll make a difference, without considering that what we eat can have an effect too. Clinical research has shown that people with acne-prone skin who add 200mg of Praventin to their daily diet noticed a median reduction of 71% in blemishes by week four and a staggering 95% median reduction by week eight.
Testimonies from fellow bloggers
Now the question is, does help: clear skin deliver on its promises when put to the test? Since I do not have acne issues now, so it's quite impossible for me to establish that but the following bloggers seem to think so!
From Beauty In The Mirror:
"I took help: clear skin for 5 weeks and it took about 3 weeks before I started to notice a difference but my skin definitely improved. I noticed that I was having clearer skin and although I still had the odd pimple I didn't get any big spots. My skin is usually very temperamental and I often get lumps under the skin around my chin area which gets quite sore and I'm pleased to say that since taking this product I have not had any at all."

From Bamboozle Beauty Blog:
"Here is the big question; does it work? Why yes it does! Since using this, I have found that my skin looks much clearer, brighter and healthier and my spot size was reduced within just 2 days!"
And judging by the following pictures, it appears taking help: clear skin can make a real difference.
Price and availability
Help: clear skin costs £9.99 and is available online from Works With Water, where worldwide shipping is provided. It can also be found in Boots, Superdrug, Holland & Barrett and Waitrose in the UK, as well as in Sasa stores in Hong Kong. For more information about the product, visit www.workswithwater.com.

Comments