Green Beauty: natural doesn't mean non-irritating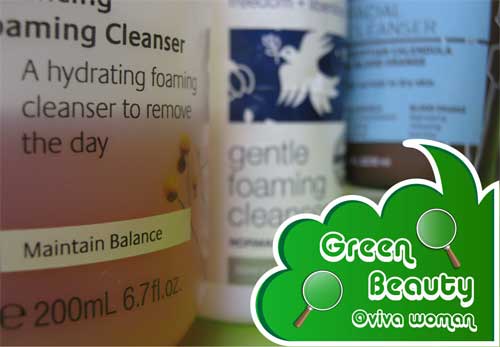 I've been reading quite a number of reports of how some people got their eyes stung after using certain facial cleansers and I really had no idea what that meant until recently. You see, two of the cleansers that I've been asked to try had stung my eyes. These are products in the natural category, said to contain certified organic ingredients, and I was rather surprised they caused irritations to my eyes. I don't have sensitive eyes and I don't recall any facial cleansers, even those in the non-natural category, stinging my eyes like these two.
Hard to pinpoint the culprit
Probably some ingredients within the cleansers didn't agree with my eyes but it is difficult to pinpoint which are the ones. I read that Cocamidopropyl Betaine (Cocobetaine) and Lecithin, which were ingredients found in the cleansers, can cause irritations to the eyes but the concentration needs to be rather high. These ingredients were rather high up in the list but I cannot be sure if they are the culprits. One of the cleansers also contain a higher concentration of vitamin C and I also wonder if it could be due to this ingredient but the thing is, I have used vitamin C on its own on my skin without any problems. I also thought if the number of essential oils in the other cleanser irritated my eyes but again, it is difficult to confirm. But the bottom line is, both cleansers irritated my eyes, so much so that I had to abandon one of them after a week of persistent trying.
Natural does not guarantee safety
It's kind of a shame because the whole idea of using a more natural formulation is that they should be more gentle for our skin. Well, the two cleansers work well for my skin but stinging my eyes made me wonder if the formulations were actually harsher than I know. So this goes to show that just because a product is labeled as natural doesn't mean it's non-irritating as some natural ingredients can irritate and even cause allergies. It all depends on the formulation. Moreover, it is also important to note that even some ingredients used in such formulations aren't really natural. And even a product bearing a certified organic logo is not not a proof of safety or of efficacy as such certification is just a marketing program.
Validated by clinical trials?
But I'm really curious as to how cleansers are being tested after formulations. From speaking to some of the brands, I understand that products are always sent for testing and in this case, I expect that the products be tested on real people and someone within a group will surely flag out the irritation considering it was so obvious. Like I mentioned, my eyes are not particularly sensitive and surely someone in a sort of "clinical trial" could identify with my concern no? Or perhaps they washed their face but did not use the cleansers around their eyes?
Comments