Jason Natural Powersmile fluoride-free toothpaste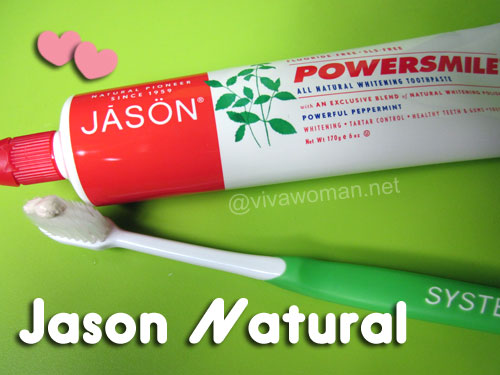 Back in March, I reviewed a bunch of SLS and fluoride-free toothpastes and if you remember, I tried four of them – Weleda, Now Foods, Logona and Jason Natural. My favorite of the lot is Jason Natural Powersmile, which I've continued to use till this day. Well, I thought I'll do a quick update, especially on the health of my teeth and gums since I've just gone for my regular dental checkup last week.
Healthy gums and teeth
I think the last time I went for a tooth polishing was end of last year or early in the year and since then, I've not done anything to my teeth except to brush them twice a day. I don't even floss them as often as I should, but only when I can remember to. And no mouthwash either. So it was a pleasant surprise when my dentist declared that my teeth and gums are looking very healthy and he didn't even need to clean or polish them! He particularly mentioned that my gums look really pink and nice!
Jason Natural, Powersmile, 6oz US$4.71 from iherb.com
Calcium carbonate, aqua (water), glycerin, sodium cocoyl glutamate, mentha piperita (peppermint) oil, carrageenan, aloe barbadensis leaf gel*, bambusa arundinacea stem powder, carum petroselinum (parsley) extract, citrus grandis (grapefruit) seed extract, perilla ocymoides seed extract, stevia rebaudiana extract, silica, sodium bicarbonate. *Certified Organic Ingredient
When I last reviewed the Jason Natural Powersmile, I mentioned that I was pretty impressed as I find its performance above the normal Colgate toothpaste I was using. This toothpaste contains an exclusive blend of natural polishers and stain-fighting botanicals, including bamboo powder, calcium carbonate, sodium bicarbonate and silica. It's quite potent and I don't need to use that much of the paste compared to the others or I'll get a rather bitter minty aftertaste.
Highly recommended
Well, it was a good decision to switch to a fluoride-free toothpaste afterall. In fact, before using this, I've never had compliments heaped on my teeth nor gums before. My current toothpaste must be doing a good job of keeping my dentist happy! LOL. So if you're thinking of switching over to a fluoride-free toothpaste, I would highly recommend Jason Natural Powersmile. The 6oz tube cost me US$4.71 from iherb.com and it lasted me a good three months or so because like what I've mentioned, I really don't use too much of it each time.


Comments