Methyl Sulphonyl Methane: mineral sulphur for skin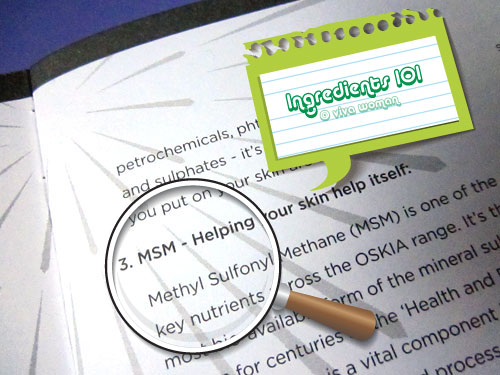 I started taking note of Methyl Sulphonyl Methane (MSM) in my skincare products when a regular reader by the name of Zinat mentioned it on the Viva Woman Facebook Page. It so happened it was one of the ingredients in The Pure Natural Skincare by the Green People Corporation I was trying out during that period. Subsequently, my interest in the ingredient was further piqued when I found it's a key ingredient used in the OSKIA range that Bud Cosmetics brought into Singapore recently.
Bio-available form of sulphur
According to information on the OSKIA website, Raw Gaia, and University of Maryland Medical Center, MSM is the purest and most bio-available form of sulphur, and one of the essential minerals crucial to life and the regeneration of cells. Other than being found mostly near hot springs and volcanic craters, it is present in a variety of foods including raw vegetables, eggs, milk and fish, but is lost through cooking and food processing.
Beneficial for skin, hair & nails
MSM has traditionally been taken as a food supplement to increase joint health as it is an essential component in the formation of collagen, elastin, cartilage and keratin. Hence, the ingredient can provide benefits not only to muscles, bones, joints, internal membranes but also the skin, hair and nails. That is why it has been known for centuries as the "health and beauty" mineral.
Topical benefits
Topical usage of MSM is relatively new and can apparently benefit all skin types and ages. It is known to have been highly effective in the treatment of sensitive and problematic skin conditions including acne, rosacea, dermatitis, eczema, and psoriasis, and helps keep skin healthy and strong to guard against premature ageing Topical application of MSM has also been shown to help wounds heal quickly, without scarring. This is probably why sulfur baths are often promoted as being good for our skin.
Here's a summary of the skin benefits of using MSM:
– Protecting the skin from free radicals.
– Supporting the production of collagen and elastin.
– Protecting collagen against collagen degrading enzymes.
– Acting as an anti-inflammatory agent.
– Promoting the regeneration of healthy skin.
– Keeping skin feeling firm, smooth, soft, supple and elastic.
– Helping visibly reduce the signs of premature ageing and skin damage.
– Maintaining skin cell membrane flexibility to help keep skin clear.
Keen to try the supplement
While I had found some benefits in using The Pure Natural Skincare by the Green People Corporation on my skin, it's hard to tell how MSM had contributed to those benefits. Perhaps the OSKIA's products will be more telling as MSM is one of the key nutrients across their range and I've been testing some of the samples. However, it's a bit too early to report the results but I'm kind of keen to check out the MSM supplements as well because it seems that some users who have taken them were reporting of faster hair growth. So are any of you familiar with this ingredient in your skincare products or are you taking MSM orally? If so, do tell us your experience with the ingredient.
Comments