What in the world is pre-cleanse & do we need it?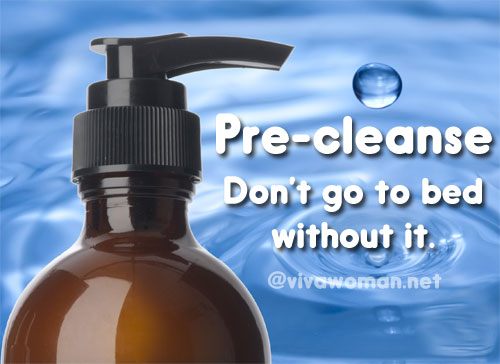 Have you heard of pre-cleanse? Some of you might have come across that term from products you used or are using. So what in the world is that? Is it a product or is it a skin care routine? To me, pre-cleanse is really a skin care routine intended to dissolve make-up as well as impurities such as sebum and sweat that is sitting on your skin. It is one step to take prior to actually cleansing and ensuring your skin is clean. Yes, it is similar to the concept of double cleanse although strictly speaking, double cleanse would mean you use the same cleanser twice. If you're using two different types of cleansers to wash your face, then in effect, you're already practicing pre-cleansing.
Pre-cleanse with oil-based cleansers
You'll find that various pre-cleanse products are oil-based; even a cream based one would contain oil as the key ingredient. And the reason for this is because oil is capable of penetrating into the skin and hence, remove whatever impurities that may have been lodged in your pores. Some of the oil cleansers can even perform the emulsification process to remove dirt accumulated and clean the pores more thoroughly. However, I have also discussed that some oil cleansers may be too drying for certain skin types, in particular if they contain potent oils that are know to drawn out toxins from the skin.
Cream cleansers are my favorite for pre-cleanse
My personal favorite is to use a cream cleanser prior to washing my face with a foaming cleanser. Actually, I've been practicing pre-cleanse since the days I started using makeup. Then, it was called a makeup remover and it was also a cream based product. However, back then, I would always use the makeup remover in conjunction with a cotton pad or tissue paper, something I no longer do. Now, I just let my fingers do the work.
Questions on pre-cleanse
So here are some Q&As with regards to the process of pre-cleanse:
Q1. Do I need to pre-cleanse?
A1. Yes! Like I said, it's similar to the concept of double-cleansing, which we've established is important when it comes to thoroughly cleansing your face at the end of the day to remove impurities, sunscreen and makeup, if any.
Q2. Do I need to purchase a special pre-cleanse product?
A2. Like I've mentioned, an oil-based or cream-based cleanser can do the job but they're not always clearly marked as being used for pre-cleanse.
Q3. Why can't I use my foam cleanser as a pre-cleanse?
A2. You can if you are not using makeup as you'll find most foam cleansers do not eliminate oil impurities from makeup that well. And depending on whether your cleanser is gentle enough, pre-cleansing with your foam cleanser and then using it again can be a tad drying. Always use an SLS/SLES & alcohol free foam cleanser.
Q4. How many times should I be pre-cleansing in a day?
A4. Well, just once, at the end of the day. You don't need to pre-cleanse in the morning when your skin is relatively clean because doing so might cause your natural lipids to be stripped off.
Q5. Can I pre-cleanse first and then wash my face later?
A5. Usually it is done together but yes, you can always remove your makeup first but only wash your face and apply your skin care products before bedtime.
Q6. Can I pre-cleanse with a makeup remover wipe?
A6. Yes, but I don't suppose it's something you do frequently as makeup remover wipes are reserved for emergencies. But if your wipes can dissolve all your makeup and impurities, using them is not an issue.
Pre-cleanse during facials
If pre-cleansing is not a skin care routine you practice, I would strongly recommend it. If you go for facials, you'll notice that pre-cleanse is something that is incorporated into the routine, whether or not you use makeup. Some beauty experts even recommend triple-cleansing but I personally find that too much. So instead of just washing your face, consider really giving it a thorough cleanse by incorporating one more step of pre-cleanse into your daily routine. You will definitely find your skin better able to absorb the active ingredients from your skin care products afterwards.
Comments