Beauty Kitchen: how to make your 1st green smoothie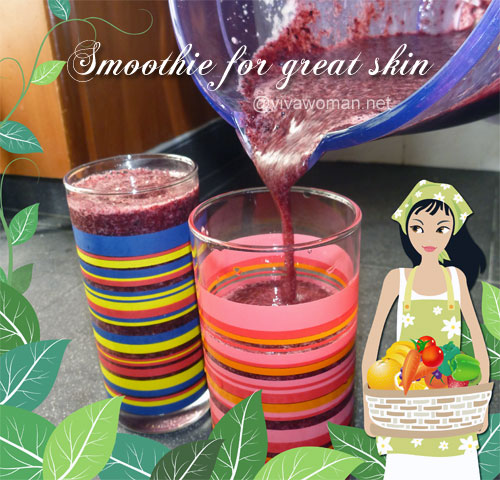 Having green smoothies in the mornings before heading to school or work in place of popping a multi-vitamin pill may sound like too much hassle, but it will yield you tremendous health and beauty benefits.
For one, the nutritious combinations of fruits and vegetables loaded with antioxidants are especially good for your skin. And because many of the ingredients here are also alkalizing, that helps the body to release skin-irritating toxins. In fact, ever since I got started on green smoothies, my acne-prone skin got better and healed much faster.
Benefits of green smoothies
Instead of chowing down ten different types of vegetables and fruits, blending them and gulping them in one go is not only fast, it also gives you peace of mind that your body has all the nutrients it needs without stressing over what you can or cannot eat throughout the day.
Having them first thing in the morning is the most efficient way of maximizing all the nutrients in them, as that is when your stomach is empty and able to digest them quicker. Plus, eating vegetables raw enables you to have the full nutrients as compared to cooking them.
Raw vegetables also have enzymes in them that will aid in digestion, and this makes digestion not so taxing on our body and in return, not making us feel lethargic in the mornings (source from Kimberly Snyder's book "The Beauty Detox").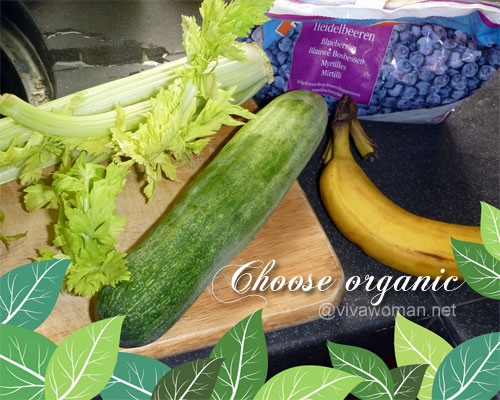 Deciding on ingredients and blender
What to include in your green smoothie is really your choice; it depends on what nutrients you would like to get from the vegetables and fruits. However, it's best to not go more than 2 kinds of fruits because firstly, you do not want to up your sugar intake first thing in the morning, and secondly, fruits and vegetables when digested together may form gas in the stomach (source: "Dr. Joshi Holistic Detox" book by Dr. Joshi). This gas will definitely not cause you gastric because fruits and vegetables are alkaline foods (source) but it may make you release more gas than what you're used to.
As for your blender, some people highly recommend a good, expensive juicer. While I admit those juicers are expensive for a valid reason, I'd say a normal blender that can blend ice is good enough for those starting out.
Why organic is better for green smoothies
When you are eating vegetables raw you have to take note of how the farming is done. Most farms are known to have sprayed chemical fertilizers and pesticides and it is near impossible to wash pesticides off any vegetables and fruits.
The best and safest way is to get organic vegetables and fruits for your green smoothie. If you do not want to buy all organic, here is a rough guide on which fruits and vegetables absorb chemicals more easily, and which are fine to buy non-organic, according to Daily Green.
Foods you don't have to buy organic:
Onions, avocados, corn, pineapples, mangoes, asparagus, sweet peas, kiwis, cabbage, eggplant, papaya, watermelon, broccoli, sweet potatoes.
Foods to buy organic:
apples, celery, peaches, spinach, nectarines, grapes, sweet bell peppers, potatoes, blueberries, lettuce, kale, collard greens.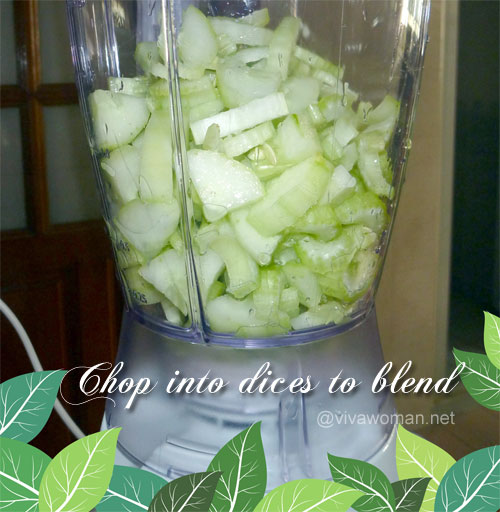 How to make
This is a great smoothie for first-timers as there are only two fruits and two vegetables. I use one whole cucumber, two celery stalks, one cup of blueberries, and one banana. I then chop the cucumber and celery into small dices to blend. The blender may get choked up sometimes, but all you need to do is take a spoon and stir it around a little, and try blending again. Next, I add in the banana. Again, it's easier if you break the banana into smaller pieces before putting it in to blend. And lastly, I add the blueberries.
The blueberries I got are frozen organic blueberries and because they are frozen, it makes the smoothie cold and more smoothie-like. If you are using fresh blueberries, you can add 3 to 4 ice cubes to blend, making the smoothie cold and icy. With these ingredients, it serves about three of the cups shown in the top picture.

Alternative ingredients for not so 'cooling' recipes
Some of you who understand Traditional Chinese Medicine might be concerned that this green smoothie is too 'cooling'. Well, you can choose to mix and match the vegetables and fruits that aren't so 'cooling'.
An alternative ingredient list for those who don't want it 'cooling' will be to add apples, celery, spinach and a table spoon of organic Manuka honey. Those fruits and vegetables are neutral so it is fine to drink. If you want less sugar because of the added honey, you can switch to green apples instead as it has lesser sugar than red apples.
Getting use to the taste of smoothie
I know that the smoothie may look disgusting to some of you but trust me, it is a matter of getting used to it. I used to really, really hate cucumbers; the smell of it made me sick. But now I crave for these green smoothies every morning! As you get more used to having it, you can throw in more vegetables. And if time is a concern, I would suggest getting a better quality blender that will blend your fruits and vegetables more efficiently and faster.
Comments