Renouve Anti-Aging Hand Sanitizing Lotion + giveaway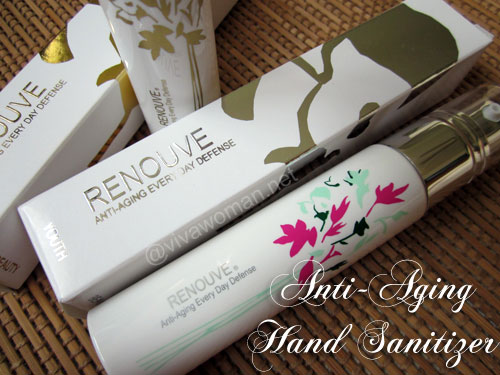 Even before I received these from Renouve, I was already enthralled by the pretty packaging featured on the website. And when they arrived, I had to consciously remind myself that I should not use them on my face. I mean, just look at them, don't they look like some upmarket facial products? But they're not! They're actually hand sanitizers! More specifically, they're touted as the world's first luxury anti-aging hand sanitizing lotion made with collagen stimulating peptides.
Non-oil formula to nurture skin
Made in Switzerland, the Renouve Anti-Aging Hand Sanitizing Lotion was created to eliminate germs without drying out our hands. Described as 95% natural, the lotion is made with bitter orange peel extract, a certified organic antibacterial free of alcohol and parabens. More noteworthy is the inclusion of Palmitoyl Tripeptide-5, a deep penetrating ingredient developed to stimulate and produce collagen while actively diminishing wrinkles, firming and moisturizing the skin. So this lotion is a non-oil based formula that allows the ingredients to penetrate and nurture the skin to show the best possible results while the absence of alcohol prevents the skin from drying out and loosing it's own natural protective layer. According to information on the website, Renouve has undergone numerous independent studies to prove its antibacterial efficacy. The studies proved Renouve kills 99.99% of bacteria. In addition, Renouve has also undergone and passed dermatology safety assessment tests.
Renouve Anti-Aging Hand Sanitizing Lotion, 30ml
Ingredients: Aqua (Water), Glycerin, Butylene Glycol, Hydroxyethylecllulose, Citrus Aurantium Arama (Bitter Orange) Peel Extract 2%*, Palmitoyl Tripeptide-5, Aloe Barbadensis Leaf Juice, Chamomilla Recutita (Matricaria) Flower Extract, Citric Acid, Sodium Citrate, Potassium Sorbate, Parfum, PPG-26-Buteth-26, PEG-40 Hydrogenated Castor Oil, Tocopheryl Acetate, Propylene Glycol, Sodium Benzoate. *certified organic ingredient
Some people may question the inclusion of both butylene glycol and propylene glycol, which are types of alcohol that function as solvent moisturizers. However, unlike most sanitizers that contain some 60% alcohol, this formula is not alcohol-based and hence, not drying. In fact, when I first used this, I completely forgot that it's a hand sanitizer; I wouldn't say my hands were moisturized but they looked a lot younger and definitely felt a lot softer and smoother. So I am impressed! This is truly a luxurious hand sanitizing lotion that yields a totally different feel from the norm, and it comes with a sweet scent that is said to be a signature fragrance made by Swiss CosmoLab.

Price and availability
Renouve is available in six different color schemes; from elegant grays to playful bursts of color and pure gold. The 30ml bottle is small and handy, and make a worthy travel companion. I received the No.1 & 6 on a complimentary basis from the company and I understand that some of the collection are currently available internationally on Beauty Expert at £22.00. The full collection will become internationally available at Renouve for US$29 this week, with the option of receiving it via DHL or tracked post. Yeah, the price is rather steep for a sanitizing lotion but considering that this one is made with collagen stimulating peptides to improve the skin texture on your hands, I'll say the price tag is justified. It's worth a try if you are willing to pay for the sake of your hands.
Giveaway for Viva Woman Readers
For now, three of you can receive a bottle of the Renouve Anti-Aging Hand Sanitizing Lotion by entering into this giveaway! Just visit the Renouve website and answer two questions:
1. Do you use a hand sanitizer and does it contain alcohol?
2. What appeals to you about Renouve Anti-Aging Hand Sanitizing Lotion?
This giveaway is open to all readers, anywhere you are. It will close next Tuesday, 24 April 2012 at 12 midnight Singapore time. The three winners will be randomly picked and announced on the Viva Woman Facebook Page. So enter right away to win one of these beautiful Renouve Anti-Aging Hand Sanitizing Lotion!
Comments