Share: do you ever feel unmotivated to look good?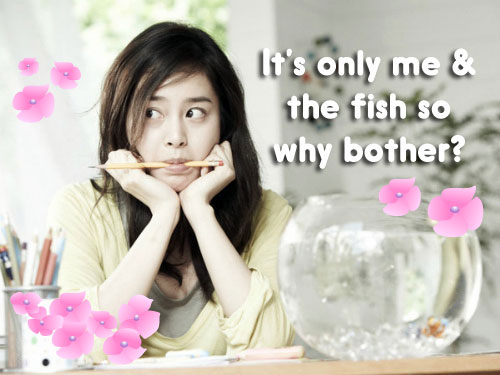 I don't know what has come over me but of late, I no longer feel like putting on makeup or even dress up. No, I'm not depressed at all but I just feel unmotivated in the looks department. To be honest, it's getting to be a chore to put on even some light foundation and I realized that I haven't been using lippies for a long time! On most days, I'm out in tees and shorts or jeans complete with a pair of FitFlop. I don't even put on accessories like I used to anymore! The only thing I still care about is my hair; I'll ensure that it's at least clean and neat whenever I head out.
In fact, it's gotten so bad that I actually found it painful to have to dress up to attend a relative's wedding recently. In the end, I just turned up in my usual working attire while everyone else was dolled up to the max! And the best part is, I wasn't really bothered or self-conscious.
Okay, before anyone jumps to an abrupt conclusion, I just want to clarify that I DON'T look like a mess and I do put up makeup and dress up if I have to. Ah-ha – if I have to – so the whole idea of dressing up is truly bothersome to me now. Would you believe that I've not shopped for clothes, shoes, bags or accessories in eons? And this whole idea of getting a new pair of eyeglasses to replace contact lenses is just for me, an excuse not to have to use makeup whenever possible! o.O
What I think might have happened is that I've gotten quite comfortable with who I am at this stage and no longer feel like I need to spend too much time on dolling up. Plus, I really don't have much time on most days. But I really hope this is a passing phase and I might get back on track soon. So first of all, I'm going for a makeover for my hair later this week and hopefully, I'll emerge with a different image altogether (okay, that's a bit of a wishful thinking because most of the time, makeovers don't make me look THAT different). Maybe I should try doing more style posts to get myself motivated but before I do that, I'll definitely need to get interested enough to get some new clothes.
So tell me ladies…is this something that has happened or is happening to you? How do you then motivate yourself out of the rut?
Comments