Green beauty: lip products be made as safe as food?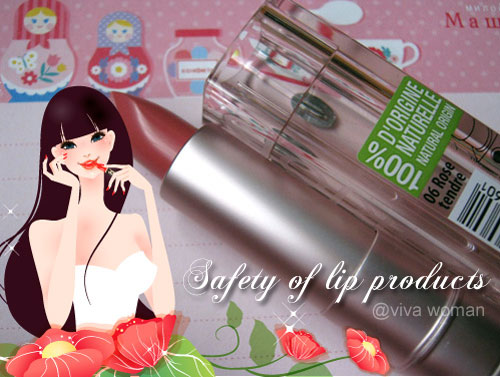 Do you wear any lip products? For some, lip products are a must either for beautifying or medical reasons. It can be a lip balm to soothe your cracked lips, or a pretty lip gloss/lipstick to freshen and brighten up your look. But because this particular cosmetic is applied on such a delicate area, where the skin is most permeable and there's a high tendency to ingest whatever is applied on it, do you think it should be made 100% safe for consumption, just like food?
What's in your average lip product?
The ingredient list of an average lip product is very long and truth be told, those names sounds like nothing edible to me at all. Some argue that a lip product is safe because it is made for the lips, but there is no government body that specially monitors the production process and the safety of each ingredient used. Would it be better if the lip product is a natural or organic one? I can't say for sure. While it is said that an organic or natural brand of lip product is safer and somewhat better than a commercial branded one, there is no way of being sure unless we have a chemist and/or scientist to really prove it.
Do you make a conscious act of not eating your lip product?
Some ladies are more careful about not eating their lip product by wiping it off before their meals, or even using a straw when drinking. It may be a tad bit troublesome, but I feel it's better than not making efforts to avoid eating it. It is said that an average woman eats 6 pounds of lipstick in their lifetime. This is not including those who diligently reapply their lip product the moment it wears off. I don't believe we would be willing to take a bite off our lip products, so what makes it all right if we eat it in little amounts?
Would consumers feel safer?
Is it only reasonable, or is it plain paranoia speaking, if I were to suggest the safety of lip products be equivalent to that of the food we eat? I think it does make sense to some extent for a product that is applied on the lips and so easily consumed, be totally safe even if we were to consume large amounts of it in the long run. Such measures that involve testing for safety, however, will more or less increase the cost of production, and in turn increase the price of lip products. As long as it's not too drastic an increase in price, I don't think it will affect sales much, especially when compared to the prices some ladies are willing to fork out for high end products.
What's your say?
I hope my stance on not consuming lip products won't come across as an extremist one, as I am merely reminding ladies to be more careful when they have lip products on. There is no direct health risks involved in consuming lip products just yet, but these products are not made to be consumed in the first place either. And while it is quite a wide assumption that lip products won't hurt you even if you eat it, why would you want to risk it?
Comments