New MVO Pacific Lip Treatment to plump your lips for free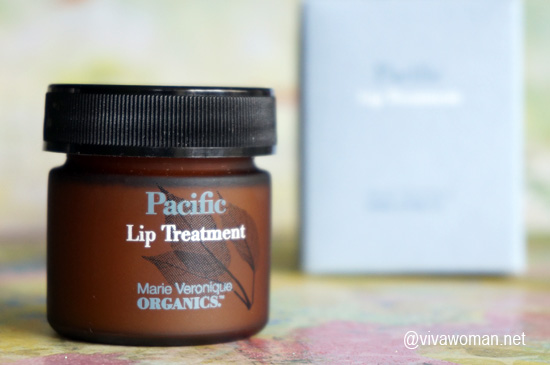 While I use my lips a lot, I don't really take special care of them. Apart from some occasional scrubbing, daily applying of lip balm and lipstick, I don't use anything else on my lips. Heck, I don't even use a lip product with SPF! So the last thing I'd expected to receive in my mail was this Marie Veronique Organics Pacific Lip Treatment, a brand new product just launched barely a week ago. To be honest, it didn't excite me much because like I said, lip care is really not on my agenda. But I was curious anyway and wanted to see for myself if a natural formulation can actually plump up my lips.
Proprietary blend that supports collagen production
According to Marie Veronique Organics, this Pacific Lip Treatment contains the MVO LipPlump, which is a trademark proprietary blend of peptides and super-humectants that enhance lip plumpness in two ways: by supporting collagen production and increasing epidermal water content. Wait a minute, did someone say collagen production on our lips? I don't know about you but that was a bit of a light bulb moment for me. What's the point of plumping up my face if my lips look like two pieces of thin dried prunes? Just imagine that! Isn't it scary? (â—‹.â—‹)
Tips for lip care
I know there are fillers and other cosmetic procedures to enhance our lips as we age but do I want to go through that? As it is, I don't even care for such procedures for my face so it is almost impossible for me to go that route just for my lips. Which means, the next best thing is to seriously start a proper lip care treatment right at home. In fact, the good people at Marie Veronique Organics recommend that we treat our lips differently from our face as the skin on our lips is thinner, contains fewer melanocytes (pigment producing cells), and no sebaceous glands to provide lubrication. This is the reason they've created a brand new product just to target this special area. So does this product offer any bang for your buck?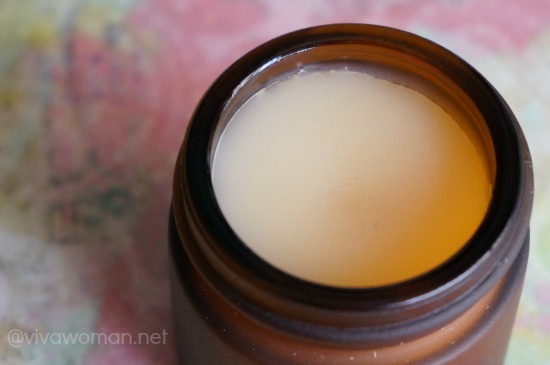 Ingredient list
To answer that, let's first look at the ingredient list of the product: Simmondsia chinensis (jojoba) oil*, ricinus communis (castor) seed oil*, cera alba (beeswax), butyrospermum parkii (shea butter)*, MVO LipPlumpâ"¢, euphorbia antisyphillitica (candelilla) wax, mixed tocopherols (vitamin E)*, trachelospermum jasminoides (star jasmine) essential oil, polianthes tuberosa (tuberose) essential oil
*organic
Safe and nourishing ingredients
It's not a long list, thank goodness, and on top of using some organic ingredients, it also contains something that is only unique to MVO. What's worth mentioning is that the ingredients are safe enough to swallow because by virtue of the proximity to the mouth and frequency of application, you want to know that what you're applying on your lips ain't poisonous. In addition, these ingredients are nourishing for the lip area and jojoba oil in particular, moisturize and provide added sun protection. I don't like applying zinc oxide on my lips but jojoba oil? I can lick with that!
Okay, enough introduction already. Let's look at the performance of this MVO Pacific Lip Treatment and what better way to do this than a before and after application picture?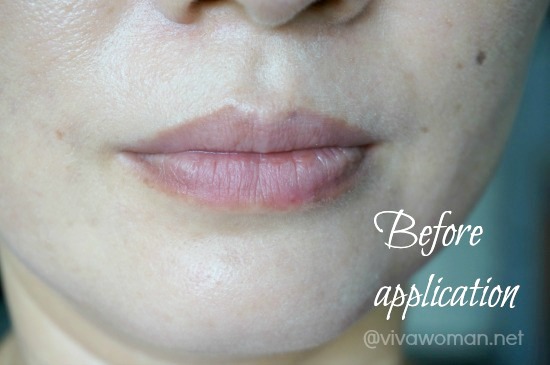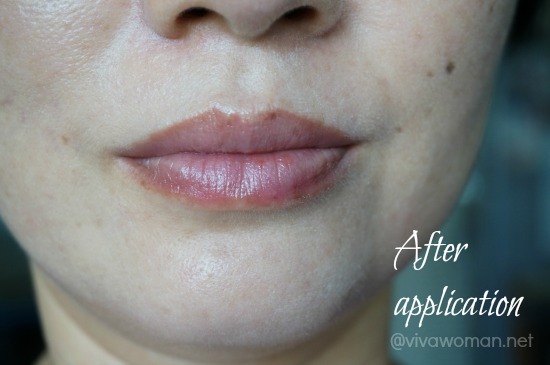 Non irritating
The difference is quite subtle—my lips look more pouty and my lower lip in particular looks plumped up. Will it become fuller with longer term usage? I have no idea. But my lips definitely feel soft and well nourished even after I've wiped them. I also noticed a day after application of the Pacific Lip Treatment, the dry spots on my lower lips could not be seen. Another thing to highlight is that whatever that is keeping my lips plumped is not irritating although I did feel just a teeny bit of tingling sensation around my mouth.
Free Pacific Lip Treatment offer
Marie Veronique Organics Pacific Lip Treatment comes in a 25ml jar and cost US$68. I don't like the jar because it means I have to use my finger. But that aside, I like that this product is safe enough to use around my lips and I'll be happy to use it although I'll probably only buy it at a promotion. So if you find this expensive but want to give it a try, you might like to know that you can get it for free now. Just buy any full size kit and use special offer code LIPKIT at checkout. Offer expires March 4 at 5 p.m. PST. Check it out on their website.
Comments