Share: buy beauty products in the stores or online?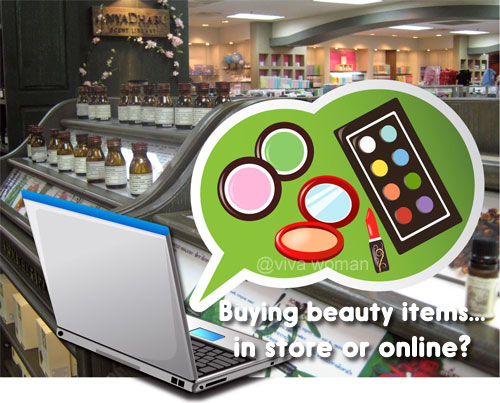 I thought I've always been one who loves instant gratification because I really prefer to buy my stuff and get them on the spot. However, it seems I've had a change of heart over the past year or so. I still prefer to buy from the stores but with more online stores that offer lower prices, it would seem that shopping for my beauty products online make better sense. So do I now prefer to buy my beauty products online? Well, yes and no.
Pros & cons of buying from stores
Shopping in stores for beauty products still appeals to me because I get to see, touch and smell the product. I also get to test the products. Most important perhaps is that I still love the thrill of having instant gratification. However, I realized that variety is not always as great for some of the imported brands and prices are not always as appealing. The worst pet peeve I have of late is that some of the sales assistants do irritate the heck out of me by pushing me products I don't want or not being able to answer questions I asked. I even consider some of them a harassment that spoils my shopping experience!
Pros & cons of buying online
Now shopping online means I avoid any unpleasant personalities altogether but it doesn't erase unpleasant encounters. I've had my fair share of woes especially when products are not sent or if they were sent, they were the wrong items. Going through the whole process of lodging a complaint is really time consuming and it's something that irks the heck out of everyone. However, shopping online for beauty supplies gives me more options and choices, and I get to enjoy lower prices for some products too. But of course there is the time factor and shipping cost to consider, on top of the fear of lost shipments. But I think if you ask me, I'll say I prefer to shop online these days for my beauty products because some of the stuff I want and need aren't available in the stores anyway.
Online stores should list full ingredients
I'm also quite used to purchasing brand new skin care products online, just based on studying the ingredient list. Except for some exceptions, most of the products I've ordered online have worked well for me. And having said that, I want to take the opportunity to urge all online stores to please list their full ingredients online. I will not purchase products without first knowing what goes in there and I believe many readers of Viva Woman are like me!
So how about you ladies? Do you prefer to buy your beauty products in the stores or online?
Comments