Skin care routine at 35,000 feet above the ground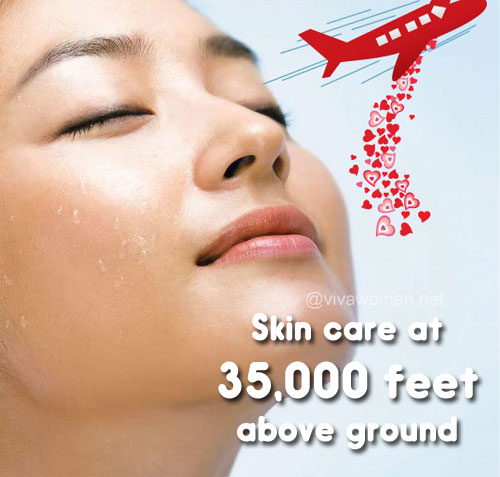 Recently, I watched a video about having a skin care routine while flying on a plane. I have heard of people who either indulge in a masking session or reapplying moisturizer on the plane, but I myself have never done either. As the plane climbs higher up into the atmosphere, the air gets colder and dryer and will dry out our skin; so I think it is helpful to moisturize and pamper your skin when on the plane, especially for people who travel often. But I think it requires quite a bit of courage to do that while sitting that close to a stranger who might think you're a vain bimbo that looks annoyingly stupid while masking.
Drying of skin in the higher atmospheres
I don't travel that often so I find it redundant for me to be particular about my skin when on a plane. Plus, most of my flights are direct flights. I don't wear any makeup onboard planes but I do put on my contact lenses. Even though it's terrible to be wearing contact lenses on a plane because of the dryness, I dislike wearing glasses unless necessary. So apart from dryness in my skin, I also have to deal with dryness in my eyes. The condition of my skin can be quite contradicting on planes. It gets dry and flaky, but at the same time, if I were to touch my face, it feels slightly oily. It helps to wash my face after a couple of hours, but it gets even dryer faster after that and I don't like to keep getting up to go to the toilet.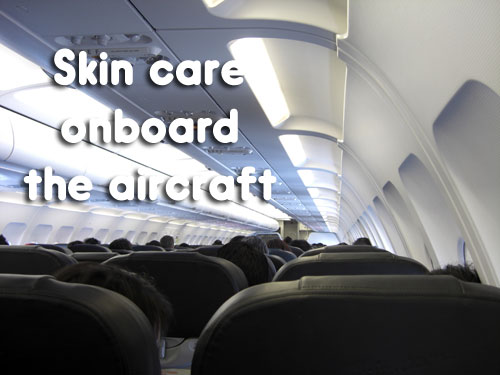 Hydrating on plane rides
Because of the regulations on the quantity of liquids we are allowed to bring on the plane, it would be good to bring smaller containers and plan in advance what you will need. I think it's easier to bring a leave-on moisturizing mask sheet, or a simpler routine such as moisturizing your face and eye area regularly on the flight. In fact, you can repeat the routine as many times as you like depending on how long your flight is, as long as you have skin thick enough to ignore the stares and looks you will be getting. After making sure your skin is well moisturized, it is important that you hydrate yourself from inside out. Drink more water as far as 5 hours before your flight, and try to avoid alcohol, coffee and tea on the plane and substitute it with more water or fruit juices instead.
Skin care is the last thing on my mind
I doubt I will go through the extensive routine of moisturizing my face externally. Unless I'm lucky enough to get the seat next to the walkway, I think it's quite inconsiderate to keep bothering the person next to me just so I can go to the toilet, not to mention look like a crazy, annoying person with my mask on. Besides, I doubt I will be on a flight that is more than 10 hours as I cannot bear sitting down and being confined for so long! Being concerned about the hydration level of my skin is the last thing on my mind when I have to be seated for many hours at a go, so I think I'll be sticking to drinking lots of liquid instead.
Your say
How about you? Are you particular about skin care routines when you are on long flights, or even direct flights? Please do share your routines!
Comments