Different ways to use manuka honey for beauty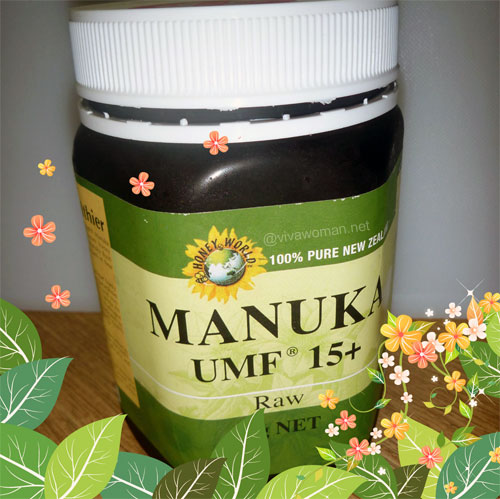 I love honey very much and try to use it whenever I can either in my food or my homemade  masks. Honey is an excellent substitute for sugar, and if you get the Manuka honey with UMF, it has more antibacterial properties than in regular Manuka honey. Honey is very useful for homemade masks or any other topical uses because it is renowned for its healing and anti-inflammatory qualities. It is also a popular remedy when taken with lemon mixed in water to help soothe the throat. When used as a mask, it leaves the skin feeling softer and moisturized and reduces the redness of acne.
What is UMF
Manuka honey is honey that is collected from Manuka flowers by bees. And UMF stands for Unique Manuka Factor. It has been standardized around 4 years ago, and only Manuka honey that has a high and additional antibacterial component are allowed to be label with the UMF number. The higher the UMF number, the more potent the active antibacterial ingredients are, however, anything lower than UMF 10 does not differ much from regular Manuka honey. Manuka honey in general is known for the hydrogen peroxide antibacterial that gives healing properties. Manuka honey with UMF is stable and effective in healing topical wounds compared to the regular Manuka honey.
Benefits of honey
1. Cures acid reflux and prevents stomach ulcers
Acid reflux is also known as heartburn, when the stomach acids flow back into the esophagus and throat. This results in a burning pain in the chest and top of the stomach. Manuka honey is used as a home remedy to alkalinize the stomach and coat a protective layer over the stomach preventing stomach acids to cause pain, and keeping acid reflux at bay.
2. Antioxidant that prevents the body from various cancer
While more research is still needed to thoroughly prove the effects of Manuka honey on existing cancer cells, there has been promising studies that show an increase in antioxidant activity in the body when taken regularly. Antioxidants are known to be beneficial for skin and can prevent
premature aging and cancer.
3. Wound healing
Because Manuka honey has antibacterial properties and high hydrogen peroxide content, it has an ability to heal external wounds on the body.
4. Anti-inflammatory properties to aid in treating acne and eczema
With its anti-inflammatory properties, Manuka honey is often used as skin care ingredient for products targeting those who are acne prone. Besides being a natural skin softener, it helps promote a healthy and balanced skin and reduces redness and inflammatory. Manuka honey can also be used on eczema as it soothes and moisturizes the skin, stopping dryness and itchiness when used.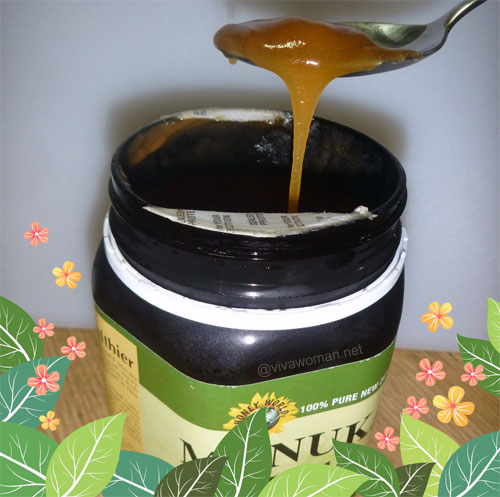 My home made mask for brightening the skin
I really like to use honey for my face masks because it smells so delicious and the texture is gooey like caramel, and the child in me thinks making it is really fun. For my face I will mix two tablespoon of oatmeal flour with one tablespoon of Manuka honey UMF 15, with a tea spoon of lemon juice and mix into a paste. Leave it on the face for 15 minutes and you're done! I normally do this once to twice a week depending on my time. If you're afraid of using lemon, you can skip that ingredient. I only added lemon to have a brightening effect after washing it off.
Honey candy
I thought of this when I was craving for honey and started fantasizing of ways to eat it. What you do is add 3 parts honey and 1 part room temperature water and mix well. Then add it to a fanciful shaped ice cube maker if you have one, and freeze! I think you can put a stick in each of the ice cube so when it hardens you can take it out and eat it like a real lollipop, but I've never tried that before but would imagine it to be fun though.
Conclusion
Honey is one of my pleasure foods to go to when I am craving for a snack or something sweet. Some people add honey to their tea but I've yet to try that. In general, honey is a very useful and delicious ingredient to incorporate into your meals and routine.
Comments